So two years ago I came up with this bright idea of starting a Personal Finance Library where I'd mail books back and forth to whoever wants them (for free), but after further research and certain naysayers telling me it'll never work, I've decided to table it for now until I can prove them all wrong ;)
I even had the perfect domain picked out for it and everything! –> MoneyLibrary.org // Which I still own, so the dream lives on!!
But alas, this currently leaves me with approximately 30 books sitting on my bookshelves not helping a damn person, so today I'd like to change that and put them into the world :)
For the next 5 days, I'll be giving away a *package* of books each day, and the only rule is that if you win you have to PASS THEM FORWARD when you're done reading them. Cool?

Each package will contain anywhere from 3-5 books around a certain theme, and all you have to do to enter is be signed up to our newsletter and answer that day's question.
And it starts right now!!
Package Giveaway #1: Personal Finance Classics!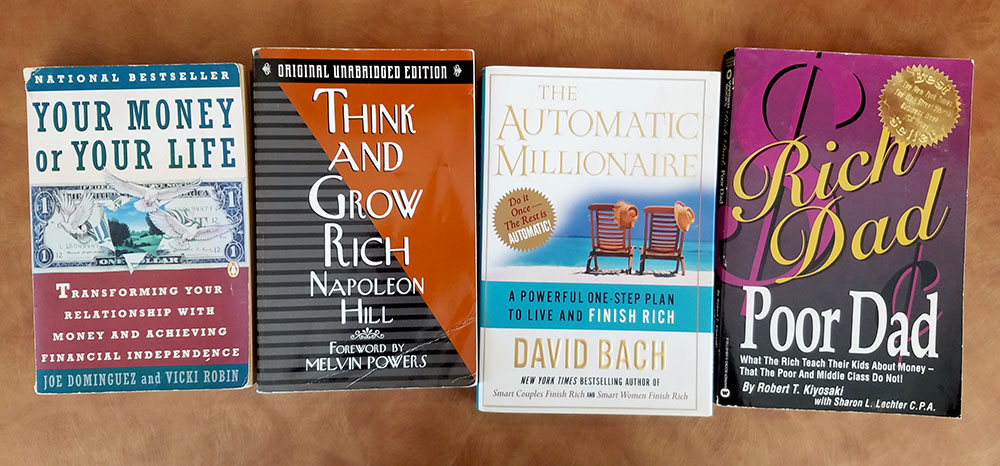 We're going OG today and starting with some of the most popular books in the personal finance world over the past handful of decades. Here's what this package contains:
Your Money or Your Life, by Joe Dominguez and Vicki Robin — "For more than twenty-five years, Your Money or Your Life has been considered the go-to book for taking back your life by changing your relationship with money. Hundreds of thousands of people have followed this nine-step program, learning to live more deliberately and meaningfully with Vicki Robin's guidance… Whether you're just beginning your financial life or heading towards retirement, this book will show you how to: get out of debt and develop savings, save money through mindfulness and good habits rather than strict budgeting, declutter your life and live well for less, invest your savings and begin creating wealth, save the planet while saving money, and so much more!"
Think and Grow Rich, by Napoleon Hill — "In Think and Grow Rich, Hill draws on stories of Andrew Carnegie, Thomas Edison, Henry Ford, and other millionaires of his generation to illustrate his principles. This book will teach you the secrets that could bring you a fortune. It will show you not only what to do but how to do it. Once you learn and apply the simple, basic techniques revealed here, you will have mastered the secret of true and lasting success."
The Automatic Millionaire, by David Bach — "The Automatic Millionaire starts with the powerful story of an average American couple whose joint income never exceeds $55,000 a year, yet who somehow manage to own two homes debt-free, put two kids through college, and retire at 55 with more than $1 million in savings. Through their story you'll learn the surprising fact that you cannot get rich with a budget! You have to have a plan to pay yourself first that is totally automatic, a plan that will automatically secure your future and pay for your present."
Rich Dad, Poor Dad by Robert Kiyosaki — "Rich Dad Poor Dad is Robert's story of growing up with two dads — his real father and the father of his best friend, his rich dad — and the ways in which both men shaped his thoughts about money and investing. The book explodes the myth that you need to earn a high income to be rich and explains the difference between working for money and having your money work for you."
***Links and bios above are from Amazon, and point to the latest updated books – not the exact editions being given away which you can see in the pics. Also – links are affiliate links.***
Want these? Make sure you're subscribed to our newsletter,
and then answer the following question:
What's the most classic financial tip you've ever been told? Or do yourself?
Share your answers in the comments below or by replying via email if you're seeing this in your inbox, and we'll randomly pick the winner and announce it at the start of tomorrow's giveaway. You have until 5pm EST today! GO GO GO!
You can enter as many of these giveaways as you'd like this week, but you DO have to have a U.S. address or else it would cost more than the books are worth to ship them to ya ;( But maybe you know someone in the U.S. you could give them to if you win?!
Good luck!! And remember – you have to pass these forward after you've read them!
<< UPDATE: Giveaway now over! Winner announced here :) >>

(Visited 11 times, 1 visits today)
Get blog posts automatically emailed to you!