I swear we've just did one of these like last month? And the month before that, and before that, that, that, that, that ,that ,that , and that?
Damn time flies.
And don't worry, if these are getting played out there's only one month left in the mission ;) But if you're new here, THERE'S ONLY ONE MONTH LEFT IN THE MISSION – OMG!! Hurry up and get on it and start banking that $$$ like you were a part of the Wu! (Cash Rules Everything Around Me – C.R.E.A.M.! – get the money, dolla dolla bill, y'all)
Here's our total savings so far:
That's 11 months in a row of cutting expenses, selling stuff on Craigslist, and banking any *extra* money we get throughout the year (gifts, refunds, pennies found on the ground, etc).
It's all a part of our Challenge Everything Mission, and needless to say it's working :) Even when you have crappier months than normal like we did for July (we only banked $250 compared to the $500+ levels we were at earlier in the year. Though free money is all free money!)
Still, as you can see it all comes down to harnessing the magic that is *time*. You set up the system once (hopefully) and then let the savings/investments grow and compound on top of each other. Which is much easier to see when you specifically throw it all into one – new – account and watch it all happen. (Like I did w/ USAA)
If you're having trouble saving with your current way, I highly suggest trying it out.
Here's how July played out:
Cell Phones (+$112.58) — Nothing new going on here. $100+ savings from making the 1 switch from AT&T last year to Republic Wireless. The best move I've made in this challenge! And I hardly remember what it was like to own an iPhone anymore…
BTW, the winner of our Republic prize package last week was Hannah Roehrick! Congrats!
Cable/Internet/Phone (+$48.14) — For the first time all year our bill went back UP, ughh… We're still saving $50 from where it used to be, but still – it never ends w/ these guys. I'm forcing myself to make an executive decision over the weekend whether we need/want cable once and for all. I think the Mrs. will be on board for a test, but we'll see… I'll be calling around competitors in the meantime as well – I'm done w/ this nonsense. (And being lazy too! I should have taken care of this last month!)
Car Insurance (+$30.59) — Been saving $30 every month after a 15 min call to USAA!
Found doodled bills in my safe! ($51.00) — When taking on the "one drawer" challenge last month (though I swapped it for the "one safe" challenge) I found some old dollar (and $10, $20) bills I had kept that were either doodled on or autographed by some celebs. Like Ben stiller, Jay & Silent Bob, and even the PF bad ass Ramit Sethi (from IWillTeachYouToBeRich.com). I kept a couple of them, and cashed in the rest – figuring if I didn't even remember I had them, I probably wouldn't miss 'em much. And plus they'd do me a lot better good in the stock market than collecting dust!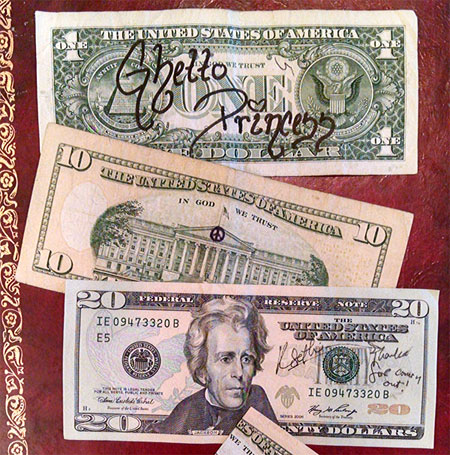 Found a ton of coins! (+$0.21) — We found 6 pennies, 1 nickel, and 1 dime this month. I swear I'm up like $100 since taking so many walks this Summer, haha… People are cray.
SOLD: Digital frame (+$10.00) — Digital frames are one of those things that sound great in theory, but for some reason never work as nice in reality. So after trying to download some pics onto this Xmas gift from last year – and utterly failing – I just decided to sell it on CL instead. I started at $30, then dropped it to $20, and then – six weeks later – got an offer for $10 – hah. Good on 'em.
You can find everything I've sold so far (and for how much) here: Craigslist Tracker
And that was it for July! I know it's already almost the end of August here and I'm late, but hopefully this helps inspire some of y'all to look for other ways to cut back / earn more too. I thought I had no room to save when starting this challenge – just 'cuz I was so used to so many of my bills! – but surprise surprise, I could have done better! For YEARS too. It's actually pretty sickening when you think about that, so just try not to and focus on the future ;)
Two other sexy things before I leave you here:
#1. The podcast is back on track!
After 6 months of thinking and learning and just delaying like a mother, my secret co-host and I decided to just hop on the mic and start recording…. We got so overwhelmed with the strategy of it all and trying to do everything the "right" way that we just had to say "F it" and do the best we can. And now we've got our first two episodes on lock – woo!
(The lesson here, of course, is that NO ONE is immune to overanalyzing and getting stuck. And sometimes it's better to not know anything and jump right in before your head gets filled with too much advice! It's how this blog got started here those 7+ years ago, and also why it kinda sucked back then too, haha… But you know what? You have to suck before you can get better :))
We'll see how good or not they turn out, but we poured our hearts into it and had fun while doing so. I think that's the best you can ask from newbies – especially those who don't even listen to podcasts! (And we actually got in a heated debate on the 2nd one too – it should make for an interesting show)
I'll let y'all know the second it's live… Gonna be about money, entrepreneurship, and just striving towards a better life. Drop me a note if you want me to email you once it's up too.
#2. The financial blogger awards are back!
If you love this blog, or my other project – Rockstar Finance – will you take a second to vote for me? As well as your other favorite bloggers too? There's a bunch of categories for them, and I know they'd appreciate just being nominated because it takes a lot more work to run these blogs than it seems :) The winners get cool looking trophies at our conference every year too helping solidify our nerdness even more. You can vote here.
Thanks guys, happy weekend!
And remember: Cash Rules Everything Around (You) – C.R.E.A.Y! – Get the money, dolla dolla bill y'all.
*******
PS: What the hell happened to the stock market this week? I hope you were scooping up those deals when they were on sale!! That's as close to a "secret trick" as you'll find for growing your wealth, whew.
(Visited 12 times, 1 visits today)
Get blog posts automatically emailed to you!