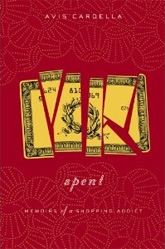 Another book to give away! And just like the other one still going on, this one hasn't hit the stands either :)
Spent: Memoirs of a Shopping Addict
by
Avis Cardella
Here's a summary from Hachette Book Group:
"As a child, Avis Cardella devoured the glamorous images in her mother's fashion magazines. She grew up to be one of the people in them, living a life that seemed to be filled with labels and luxury. But shopping had become a dangerous addiction. She forwent food for Prada. Credit card debt blossomed like the ever-increasing pile of unworn shoes and clothing in the back of her closet. She defined herself by the things she owned and also lost herself in the mad hunt for the perfect pair of pants or purse that might make her feel whole."
Want it? Drop a comment with the most expensive thing you've ever put on a credit card :) For me, it was my '93 Cadillac! Haha…all $3,100 of it. Your turn…I'll announce the winner this weekend.
————–
More from Amazon: Spent: Memoirs of a Shopping Addict
(Visited 3 times, 1 visits today)
Get blog posts automatically emailed to you!