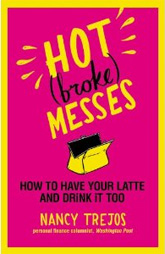 April Book Giveaway Month continues! Congrats to all 6 winners from last week's two giveaways: Doug, Dorothea, "Another Not the Same Brian," "JOB's Money – Free By 30," Alicia, and Judy Lee. Here's today's book:
Hot (broke) Messes: How to Have Your Latte and Drink It Too, by
Nancy Trejos
Here's a summary from the ol' press release – IT'S NOT EVEN OUT IN STORES YET! Do I hook you up, or do I hook you up?
"The personal finance columnist for The Washington Post takes readers along on her journey. She meets with a financial planner and a therapist to deal with all the issues young people face today — from credit card debt and student loans, to impulse buying and emotional spending, to the cost of having a social life, to buying a house with someone during a potentially impermanent relationship and more. Trejos learns what causes these problems in herself, how she can fix them, and how she can pass that advice on to other young people going through the same experiences."
Want it? Drop a comment telling us the hardest financial problem YOU have ever gotten over – or – one that you're continuing to struggle with today. If you're feeling bashful, just make something up ;) I'll announce the 2 winners this weekend. GOOD LUCK!
————–
More from Amazon: Hot (broke) Messes: How to Have Your Latte and Drink It Too
(Visited 2 times, 1 visits today)
Get blog posts automatically emailed to you!