I recently found this tool (and MANY others) on CNNMoney.com, and it's pretty freakin' interesting. It just asks for your age and your yearly income, and it plops you out a couple of nice and simply graphs. The first shows the average "net worth" for your age-group (as posted to the left), and the second shows the average "net worth" for your particular income level.
Both graphs are pretty cool to see. That first one is SCARY though! Can you believe that? man…. luckily, i'm WAY better off than the average in this group (Opah!), but my $66k is wayyyyy below the average for my income level. Age plays a huge part in this ofcourse, as I've only been at this salary for less than a year, so I'm just hoping i can stick with it and/or increase it for years to come!
Give it the old college try, and see how you compare. Hopefully you'll be on top of at least one of the graphs! And if not? Well, now you have something to strive for. Just keep reading the blogs to help pump you up ;)
*I've also just added a new section of helpful links*
It can be found on the left column, and it links to some pretty sweet tools & calculators out there. So far I have the following:
I'll be updating/revising them over time, so feel free to holler if you'd like to see a special on in particular, or even if you have found a more helpful one.
(Visited 12 times, 1 visits today)
**********
PS:
If you're just getting started in your journey, here are a few good resources to help track your money. Doesn't matter which route you go, just that it ends up sticking!
If you're not a spreadsheet guy like me and prefer something more automated (which is fine, whatever gets you to take action!), you can try your hand with a free Personal Capital account instead.
Personal Capital is a cool tool that connects with your bank & investment accounts to give you an automated way to track your net worth. You'll get a crystal clear picture of how your spending and investments affect your financial goals (early retirement?), and it's super easy to use.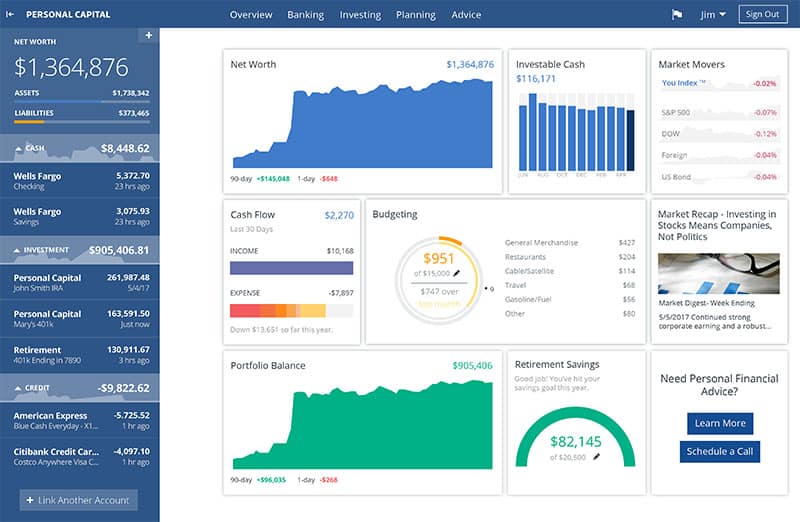 It only takes a couple minutes to set up and you can grab your free account here. They also do a lot of other cool stuff as well which my early retired friend Justin covers in our full review of Personal Capital - check it out here: Why I Use Personal Capital Almost Every Single Day.
(There's also Mint.com too btw which is also free and automated, but its more focused on day-to-day budgeting rather than long-term net worth building)
Get blog posts automatically emailed to you!