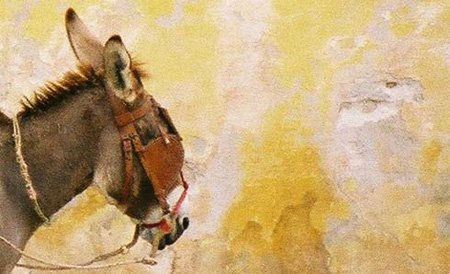 This story below is exactly why I can't wait to be a full-time entrepreneur ;)  I'm borrowing it from a new "Funny Finances" series over at Sweating The Big Stuff, and it's clever as hell:
A city boy moved to the country and bought a donkey from an old farmer for $100. The farmer agreed to deliver the mule the next day.

The next day, the farmer drove up and said, "Sorry, but I have some bad news. The donkey died." "Well, then, just give me my money back." "Can't do that. I went and spent it already." "OK, then, just unload the donkey." "Whatya gonna do with him?" "I'm going to raffle him off." "You can't raffle off a dead donkey!" "Sure I can. Watch me. I just won't tell anybody he's dead."

A month later the farmer met up with the city boy and asked, "What happened with that dead donkey?" "I raffled him off. I sold 500 tickets at two dollars apiece and made a profit of $898." "Didn't anyone complain?" "Just the guy who won. So I gave him his two dollars back!"
CREATIVE!!!  And admittedly way beyond my comfort level ;) Haha…  But it goes to show that using your noggin can really open up some doors for you.  And that's what entrepreneurship is all about.  Harnessing those hidden skills of yours and really building out something new and/or prosperous!  You'll probably fail a bazillion times before hitting it big (if that's what you're looking for), but keeping that drive alive will almost always get you closer to success every time.
So keep using your brains folks!  Find a way to start that company you've always wanted, or get to crackin' on new ways to pay off all your debt faster. You're never at a dead end in life, only moments when you're temporarily stuck.  The next time you're hovering there, take a step back and get creative! The opportunities are just waiting to be taken advantage of…
And please, whatever you do, always watch out for the $2 donkees.  When it's too good to be true, it usually is!  Everyone knows the going price for them these days are $3.00, jeesh ;)
———–
(Donkey art by malias)
(Visited 3 times, 1 visits today)
Get blog posts automatically emailed to you!