That's what my alarm shouts at me every Saturday morning now to wake my ass up ;) And by "alarm" I mean "my internal bargaineering alarm" since the first rule of The Yard Sale Club is to get out the door early! Followed by the second rule, "Never talk about The Yard Sale club." Oh wait…
All kidding aside, if you want to be the best yard saler you can possibly be, you have to remember a handful of tips & tricks so you walk away feeling like a king rather than a joker. And there's nothing worse than being a joker and having to pay for it. Either in money or sleep!
So today I present to you a handful of tips that will give your yard sale experience all the oomph it needs. And I want you to then put them into action with me tomorrow, okay? OKAY???? Good. Glad to see that you agree with me. (<—– My ex-girlfriend in 6th grade used to write that in every single note she passed to me… And I know that because I just found the box of these notes the other night and found them hilarious to read through :) Ahh young love…)
How To Be a Yard Sale King
Make sure your belly is full, and your bladder empty.  This is rule #1 outside of rule #2 (what?). 'Cuze the last thing you want to do is be all cranky in the middle of a hot run of sales and have to go home early. So you stuff your face full and hit the bathrooms at home before jumping in that car – you feel me?
Wake up and go as early as possible. Somewhere around 6:30-7:00 is the best (you don't want to go earlier and piss people off, unless they specifically say "early birds are welcome"), but def. be out your house at 7:30 at the latest. Unless you don't mind other people taking your deals…
Use an app! No one uses newspapers anymore… Okay, well maybe they do, and it's still smart to check your local one out the night before, but modern technology can still be a lot easier to use. My favorite app personally is Garage Sale Tracker for the iPhone (it's free). It pulls all the sales off Craigslist and plops them down onto a single map where you can then touch and navigate too one after the other. It saves me TONS of time. And better than aimlessly driving around looking for yard sales signs (although that too is fun to do once the morning rush is over…).
Hit the "community" and "church" yard sales first.  These are the best because it's like stopping at 10 or 20 yard sales all at the same spot! And if you're short on time, just one of these alone can cure your soul.
Open up all the boxes, containers, and especially the drawers. All the awesome stuff I find is usually hidden around inside of things that most people don't take the time to peer into. It only takes a few extra seconds to open up, and you never know what you might find!
NEGOTIATE, NEGOTIATE, NEGOTIATE! No matter what you're buying, always ask for less than what the sellers asking for it. Even if just by 10 or 25%. The worst is they say no, but believe me they're already expecting it so get into the habit!
Be friendly, smile a lot, and make chit-chat with the sellers.  Everyone's there to have a good time and make a deal, and just like with everything in sales, connecting with people is key. The more the seller likes you, the more odds of getting stuff cheaper.  Sometimes even for free :)
Always carry change and small bills with you! The last thing you wanna do is miss out on something awesome just 'cuz they can't break a $20 or swipe a credit card (though some people now use that Square device and WILL take your credit cards! God bless them…). Scour your place for quarters and dollar bills before you leave the house, or even better the night before, and then bring along a small plastic container so it's not annoying at all. A picture of mine is down below (with $2.00 bills in it, hehe… helps even more with tip #6!)

*NEW*

Always buy something from the cute kid selling treats! Even if you're not hungry or thirsty, throw them a dollar and help encourage them to continue being little entrepreneurs! (Thx for the reminder, commenters!)
If any of these look familiar, it's because I shared them with you two years ago :) And you earn a gold star for still reading this blog!! I did add in an extra one or two though, and the tips never expire…
So who's with me tomorrow? Want to make it fun and see who finds the most interesting, or cheapest, thing? My cousin used to play the "$5.00" game where we'd see who can find the best deal under $5.00 by the end of the day, and I'll gladly challenge any of you to it :)
If you're still not convinced, perhaps some of these pics of old finds of mine will do the trick… You can click on any of them to learn just how much I spent on them (or, didn't spend – woot woot!).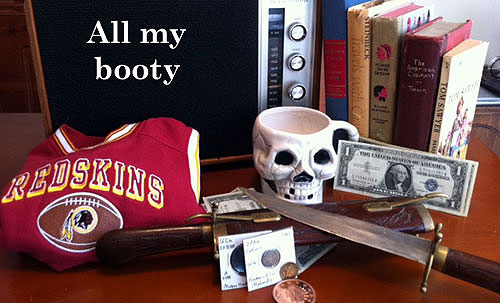 Still not convince? Well, then there's no hope for you…
Instead, sleep in, grab yourself some lukewarm tea, and then check out these awesome articles I've been collecting for you… If you're going to be lazy, you might as well learn something in the process ;)
And as always, you can find a handful more like these every day at my other site, Rockstar Finance. Make sure to bookmark it or sign up to our daily emails!
Happy Friday!
—————-
PS: Seriously – who's going to challenge me? ;)
[Gnomes up top by Randy Heinitz, all other pics by yours truly]
(Visited 17 times, 1 visits today)
Get blog posts automatically emailed to you!