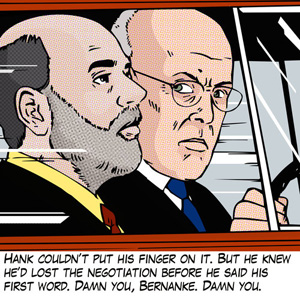 (Guest Post by Pop)
Cairo. City of the living. And home to some of the greatest negotiators on Earth. I visited the city a couple years ago and had the pleasure of stopping by its main market, Khan el-Khalili. It's a big tourist trap now. Filled with colorful, embroidered robes that no one but foreigners buy and homemade toy camels stuffed with sand.
But if you ever find yourself in the area and are willing to part with a couple bucks, the markets in Egypt will give you a first-class education in the art of negotiation.
I watched a twenty-something couple from Australia try to buy a Hard Rock Cairo t-shirt (don't ask me why). Here's a brief summary of the conversation:
Tourist: How much for the shirt?
Vendor: 100 Egyptian pounds.
Tourist: I'll pay you 50. (My guidebook had similar advice to offer half of his initial offer.)
Vendor (after much pondering): How about 60? 10 pounds is only two American dollars. It's nothing to you.
Tourist: Ok, 60. (Tourist leaves happy. Vendor is happy.)
Another tourist bought the same shirt a few minutes later for 30 Egyptian pounds. There was more haggling, but the coup de grace was the tourist showing the vendor that he literally only had 30 pounds on him.
So what happened? The first tourist took 50% off the seller's price, and he still didn't get as low as he could have.
Making the first offer to "anchor" the negotiation
The vendor knows what he's doing. By setting the first price, he set the benchmark by which all discounts would be judged. The tourist could have asked for up to a 70% discount, and he'd still come out on top. Psychologists call it "anchoring", and believe me, it's not a tactic used solely in a far away land. Don't think you suffer from it? How would you answer this series of questions?
Are there more or fewer than 10 African countries in the United Nations?
Let's say you answered, "more."
How many do you think there are?
If you were like the test subjects in an experiment run by professors Daniel Kahneman and Amos Tversky, you probably guessed somewhere around "25".
But let's say my first question was this: Are there more or fewer than 45 African countries in the United Nations? And you still answered "more." What would you guess now? (Actually, you see where this is going so you'd ruin my experiment. Just play along, please.) If you were a typical subject, you'd guess somewhere around "65".
Now, you're not a moron. You know that the first question shouldn't influence the second one. But it does. You use that first number as a reference point and are reluctant to adjust up or down from it too far, no matter where it was.
Marketers use this all the time. How do you think Macy's gets away with a constant flow of 20% off Friends & Family discount coupons? Or why is there a store next to Rockefeller Center in New York that's been holding a 50%-off going out of business sale for three years running?
The key is the starting price. Once somebody tells you a Hugo Boss suit is worth $800, you think you're getting a great deal when the price drops to $600, no matter what you would have offered had you just been asked out of the blue what you'd pay for it.
But given that you read blogs like this one, you're probably quite a frugaliste. Maybe you don't fall for those "sales" tricks. Thing is, anchoring isn't just a marketing trick. It's used in pretty much every negotiation you'll ever encounter.
Using anchoring to your advantage
Let's say you're selling a house. Your list price is $700,000. The first offer comes in at $500,000. You probably think that's a completely unreasonable offer. Perhaps you're willing to go as low as $650,000, but if you counter with that immediately, the buyer is going to protest that you're not meeting him anywhere close to the middle of your two offers.
Instead, what if you just said "no" and told them their offer was unreasonable? If he really wants the house, the buyer might come back with an offer of $600k, and your counter (say, $650k), suddenly looks much more reasonable than it did under the previous scenario. (And in case you don't want to take an anonymous cartoon character's word for it, I pretty much ripped off that strategy from a Stanford management professor.)
In some scenarios, you might be hesitant to make the first offer. If you're new to the job market, for example, you might not know how much money to ask for in a salary negotiation. Guess too low, and you've left money on the table without the hiring manager having to lift a finger.
But even if you can't use anchoring to your advantage, at least now I hope you won't let someone use it to take advantage of you. You've got to ask friends, professors, mentors or whomever what kind of market price your skills have, and stick to your research no matter how low the initial offer comes in.
If you don't, you've essentially fallen for that sketchy suit store's 50%-off, going out of business sale.
——–
Pop writes about the intersection of our brains, our money, and the economy at Pop Economics. There, you'll find stories that go way beyond Personal Finance 101 and deep into the psychology that drives your money decisions–not to mention some killer pop art! You can follow Pop on Twitter at @PopEconomics.
(Visited 5 times, 1 visits today)
Get blog posts automatically emailed to you!