INSIDE: Did you know you can buy a hotel room? Discover what it's like to live – and own – a hotel room, complete with costs, rental ideas, perks (spa, gym, restaurant, bar!) & other pros and cons to hotel living.
[I am sooo excited to share this with y'all today!! I recently found out that Amnesty from Primal-Prosperity.com not only lives in a hotel, but also OWNS the room herself (!!), and has graciously agreed to share the details with us… Thank you, Amnesty! Finally a home I'd be willing to buy! ;)]
You Really Can Buy a Hotel Room
Yup, you read that correctly – we own a hotel room.
About six months ago my husband and I purchased, and moved into, a fully furnished King size hotel room suite in a historic building, with kitchenette and all.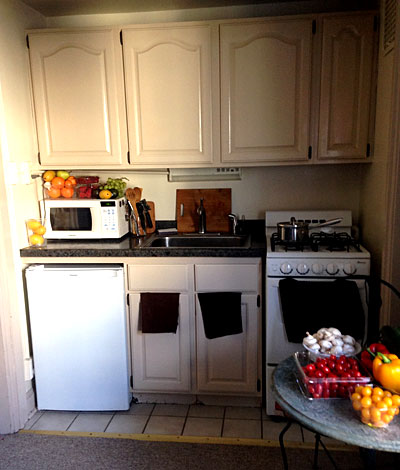 They call this a condotel.
Before we get to that, though, let me first clarify that I could write multiple articles on tiny space living alone. I'm a minimalist, and have wanted to live tiny for a long time now. But, let's face it, tiny house living is no longer unusual and there are already tons of articles and resources regarding tiny living.
So today I will specifically talk about the personal, and financial aspects, of what it's like to buy a hotel room vs a similar studio condo.
I will not get into specifics about the challenges and benefits of tiny living, or condo living versus single family home living. And, if you are not prone to living in a tiny space or even high density living (i.e. have a family, like to entertain, or want a yard), then living in a condotel is not for you.
However, if you are a real estate investor, this is a great option. It can also always serve as a vacation home, weekend home or a retirement home after the nest is empty.
Since this is a money blog, we'll start with the juicy details of the finances first…
The Personal Finances of Owning a Hotel Room
I am a real estate investor first, homeowner second. So, my properties all serve the purpose of making me money first, then provide a home base second. We bought this condo in a very happening, upscale urban area, with bike paths and parks galore for $41,000.
Yup, $41,000.
We made a cash offer and paid half with our own cash, while financing the remainder. It's since been paid off in full, free and clear. We also pay about $425 every month to the hotel, ALL inclusive. This covers gym, heat, electricity, water, trash, HOAs, high speed internet and cable, including about 600 channels with a full sports package and all the movie channels.
Our taxes are about $1,400 per year, and we buy homeowner's insurance for $120 per year. Street parking is free to full time residents. So, amortizing those costs, our TOTAL housing costs are $550 per month. That's it. Oh, and did I mention it is on the lakefront?
Investor Finances of Owning a Hotel Room
Here's my experience with buying a hotel room. The unit had been on the market for awhile because it was overpriced at $55k. Then it dropped to $49k and entered my radar, because it was now within the range of where we could make a cash offer.
I performed a comp search with my Realtor first and foremost, and I was happy to see that the units do move on the market. That was a good sign since I was originally skittish about the whole 'condotel' investment. I then saw that the non-remodeled unit comps placed this property at a value of around $43k. So, we negotiated a couple of times and ended up on $41k because one of the windows is inoperable and there is no A/C, so that leaves us $2k to cover those costs down the road.
In addition to doing my due diligence for the purchase price, I also had to figure out if this would even cash flow down the line.
We have two options for this. Our first option is that we can rent the unit out ourselves, "as-is", on AirBNB, or we can get a more long term tenant. If we get a long term tenant, we can probably get close to $800 per month, which will mean a cash flow of only $250 per month. Not great at only about a 7% ROI, but since this is our main residence, it is not bad to have the option of temporary rental income.
Our second option is that we can put it into the hotel "pool". This is where it gets tricky because the hotel needs to keep certain standards, so we would need to put more money into it. At a minimum, we would need to replace the window and A/C mentioned earlier for $2k, and buy a furniture package from the hotel for $3k. Otherwise, the hotel won't rent it out for us.
That brings us to an equivalent of a $46k total investment purchase price to get it into the hotel pool. From there, there are three tiers of rentals. The hotel takes 30% of rents and requires a 2 year lease, which we can break on certain conditions.
Tier 4

– These units are not accepted into the hotel pool because they either don't have the $3k package furniture, or the unit is in too bad of shape to meet the hotel standards.

Tier 3

– These are usually clean, but outdated units. With the furniture package, the hotel will rent these units, but they will be the last units rented, so they will only be rented during high season. This will bring in an average yearly rental of $9k. After taking off 30%, we would be pushing it to break even. This is where our current condo stands.

Tier 2

– These are units that are more updated than tier 3, but not fully remodeled. It would probably be about another $4-5k to do minor upgrades like flooring, painting, fixtures and appliances. This puts us around $50k or so as a total investment purchase price. Yearly rents average $18k for these, so we would cash flow around $500 per month. Not bad at a 12% ROI.

Tier 1

– These units are rented out first and must be remodeled to the hotel standards. The remodeling for our unit, as done by the hotel, costs $11k. This would put us at a $57k investment purchase price. Yearly rents average $22k-$23k, so we would cash flow around $750 per month, putting us close to a 16% ROI. Pretty darn good!
Our goal for the short term is to not put any money into the unit, and rent it out the best we can while we do 2-3 month travel trips and then come back home for awhile. We can use it to home swap around the world also, and you can read below about our philanthropic dreams.
In the long term, when (or if) we move out permanently, we will probably go for the Tier 1 option and the 2 year lease, to maximize our ROI.
Fun Facts: About 50 units are owner occupied, another 50 are rented out to long term tenants and 80 units are in the hotel pool. They also have larger 1 and 2 bedroom units that people live in, but they are pricier (up to $200k for the penthouse).
Benefit of Condotel Living #1: Travel
I am a free-spirit and a vagabond, so this is where the decision to buy a hotel room benefits me rather than a condo.
Condos can usually be rented, but sometimes not. If they can be rented, there may be an HOA requirement for a minimum of a one year lease. Plus, most tenants don't want furnished condos, they want to bring their own stuff. So, if you want to rent out a condo for extended travel, you may have to put everything into storage.
However, with a hotel, it is set up perfectly to travel for a few months and rent it out nightly, or for longer corporate stays, and make money while on the road. All of which is our intent in the near future. When we decide to do this, we will put all our belongings into the small closet and install a dead bolt lock on the door and leave the large walk in closet and dresser drawers for the guests. Linens will be available for guest use also.
I know a lot of people would still be weary about having strangers around their stuff. But I'm a minimalist by nature and not all that attached to my stuff. We have a very small fire rated/flood proof, lockable safe for important documents that we would leave in the locked closet. Then, when we are done traveling, we can come right back to a place with furniture, dishes, linens and our own stuff!
Benefit of Condotel Living #2: Cleaning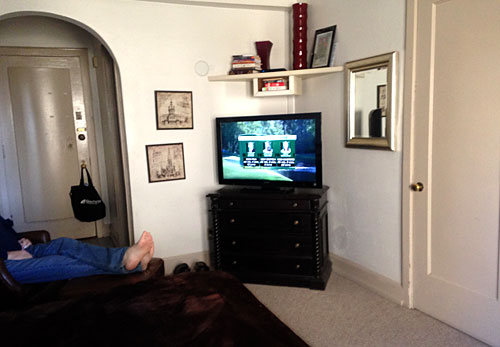 Like any tiny dwelling, it is a snap to clean. However, I still don't like certain tasks like scrubbing floors and shower stalls. So, (cover your ears, MMM) we pay for cleaning services once every few months. It is nice because the cleaning crew is right there in the building and we can usually request cleaning at almost a moment's notice.
[Out of curiosity, obviously not financial acumen, I did ask the hotel if there was a 'package' available where we could use their sheets and towels and get weekly or bi-weekly cleaning to change the bed and bathroom linens. It turns out that they don't do this for tenants who reside here permanently. So, alas, we are left to change, launder and store our own linens… and no pillow mints. Woe is us. :)]
Benefit of Condotel Living #3: Visitors
Putting up overnight guests in most tiny living situations is challenging. However, in a hotel, they can stay right next door!
While obviously that means shelling out dough occasionally (at least if you want to be generous), it is usually still a heck of a lot cheaper than the year long expenses you'd accrue from owning or renting a multi-bedroom, stand-alone house, especially if you live in an urban area. Though many guests when visiting from out of town will pay for their own hotel rooms anyway, making this a great way to be close to your visitors instead of a car ride away… And you get to keep your privacy!
Benefit of Condotel Living #4: Socializing
This is a prime building for corporate stays because of the kitchenettes and location. In the summer it is packed with out-of-towners and tourists. While many people may find this annoying, we are very social and love talking to new people. Every elevator ride is an opportunity for a fun conversation.
I also love telling people that (supposedly) the building is haunted and watching their expressions. :)
[I'm not sure if I believe in ghosts or not, but while living here one really weird thing happened. I was in the bathroom brushing my teeth and the lights just went out all of a sudden. It wasn't a power outage, and the switch had actually moved to the down, 'off' position! That was really eerie because it doesn't toggle easily, nor was it loose. But so far that is the only thing I have experienced here.]
Benefit of Condotel Living #5: Amenities
Some condos have these same amenities, but they are usually in pricier buildings. Our building has a full service spa with massage, hair cut/color, makeup, facials, etc… It also has a gym, tailor and a restaurant/bar. This makes winter living more enjoyable. There is also 24 hour concierge and everyone is super friendly.
The only thing it is missing, in my opinion, is a coffee shop, but there are plenty others in the area within a few blocks walking distance. It would also be nice to have a pool, or even just a public lounge or exterior space to hang out in and be social. But, again, that would probably hike up costs to the owners, and there is a huge park literally across the street.
J. Money asked me if we end up spending more money since we have all these amenities?
Fortunately we have good self control to not get lured into the restaurant and bar too often, but it is nice to know it is there and they do have good weekly specials and friendly people. I enjoy having the salon so close for my highlights, but I cut my own hair, so the costs don't add up too much. I do, however, plan to spend more money at the spa in the winter getting massages when it is too cold to enjoy the outdoors. :)
Another Cool Use For Your Condotel…
We live near a major hospital and when we travel, we would like to occasionally offer out our room for free to people who might be visiting for an illness or a sick child. This is much harder to do with traditional real estate investing!
Condotels & Pets?
Like many high density buildings, dogs are not allowed, but cats are. I have to say that I was surprised to hear that cats are allowed in a hotel building. Pretty cool. We want to travel though, so no cats in the near future for us.
So, that's it!
What do you think? Have you ever thought of living, or investing, into a hotel condo before? Does it make you want to cringe? :)

Drop any questions below, and I'll happily answer them.
********
Amnesty blogs at Primal-Prosperity.com, where she describes herself as "FIRE'd up, wild and free". She has developed a workshop program called The Real World M.B.A.: Creating a Life of Meaning, Balance and Abundance which focuses on a multitude of topics like sustainable real estate investing, decluttering, location independence, and the art of setting D.U.M.B. goals. Say Hi!

EDITOR'S NOTE: here's another guest post from a friend who also lives out of a hotel, though it's only half as cool because she doesn't own it ;) –> True Life: I Live in a Hotel
[Top photo by Kieran Lynam // all others by Amnesty of her place!]
(Visited 1,304 times, 2 visits today)
Get blog posts automatically emailed to you!