Yo yo yo!
Been awhile since I updated y'all on a few things, so thought I'd take the chance to do so today before I forget again :) Also – got some responses back from those two readers we just blogged about, so thought you'd want to hear about those too!
Let's start with the guy trying to figure out life at 17 y/o… Last we heard he had dropped out of college and was doing some good soul searching on life, money, and especially career (he had recently applied for an apprenticeship, though he was hesitant of accepting it) and really just didn't want to fall in with the crew around him doing stupid stuff. I'm not sure if he ended up getting kicked out of his house or not, but he did stumble across something that I think is actually a pretty damn good idea for him. Would you agree?
"Since our initial talk I have sent my application of for the Royal Navy and just passed my entry test a few days ago (it's essentially an IQ test) with many more tests to come. So if all goes well I could be at boot camp in a years time from now give or take a few months.

If you were to look at my credentials then you would realise how suited to a military career I am, and I would be fully going into it with a clear vision of what military life is like – not some rose tinted patriotic bullsh*t. I plan on signing up for 6 years initially making me around 24 when my contract is up so if I hate it I can leave but if I'm in love then I can extend my contract. My first choice of job is aircrewman so that is basically flying around in the back of helicopters (badass) but they have high standards for everything. My second is seaman specialist (interesting name) which is essentially a typical sailors role tying knots and grafting hard.

Your responses were read and appreciated 1,000,000% and definitely helped put some of my questions I had to rest."
Now to our guy, Dave, who was having trouble investing his hard-earned cash… He was worried about needing it in an emergency, and although we never found out just how much he had stored up, I think his update gives us a clue :)
"Thank you for the advice. I took it and have started moving it into investment properties. It's something I have always wanted to do and have found some properties I can put it in."
Didn't see that one coming! Haha… Glad he followed his passions, but wow… He went all in, didn't he? Hopefully by "moving it into" he means "doing lots of researching and planning and finding real estate mentors/deals" than just pouring the money right in… At least he's taking action though.
Next up – WE GOT AN ANTENNA AND IT WORKS MAGNIFICENTLY! 32 free stations including all the major networks and most importantly – NFL football!! Which means I was able to watch my 'Skins crash and burn Monday night in the comfort of my own home :) And now also means there's not one single thing I miss about cutting out cable 12 months ago – a $16 purchase that solved everything!
Here's the antenna we picked up if anyone's interested: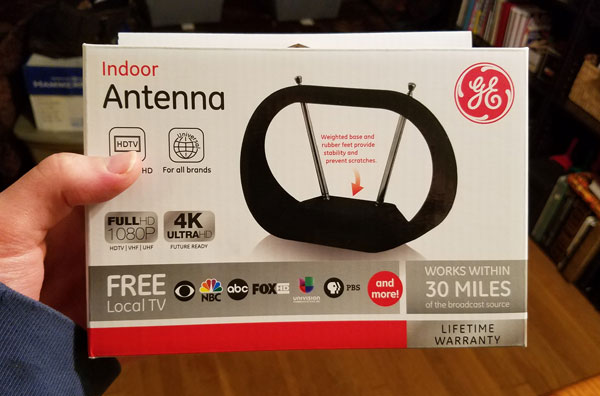 (It's only $9.00 at Amazon, FYI – but we bought it at Target just for easy returns if needed. All attempts at our old house didn't work out so well, and we weren't sure which of the half dozen options – ranging from $12-$90 – we'd end up going with at the end… Ironic that it was the old-school bunny ears that did the trick! And I'm told the picture quality is actually better over airwaves vs cable too because cable compresses it. So a big (free) win in the entertainment department!)
Our Weekly Decluttering pushes on! Our mission to go through at least one box (or tub) a week until our entire storage area is cleaned up and sorted is still going strong… We're about to go on week #7 here, and I'd say we're operating at around a B+/A-. Some boxes have taken a lot longer than we've wanted, while other times I've forgotten and then had to double up to make sure we're still on track (which is much harder than just doing one a week!).
At any event, we've gone through about 8 and 1/2 containers now and it seems like we're averaging a 30/30/40 ratio: 30% we keep, 30% we donate, and 40% we just chuck/recycle. Which I think is a pretty good return on time! And will shrink our storage by around 2/3rds for the future…
Here's a look at some of the more interesting stuff we've unearthed so far ;)
(I claim everything except those buttons!!)
5 A.M. wakeups a la Benjamin Franklin — If you can believe it, it's already been over a year since we tried this crazy schedule! And while I've gone in my phases of "sleeping in" until 6 am some months, I've generally stuck to waking up much earlier – typically 5:15'ish – than I used to, and still very much appreciate the perks that come with it (so much so that it's now habit!):
Taking in the stillness – and beauty – of the mornings
Appreciating life more, and slowing down
Setting your own tone for the day vs anyone/thing else!
Being much less stressed than normal (doesn't solve all of it, but certainly nicer than more of it :))
Feeling like you're a part of something bigger (there's a whole group of early risers!)
Having the pure "alone" time (no distractions, obligations, people pinging you)
Being able to work/think more efficiently
And one of the best perks of them all – sleeping much more soundly at night… I still get (and remember!) the wildly vivid dreams every single night too! Which never happened before this?
So needless to say it's going pretty well :) There are cons to it too – like having to go to bed earlier and being more tired in the afternoons than you were – but nothing you can't get used to. Really comes down to what outcomes you prefer more.
Here's the post that started it all: Being Benjamin Franklin For a Week (the early rises are the only thing that stuck from the experiment), and here's a book that I hear is game changing on this: The Miracle Morning: The Not-So-Obvious Secret Guaranteed to Transform Your Life (Before 8AM)
Daily composting — Big fail… I got good at filling up the dang composting bin and making it a daily habit after all meals, but unfortunately it turned to worm-infested sludge and I gave up on trying to "compost" it. Fortunately my mother recently expressed an interest in testing it out, so both my kitchen container and the composter are now residing on her property eating up the scraps :) I keep forgetting to ask how it's going, but at least she gardens so she'll have a nice use for it no matter how it turns out!
On the plus side, I enjoyed learning more about it and ended up coming across some pretty kick-ass blogs on wasting less in general – my favorite being ZeroWasteHome.com (the Mr. Money Mustache of Waste :)). Check it out!
Digit automated savings — Now up to $6,743.63 since starting out a year and a half ago! One of the easiest – and laziest – ways to save… Here's my full review on it for new comers: Digit Review. They've also JUST launched an app for Android users too which has been long awaited!
Acorns total invested — Similar to Digit, I've been able to automatically – and lazily – invest into a separate brokerage account as well. So far to the tune of $501.09 across this same year and a half. Not as much as w/ Digit, but not too bad from rounding up handfuls of pennies every day. Full review of Acorns here: Acorns Review.
Life at our new home — Overall nice and settled now, but I've definitely started missing our old town and friends :( It helps knowing we'll be back again in the future and that our finances *and* my wife's career will be better in the long run, but it's still tough at times… I have started working out of Starbucks more and starting to meet some other hustlers/retirees (mostly retirees – hah) so that's been a nice change. As long as I stay out of my house during the work day I seem to do better :)

Life for the Mrs. — She is so happy to be back at a 9-5 again! And mainly to be around adults all day – hah. Though she forgot how pointless meetings can be and that she now has to accrue time off :)
Life for our two boys — They are absolutely LOVING their new home. Particularly the basement just for them and all their toys :) Our oldest (4 y/o) just started pre-school last week too and I couldn't be more proud of him. I literally cried the first day I went to pick him up because he's such a little man now!! Our youngest (2 y/o) has been doing wonderfully too at his home daycare (where he hangs the first half of the day w/ other kids, and now the 2nd half with his brother too), so it seems the entire family has adapted pretty well overall.
Lastly, and this is totally random, but Kiplinger and NAPFA are teaming up for their quarterly Maximize Your Money webchat tomorrow (Thursday) where financial advisors will be answering questions on student loan debt, investing, retirement, refinancing, taxes and anything else people lob over. All FOR FREE. If you're interested in participating, just visit this webpage tomorrow and chime right in: http://live.kiplinger.com/
Hope your lives/money/experiments are going well too! See ya back here on Friday :)
(Visited 16 times, 1 visits today)
Get blog posts automatically emailed to you!