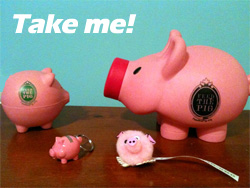 I've got a handful of extra goodies laying around & I'm going to bribe you with 'em.
Haha… actually they're just taking up space in my new minimalist household and/or I can't use them ;) So naturally I thought of you!
But PLEASE, for the love of J. Money, make sure to leave your contact info in case you win! Half of these are leftover prizes from previous giveaways that no one ever claimed (sorry old winners). Here's what we've got:
$25 Threadless.com gift certificate #1

: If you win, just be sure to use them when Threadless has their $10 tee specials! If not, you'll waste it all on 1 shirt like I did ;)

$25 Threadless.com gift certificate #2

: Same for you mr. winner.

$25 Certificate off Northwest Airlines:

I got this "Discount Travel E-Cert" when they lost my bags the other month. I have no idea if or when I'll use them next (I'm not carrier loyal) but it's all yours if you think you can use it by March, 2010.

A handful of piggies!

That includes 1 Piggy Bank, 1 piggy stress-ball, 1 piggy sticky thing (remember those?), and 1 piggy key chain! You can blow up the picture if you click on it. They came from a prize pack I considered giving away a while back but waited to long to do so :( That's why they're covered with "Feed The Pig" logos all over. If you ever wanna hear a pig talk (& perhaps freak you out) click over to their site and turn up the volume!

1 Free "18×24" rolled poster off a picture of yours

. I won this gem over at The Practical Nerd but I know for damn sure I won't use it. Thought about printing a big ol' picture of my face and using it to scare the wife, but figured you probably have better uses for it ;) Expires on 10-31.
If you want any of these, all you have to do is:
Tell me what you're wearing for Halloween

.

(I'm totally out of ideas…)


Tell me which you want

– only 1 per person.

LEAVE YOUR CONTACT INFO

. Give me a blog, an email, a twitter, a secret password, just give me something – whatever you're comfortable with.
That's it! I'll randomly select 1 winner from each 5 categories so your odds of winning goes up :) And, I'll close this out tomorrow (Friday) at midnight too. So if you want something no one else does, it's all yours! Now hurry hurry hurry & take these off me me me.
—–
Giveaway ended: Check out the winners!
(Visited 5 times, 1 visits today)
Get blog posts automatically emailed to you!