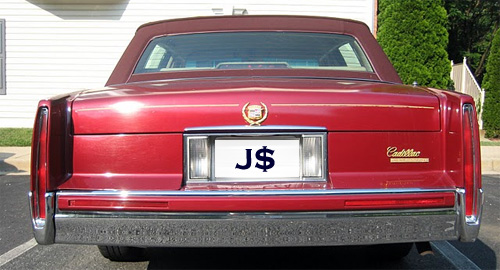 My poor caddy is a beast. I love her to death, but man she's getting old. 18 years into her prime and she's just not as peppy as she once was! *tear*
We went to the doctors the other day (National Tire and Battery), and she's now a proud owner of a brand new heart (battery). It seemed she was trying to tell me something last week when we got stranded in Applebee's parking lot and I dismissed it for a cough. I also found out that I am no good at asking strangers to give me a jump! Not only is it embarrassing for some reason, but I also just feel bad imposing on others :( Turns out my wife is pretty good at it, though ;)
So that was $120 out of nowhere. And there's other signs of deterioration starting to show more too: random lights are popping up here and there now, my radio doesn't like to turn off anymore, the transmission fluid continues to leak faster and faster, and I'm just wondering how much longer we've got here. Oh, and the gas it's costing me lately? WAWA WOOEY! I literally spent $60 to fill up last week! Sixty! Another con of ridin' in style, haha… my friends family wife everyone pretty much thinks my whip is ghetto, but I don't think they know what they're talking about. You ask any grandpa out there and they'll tell you how luxurious these Caddys are ;) Just sucks they sip on the champagne of gas – good ol' Premium. Currently hovering around $4.00 a pop.
As sad as things are though, I just can't get out there and start looking around yet. The idea of starting over and having car payments again is NOT my idea of fun anymore. And as many of you know, there's a 50/50 chance I'll say F it and go buy that Benz I've always wanted for the last 5 years now ;) Which you can't let me do!! As you've seen from yesterday's post, I'm not in the most secure spot to be allowing for such luxuries – even though I rode around in one yesterday and was reminded of just how much I LOVE 'em! One of these days I tell ya, one of these days!
But for now, we keep doing our thang. We drive that puppy right into the ground, and just pray we got a lot more years outta her. It may be annoying at times (and also, perhaps, a bit unsafe depending on your gender) but if you don't mind the inconveniences, you'll be rewarded handsomely in savings ;) Know what I'm saying?
Any of y'all currently going through some car buying action? Anyone get stranded and will never ride to the very end again?
(Visited 2 times, 1 visits today)
Get blog posts automatically emailed to you!