By now most of you know how much I love me some antique stuff. Whether it's sexy coins, baseball cards, books, baby prams, or any other interesting collectibles I come across at yard sales and thrift shops.
Most times I usually look to add stuff to my own collection, but others I'm out on the hunt for items to flip and (hopefully) make a tidy profit from. Especially during fits of minimalism :) (Do you know how hard it is to hold back when you're a natural collector of things?? It takes some major willpower!)
This brings us to a couple of stamp albums I picked up years ago mainly cuz they just looked so freakin' cool, but also because one day I figured I'd probably try and sell them and see how much I made on the transaction. And this magical day is coming sooner than later because I can't help my curiosity anymore as to what – if anything – they're all worth!
All I know is the following:
They're all super old, like from the 1800s and early 1900s
There's *hundreds* of them, if not *thousands*
These "modern" books/albums were printed in 1915 and 1937
And the lady who consigned them – in her 60s her self – said they had belonged to her grandfather who collected for over 40 years while flying all around the world in the military. So not only do we have tons of US stamps in these books, but also hundreds from dozens of other countries too!
Oh, and I paid $20 in total from them :)
So I feel like there's GOT to be some good money in these bad boys – at least more than my piddly $20 bucks right? RIGHT??? Any stamp collectors out there want to chime in and help a brother out? (I"ll pay you in beer?!)
Something else I know – or, I should say, heard of – was that stamps printed in the past 80-100 years usually aren't worth much, but those before that have a better chance of being valuable. So I really think I'm sitting on a gold mine here. Or at least that's what I'm going to pretend until someone proves me differently ;)
Here are a few of the inside pages… Tell me they're not awesome??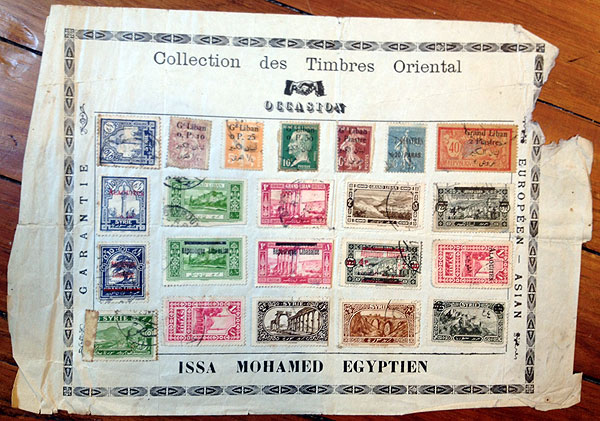 It's pretty interesting to see all the different kinds of denominations. We've got some 1 cents, 3 cents, 7 cents, and even some 1/2 cents scattered about. And then there's some funky looking ones too like those elongated vertical George Washington strip stamps. Imagine what 50 cents was worth 100+ years ago?? I wonder what they were trying to ship with it?
And then we have the famous "air mail" stamps too – with the most famous one being that upside down plane that sold for hundreds of thousands a little while back. That's literally the only stamp I've heard of before being worth anything, haha… But we do have some of these air mails in the book too:
Outside of that, though, I'm really at a loss… Unlike coins and other collectibles, there aren't any dates on these guys so every time I try to look one up online I can never tell if it's the same one or not! And there's like a billion different variations of each old stamp! I don't know how collectors do it… But I would like one of them to size up my collection for me and then provide me with lots of cold hard cash, thank you very much ;)
The History of Stamps
My only success so far has been learning about the history of how stamps came around back in the day. And it's actually quite a fascinating story. Here's a clip from the American Philatic Society (aka stamp collecting club):
"The birth of the postage stamp dates back to May 6, 1840, when Britain issued its first stamp, the "Penny Black"… In the early days of the postal service, stamps and envelopes did not exist… When you wanted to send a letter you would fold it up and seal it shut, and the person who received the letter had to pay for the delivery costs. Since rates at that time were very high, many people refused to accept letters. In fact, many people developed secret codes by which they could cheat the postal services. They would place secret marks on the outside of the letter that conveyed their message and all the addressee had to do was read the secret message, refuse to accept the letter, and thus not have to pay for it. Mainly for this reason, postal services turned to a means of prepaying postage."
Kinda reminds me of the days of calling "collect" where you'd dial up a friend/family member and in the part where you're supposed to say your name, you rattle off a quick message and then hang up once you know they've heard it. (For example – "Mom, pick me up!" which I used a solid 4 days a week during after school soccer practice ;))
Anyways, the entire history of our stamps is pretty neat, and you should def. check it out more some time when you're bored or just want to learn something new.
As for my new interest in these tiny pieces of sticky paper, well, I hope to have an answer for you soon as to whether I'll be a millionaire or not ;) I've asked a couple of coin friends if they have any connections to stamp dealers, since there often tends to be a cross over in the hobbies, but so far I've only got one response and for an evaluation it'll cost me $160. And perhaps more, depending on the time involved.
I'm not sure I'm willing to pony up that much quite yet, unless they can tell me I'm DEFINITELY sitting on that gold mine (hardly likely), so for the time being I have ordered a stamp book on Amazon to see if I can decipher the code more myself. It's called, "The Official Blackbook Price Guide to United States Postage Stamps" and it cost me a whopping $8.00 :) Figured this way I can learn a lot more about the hobby, as well as what to look for at future yard sales/shops/etc too. With any luck I'll determine a good chunk of my stamps' worth as well!
But please – cross your fingers for me! I'm half excited about the process, but also very much half scared too, haha… I'll be in deep doo-doo if I get addicted to yet another hobby outside of blogging and coins… And WHATEVER I do, do NOT – I repeat, do NOT – let me start a blog on stamps, okay?! I mean it! My street cred's already shaky now with that coin blog ;)
Anyways, I'll keep you posted on my findings…. If you don't hear from me for a while, it's because I'm chillin' on the new island I bought…
(Visited 12 times, 1 visits today)
Get blog posts automatically emailed to you!