I'm back! Did you miss me? Do you want some more of Matt Becker? Did you even know I was gone? I didn't know where I was half the time myself over the weekend so no hard feelings either way :)
But what I do know is that I'm back in action and sober now, and ready to get down to business… The business of money, that is! We'll start with some of my favorite parts from our blogger conference, and then jump right into  other financial nuggets that are a brewin'… which unfort. are not for the best :(
I met and interviewed Craig Matters, managing editor of Money Magazine!
We were both guests on the Stacking Benjamins podcast, so I took the opportunity of asking him how long we've got until the magazine's no longer in print ;) I did it in the most appropriate way I could muster, of course (I led with "I'm a big fan of print magazines and have the very 1st edition of Money Magazine in my office!" which, coincidentally, he does too!), but I'm sure it was a topic he didn't really want to talk about, haha…
The podcast isn't live yet, but spoiler alert – he said "10 years." Whether that's a political response or not, I'll take it in the name of hope. We already lost Smart Money Mag the other year and I'm tired of reading everything online 24/7!
(PS: After the show he asked me how I make money blogging which I thought was pretty cool :) I then ran into him again at a bar later and we shared a drink and his love for music – so fun!)
(PPS: Randomly enough, I also had dinner with a journalist from Kiplinger magazine while there too, haha… Who would have guessed years ago that legit financial magazines would be hanging out with crazy financial bloggers?)
Rockstar Finance won the award for "Best Microblog!"
I.E. for our Twitter account: @RockstarFinance. Thanks for all the votes, everyone! Unfortunately I wasn't there to receive it when announced (my son had gotten sick so I stepped out to call him), but I do appreciate all the bloggers who got my back and said I "must be in the bathroom" Haha… I wish that were the case :) Poor kid threw up for the first time and was scared because he didn't know what was happening to him :( And it was his first night away from both mom & dad too – yikes… (he's better now)
(FYI: ListenMoneyMatters.com took home the award for the other category we were a finalist in – "Best New Blog" – which they definitely deserve, and then Mr. Money Mustache won "Blog of The Year" and we all celebrated on the dance floor afterwards ;) Who knew he could break it down so well?).
My credit card got hijacked for the SECOND TIME this year (!!)
In the middle of that same awards ceremony my phone was also going off for another reason: mysterious charges were showing up on my card and the quick-witted USAA was notifying me of it. Turns out I was in Bulgaria that night buying "fast computer service" for $14.95 – whatever that means.
So of course we had to cancel the card and get it re-issued all over again like the previous two times this year – once due to the Target hacking, and the other due to me letting Baby Penny fumble around with my wallet while not paying attention to him like a dummy… All rather annoying stuff.
But the good part this time around? I MADE A CREDIT CARD LIST!!! Which means I now know where all my cards are linked up to so it's just a matter of swapping out the info as soon as my new card comes in – woo! I owe you a beer, Past J. Money!
(Speaking of "owing beers" – you know how people always say they owe you one but of course it never comes to fruition? Well, I blame part of the reason of my anti-sobriety this weekend to my fellow bloggers who actually followed through and reminded me of these beers I needed to cash in – so thanks, guys :) My favorite was the one I got at the Carousel Bar– pictured above and my new favorite bar because it spins while you sit!)
Here's another idea to curb card thief annoyances as well – dropped by fellow reader Lucas:
"You just need to separate your auto bill payments from your point of sale/shopping useage. We got effected by the Target hack as well, but it really wasn't a pain because I have one credit card (that I don't carry in my wallet) that is used to pay all my bills (insurance, cell phone, ooma, some donations, . .. ). We have one other credit card that we carry around with us that we use on point of sale purchases and restaurants, etc… So that was the one that got hit in the target hack. All we had to do was replace it and just start using the new one."
Great idea if you don't mind having multiple cards! I tend to keep my banking super simple with as few accounts as possible, but the downsides are you miss nifty little tricks like this one…
Two major problems brewing at our rental property :(
Our property manager called us the other day (never a good sign) and mentioned our renters noticed a small water stain on one of the ceilings, and then that our AC unit wasn't functioning as well anymore either. Now I'm hoping and praying these are *minor* fixes here to come, but I always brace for the worse when it comes to home ownership as you just never really know.
And I say this on purpose today for all you looking to pick up your first home. There are tons of benefits to ownership, but don't brush aside all the pitfalls too! Namely, the maintenance. There are 101 things that can go wrong w/ a home so really make sure you're ready to deal with this stuff from both a mental and financial standpoint. Homes are no joke – there's always something to be worked on and there's no shame in renting AT ALL. Don't let anyone tell you differently.
Lastly, check out this new book by author Tom Corley: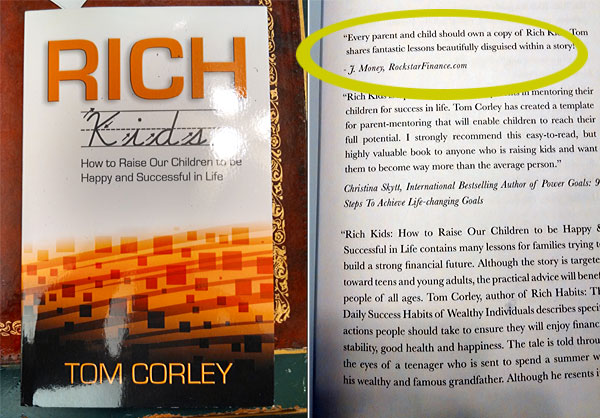 You might remember him from our posts here on rich habits which I'm obsessed with, and he just came out with a new book to help parents raise financially awesome kids. And look who's at the top for his first ever book recommendation quote! How neat-o! It really is an entertaining book based on story-telling vs "here's how to blah blah blah" like a lot of them are. You can find it on Amazon here if you're interested in checking it out: Rich Kids: How to Raise Our Children to Be Happy and Successful in Life
So that was my weekend! How about you? Are your credit cards (and liver) nice and safe? :) Does this make you want to start a blog yourself? I will say that it's moments like these when you realize chasing your passions can really lead to some amazing opportunities in life. You often have to go through some $hit to get there (it's been a lot of ups and downs over the past 7 years), but it's well worth pushing through if you're doing what you enjoy at the end of the day.
If I can ever help any of you guys out with this type stuff (business/career/blogging/etc) do shoot me a note. I love this stuff and can talk about it all day long. Most people just need a little push!
——-
[Awesome carousel bar shot by dansilvers]
(Visited 27 times, 1 visits today)
Get blog posts automatically emailed to you!