Most of you know by now how much I love to hustle. I do it at work, I do it at home, but mainly I do it online ;)  One of the nice things about pf blogging is that you can sometimes make a little side income from it! (Notice all the ads over there on the right).
But online ventures are only a SLIVER of what's out there.  People have been hustlin' for hundreds and thousands of years and there's always a way to make more money if you really put your heart into it.
So today we're starting a new series called the "Side Hustle Series," and the only purpose it's gonna serve is to show ya'll how many OTHER ways there are out there to bring in that extra cash. And what better way to showcase these than by sharing the written accounts from the hustlers themselves? You may not like or even think about doing any of these, but they're all real-life stories of people making trying to make that extra money. And sometimes it doesn't always work out!  It can really take some trail and error to maximize those profits. If you'd like to be featured here yourself, give me a shout and share your story with me.
My name is Molly, and I'm a Chicken Farmer
I love chickens.  I love to look at them, pet them, sit next to them and yes, eat them.  My kids will tell you that some days I like my chickens more than them.  I've kept a dozen or so chickens for eggs in the backyard for the past ten years. In Quicken I classify them as pets, but my real intent is that they provide us food, compost our leftovers from the kitchen and provide our garden with fertilizer.
This past Spring I decided to jump into chicken farming with both feet and raise not only laying chickens but chickens for meat too.  Now, if you were to talk to most farmers they would tell you its hard work, never a day off.  I get bored easily with projects I start and I don't 'love' hard labor, in fact I can be a bit whiny at times.  Yet this Summer I became a chicken farmer and I'm trying to make some money from it.
Here's the breakdown of how it worked out:
Will it make $?: This year was a test.  By the end of the season I would know a lot more about chicken farming and if I liked it I'd be all set to go into larger production for Spring 2011. I created a spreadsheet and put in all the costs and the potential revenue.  What I saw was the more chicken, the more profit.  When I ran the numbers it looked like I would break even at about 100 chickens.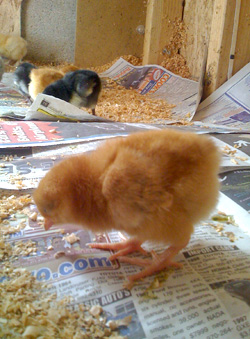 March- Order the chickens: In March I ordered my first batch of 25 chickens. I ordered 'slow-grow' Cornish Rock chickens because they can survive at over 7000 feet above sea level which is where I live.  They are bred to be ready to harvest after 10-12 weeks.  The 'fast-grow' variety used in most industrial farms mature in 6-7 weeks.  They don't do so well at our altitude and I don't need my chickens keeling over from heart attacks.   I built a brooder for raising chicks in the chicken coop and waited.
April- Building infrastructure: My husband, Michael, and I built two mobile chicken pens.  At three weeks old I'll move the chicks from their nursery in the coop to the mobile pens.  In the pens they will get moved around the yard every day to a fresh patch of grass.  The grass and bugs will supplement their feed while their poop will fertilize our land.  We were able to build the pens from materials we had laying around so it cost us nothing.  We are reading up on the subject of processing chickens and my husband, who likes to read reference books for fun, is starting to build a chicken plucker.  Pluckers can cost up to $1200 retail. Not something we want to invest in for an experimental chicken farmer. If his homemade plucker isn't working by the time these chicks are ready we'll have to do it by hand.  Our chicks arrive late April and were in good shape although I got shorted two chicks. Day two I checked in on the brooder and it was full of active little chicks except for one who had moved on to chicken heaven.  It happens.
May- Full time farmer: I quit my job (Whoo-hoo! Now I can farm full time!).  This was not the plan but my husband knew it was inevitable.  This weekend the chicks will be 3 weeks old and big enough to come out of the brooder and into the new pen.  Thank god, because yesterday I ordered 50 more and I'll need the brooder for them!
Mid May- Predators: The coyotes have moved in and eaten two of our chickens.  A little coyote education:  Coyotes have their pups in February.  They feverishly feed them through May traveling up to 3 miles to find food. Once they find a good supply of food (my chickens) they move in and don't leave until the supply is depleted.  This could include my cats and two small dogs.  Along with the coyotes a raccoon has taken up residence and is enjoying the fruits of our chicken labor.  I spend the week 'battening down the hatches' of the mobile pens.  They are much more difficult to move now because I have surrounded each one with 18 cinder blocks.   Moving the pens daily was one chore the kids could do on their own.  Now I will have to help them, but I will be getting my weight bearing exercise!
June- Processing: We butchered our first chickens.  We're down to 14 from the original 25 I had ordered thanks to predators and other mishaps.  We processed 7 one day and 7 the next.  The plucker is working great but since we are new its slow going.  The rains are coming and already we had to move the pens in a panic during a heavy downpour so they wouldn't get submerged in water.  We can still hear the coyotes but the pens seem to be holding up.
July- Wrapping Up: This weekend Michael and I spent two full days butchering and dressing the last 50 of our meat chickens.  Believe it or not, it was fun, lots of work, but fun.  I felt like I was finally getting the hang of how to dress the chicken about midway through (I still leave the killing to Michael).  When I first met Michael, meat was not something I ate regularly.  I had probably cut into a piece of raw chicken meat twice.  I'm not exaggerating.  I was not a vegetarian; I just got a bit squeamish when the meat came out.  Now I can pull the lungs out of a chicken in record time.
Assuming my labor was free here's how it turned out:
| | |
| --- | --- |
| Description | Price |
| 75 Chicks | -$162 |
| Equipment | -$269 |
| Feed | -$371 |
| Total Cost | -$802 |
| Chicken Sales | $891 |
| Net Gain | $89 |

Raising our own chickens to eat has been a huge learning experience for me. It lasted about 3 months from the time the first babies arrived to butchering the last batch.  My goal was to get closer to my food and see if it could turn into a bit of supplemental income.  I did get much closer to my food and am still able to eat it (something I thought I might give up on).  Did it give us additional income?  Well… yes, but not much.
——————
Interesting in reading more?  Check out Molly's chicken blog here: Chickentopia, or hit up her personal finance blog: Molly on Money. Thanks for sharing your project w/ us Molly!!
If you'd like to be featured here yourself, give me a shout and share your story.
(Visited 147 times, 1 visits today)
Get blog posts automatically emailed to you!