It's another giveaway time! You feeling lucky?  I hope so, cuz we got a KILLER one for ya today :)  It seems the longer I blog, the better the goodies get, haha… so thanks for always coming to this blog!  We grow it well together! :)
Up for grabs this week is a $1,000 two-parter.  You'll have a chance to win $500 in Member Rewards (1 Member Reward = $1 USD) to get FREE hotel stays all around the globe (!!!), AND a chance of winning $500 in cash if you decide to blog about this giveaway too (so really, we're giving away TWO $500 giveaways today).  You can enter both of them, or just one of them, but either way we'll be giving out $1,000 worth of awesomeness soon. Read on for more info and to learn about our sponsor today!
About HotelClub
HotelClub is a world leading global accommodation website, which was established in 1996. HotelClub provides over 73,000 accommodation choices in over 7,500 cities worldwide throughout 141 countries. HotelClub is part of Orbitz Worldwide Inc.
Through its unique rewards program, HotelClub Rewards, members earn Member Rewards (1 Member Reward = $1.00)  of up to 7% of the value of every booking made, which can then be redeemed on future hotel bookings, any time, for any hotels in any country (Awesome!!). HotelClub also offers a Best Price Guarantee. If you book a hotel on HotelClub, and then find the same room type, in the same hotel, for the same dates at a lower price elsewhere online, you will be refunded the difference. (Conditions apply).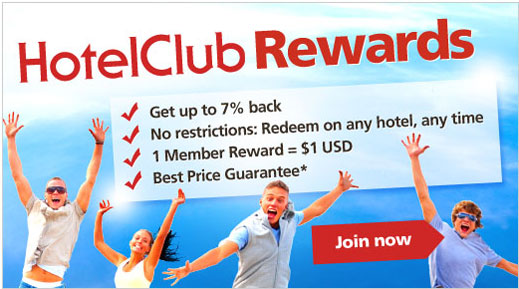 How to Win the Two $500 Giveaways!
Okay, so you excited? Ready to get some free hotel stays and possibly $500 in spending cash to go along with it?  Then listen up!  Here are your two ways to win below. Pay *extra* special attention so that your entry counts – I want you to win!! And you can do whichever one (or both) you want too – totally up to you :)
Giveaway #1:

$500

HotelClub Member Rewards

: Answer the following question in the comments below:


"What's your best tip for saving money on travel?"

Giveaway #2:

$500 in Spending Cash

: Write a blog post answering this same question above and sharing your tip with your audience, and THEN add the following line of text at the bottom:


"If you have a travel tip of your own, head on over to Budgets Are Sexy to enter his $1,000 giveaway, in partnership with HotelClub!"

It is *very* important that you put this line of text AND both links along with it in order for our entry to count – so don't forget! One winner from these blog posts will win the $500 in cash :)  But be sure to also leave the blog link in the comments too!  Not only so that we can see you've posted about it, but also so you're entered in the $500 credits giveaway too!  You may win both?
The entries will be judged on creativity and awesomeness, so make sure to submit your *BEST* tips! The winners won't be picked randomly, but instead by the wifey and I ;) So make them good! You have until next Wednesday, May 30th, @ midnight to submit them, and we'll announce the two winners shortly after. GOOD LUCK!!!  I can't wait to give out the $1,000!!!  Woohoo!
Thanks HotelClub!
————–
PS: Here is one of my favorite travel saving tips: Always bring your navigation when renting cars!  It'll save you like $10-$15 a day, and it fits easily in your backpack or luggage.  Of course now you can also use smart phones for that, but always best to be as hands-free as possible, esp. if you're on  a mission all by yourself ;)
TERMS & CONDITIONS: All entries must be left in the comments by midnight on Wednesday night, May 30th, to count, and all entrants must be 18 years old and up. The winner of the $500 in cash must have a Paypal account to collect it, and the winner of the $500 in Member Rewards must have/create a free HotelClub membership to receive those.  By leaving your answers, you also give us permission to blog about it in the future, both on BudgetsAreSexy and on HotelClub, as well as in other promotional pieces we may choose to do. Quick disclosure – I have also received compensation for hosting this giveaway. But even if I hadn't, who wouldn't want to give their readers $1,000?? ;)
UPDATE: The winners have been announced! Woohoo!

(Visited 9 times, 1 visits today)
Get blog posts automatically emailed to you!