[Hey guys! So I've been trying to get y'all a personal review of Personal Capital for ages 'cuz they're bad ass, but after finding out one of my friends lives and breathes by them almost daily, I thought you'd get a much better picture of how awesome they are from him so I asked him to write this Personal Capital review. And considering he recently retired early at the ripe age of 33, he's obviously doing something right ;)
Please welcome today, Justin from RootofGood.com! He's been using Personal Capital for over a year and a half, and has agreed to share real-life numbers & screenshots from his own account with us. Hope it helps!]
*************************************
I have a confession to make. I love spreadsheets. I run big chunks of my life using spreadsheets. I have an expense tracking spreadsheet, a net worth spreadsheet, and a portfolio analyzer spreadsheet.
They all do exactly what I want, but it takes a lot of time to keep them updated. My spreadsheets aren't particularly attractive, either. And if there's one thing the readers of this blog deserve, it is sexy financial management tools.
Enter Personal Capital.
I stumbled into this amazing tool over a year ago and I find myself using it almost every day. You see, I have a bizarre obsession with optimizing all of the financial aspects of my life from spending to asset allocation. That's how I landed a spot near the top of J Money's Blogger Net Worth rankings at Rockstar Finance. Financial nerdcraft pays well as long as you have the right tools.
Free Financial Management Software
As soon as you log into PersonalCapital.com, you get an instant view of your net worth for the last 90 days and your monthly income and expenses on the Dashboard.  It's like having a CFO for your personal finances.  Except this CFO doesn't expect a seven figure salary with stock options – it's free!
I grabbed a few screenshots from my own Personal Capital account to show exactly what you get.  I can see my net worth is tantalizingly close to $1.5 million and has climbed steadily the last month.  My income for the last month was around $8,000 and my spending was only $1,054.  Don't worry, some months those figures are reversed.
The Dashboard keys me in to the large scale picture of where I'm at in recent history.  Do I have a spending problem?  Do I have an income problem?  I like this high level summary because it makes it hard to ignore wasteful spending.  The bottom line spending figure is right there in front of you every time you log in.
It's like the annoying Post-It note you leave on the fridge door reminding you to eat healthy.  The little orange and red spending circle clues you in to just how awesome (or horrible) your spending has been lately.  It's all automated and doesn't require any configuration or tweaking.  You simply log in and it's there.  Staring at you like a beacon of truth.
Track Your Net Worth
The Net Worth screen shows a graph of net worth for any time period you choose.  All of your investment accounts, retirement accounts, savings and checking accounts, real estate and loans are automatically added together.
If you're saving and investing like you should be, the net worth graph shows a line that rises toward the top right of the screen over time.  It reinforces your good behavior.
In contrast, if you spend more than you make or deploy your assets in unproductive investments, you'll see the net worth flat line or slope downward to the bottom right of the screen.  That is totally un-sexy and you need to stay motivated to rectify that mess.
Even though I'm an early retired dude, I stay pretty busy.  But I like to keep an eye on what we are spending (so I can stay an early retired dude!).
Expense Tracking
The expense tracking screen tells the narrative of my recent expenditures.  The top three expenses are groceries, travel, and gas.  Although sometimes it feels like it should be groceries, groceries, and groceries!  Most days I'll take a quick look at the expense tracking screen to see how we are doing in different categories and whether our spending is abnormally high in any area.
From my recent spending, I noticed restaurant spending doesn't even show up in this list which is good for our waste lines and wallet.  However the grocery expenses make up for dining out over the past month.  I'm all about trading one type of expense for another type that brings us more value.  In this case, it's buying gourmet food at the grocery store instead of dining out.
By using a data driven approach to direct spending to the areas that bring us the most value, we get to live a more luxurious life without paying full price.  It's almost hard to call that frugality, but that's exactly what it is.
Income Tracking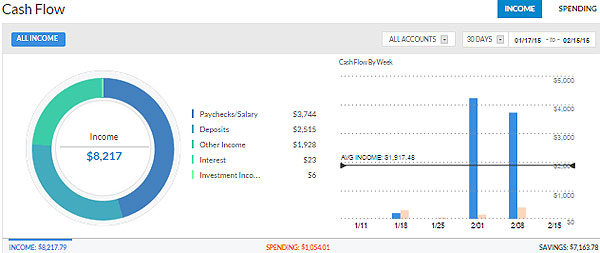 Take a look at that income display!  I have the awesome problem of multiple revenue streams complicating my monthly cash flow.  The mix of income over the last month includes my wife's paycheck, repayment of some personal loans, some revenue from my blog, and various interest and dividend payments from the investment portfolio.
With a quick click I can drill down to see the exact dividends paid on each investment and the exact amount of each loan payment or paycheck.  This comes in really handy when I want to figure out how much income of a certain type I have received in the past year so I can forecast that into the next year.  Embrace the power of data!
The cash flow tools show the income and expenses for each week on the right hand side of the screen. There's no better way to get a quick overview of whether you're making more than you're spending.
Making Investment Management Cool
I'm a big fan of good Mexican food, hard hitting electronica music, and proper asset allocation.  The first two make me cool while the latter makes me wealthy without taking on too much risk.
The asset allocation screen is a look under the hood of your portfolio.  Your investments require a tune up from time to time, and this is the tool for it.  The portfolio module in Personal Capital queries all of your accounts and combines all stock, bond, mutual fund, and ETF holdings into one clean summary.
In my case, I'm holding roughly equal amounts of US and International stocks with smaller allocations to Alternatives, US Bonds, and Cash.  Just like it should be.
For those investors that want to concentrate their money in particular stock sectors, there's a tool for that too.
My top three sectors are Financial Services, Industrials, and Technology.  I don't have any sector weightings in my own personal asset allocation, so I don't really use this tool.  But it's good to see what I already own if I get an urge to buy a sector fund based on an expectation that one sector will outperform another sector.
I already have 10% of my stocks in the Healthcare sector, for example, simply by owning broad market index funds.  Unless I have a really strong crystal ball telling me the Healthcare sector is about to outperform, I can rest assured that I'll see decent investment returns with that 10% allocation to the healthcare sector already in my portfolio.
As I mentioned earlier, I love spreadsheets.  I actually have an asset allocation spreadsheet where I analyze what I own and what I need to buy and sell to get me back to my desired asset allocation.  I copy my aggregated portfolio holdings data from Personal Capital and paste it into my custom spreadsheet.  This saves me ten or fifteen minutes of logging into multiple brokerage firms and retirement account administrator sites to copy/paste current holding data into my awesome asset allocation spreadsheet.
Asset Allocation Tool
Those investors that don't bask in their own financial nerddom like me can get an easy asset allocation tool in Personal Capital.
This little beauty tells you how much of each asset class you hold in your portfolio and compares it to a target allocation built on the efficient frontier from modern portfolio theory.  In a nutshell, the target allocations are keyed to maximize expected return based on a given level of risk.  In general terms, if you can handle more risk, then your target asset allocation will have more stocks and a higher expected return.
The chart tells me I'm in roughly the right asset classes except for US and International stocks.
The investment management tools go beyond showing you actual vs target percentages.  It also graphs those differences in a pretty bar chart AND tells you exactly how much to buy or sell of each asset class to reach your target asset allocation.  Pretty nifty free investment advice customized to your portfolio.
But wait, there's more!  Proper asset allocation will only get you half way to the goal of proper investment management.  Focusing on investment fees is also critically important.  And there's a (free) tool for that too.
Investment Fee Tool
I can see I'm paying a total of 0.17% in mutual fund fees across my whole portfolio.  That's pretty good, but there's always room for improvement.  The funds with the most expensive management fees are listed first right underneath this graph.  Those funds make the best candidates for cost cutting when making your portfolio more cost-effective.
The graph also proves how important mutual fund fees are over the long term.  Even with modest fees of 0.17% per year, I'll still lose $110,000 over the next 20 years.  Maybe you're much wealthier than me, but that's a freaking ton of money.
Personal Capital is Simple, Safe, and Free
I was pleasantly surprised at how easy it was to sign up for Personal Capital and link all of my accounts. We have over 20 accounts spread across eight or nine brokerage firms, retirement plans, credit unions, and banks.
It took about 20 minutes to link all of those accounts and add a few credit cards and other assets and liabilities like my house and some loans.  I was expecting serious compatibility issues due to the number of accounts I linked however all the accounts synced up seamlessly.
Personal Capital logs into all my accounts so I don't have to visit each site one at a time. They even link your home equity to the valuations provided by Zillow.  Or you can choose a value yourself if you don't trust Zillow.
[Editor's Note: I am someone who doesn't trust Zillow – those prices go all over the place! I prefer having a realtor pull comps and give me a much better estimate, though it's harder to track over time unless you want to annoy the piss out of them ;)]
I haven't used Mint for a long time, but the Personal Capital tools do roughly the same thing on the expense tracking side but outperform on the investment side.
It's like Mint on steroids, but with better portfolio management tools.
I still maintain a small fleet of spreadsheets but this is a great tool to see everything in one place and enjoy the beautiful graphics showing financial changes over time.  My spreadsheets only get updated about once a quarter so I can't rely on them for real time insights into my spending, income, net worth and investments.
To remain somewhat impartial, there are a few downsides to Personal Capital.  You'll still have to look through your spending transactions to verify that they are categorized correctly, but the system gets it mostly right except for places like Walmart where you might buy clothing, groceries, and automotive supplies.  There also isn't a great way to enter cash transactions beyond categorizing ATM withdrawals.
[Editor's Note: If you have a lot of money, they'll also have one of their financial advisers call you every now and then. If you like that sorta stuff, then ignore this comment, but if you don't (like me) make sure to tell them on the phone that you're all good and prefer managing your money your own way behind a computer. You can try ignoring their calls if you want, but it doesn't work – believe me ;) Suck it up once and just let them know you're good unless you aren't and prefer their help (which I'm sure is helpful!)]
In spite of those minor quibbles, Personal Capital is still an incredibly useful tool to add to your personal finance arsenal.  It's all web based so you can check out your data wherever you are.  Their iPhone and android apps are sleek and beautiful too, and they'll also shoot you a weekly email letting you know how your money is doing.
Imagine having all of your expenses, income and investing data all in one place.  You can quickly pull up how much you spent on entertainment last month (or last year!) or figure out your top dividend paying investment.  They even have options to tag transactions to help you sort out your deductible expenses at tax time.
Overall, it's a great app that can revamp how you run your financial life and doesn't require a big time investment up front to get you going. And did I mention it was free?
You can learn more about them here: PersonalCapital.com
UPDATE: The screens and dashboard have since been redesigned and pretty'd up since this article first ran. They're always tweaking and optimizing the tools for everyone.
——-
Author Bio: At age 33 Justin retired from a career in civil engineering to spend more time with his family and pursue his other interests and hobbies.  Justin founded RootofGood.com where he shares advice on reaching financial independence and enjoying the early retired life.  Although Justin loves to travel, you're just as likely to find him reclined in his hammock reading a good book or killing bad guys in whatever video or computer game he's obsessed with at the moment.
PS: Do you think we should feature Justin in a future Early Retirement Series article? :)
PPS: As with most companies we review here, we get compensated when people sign up and try them out. But also just like all the reviews we do here, we only share those we love and trust.
(Visited 1,083 times, 1 visits today)
Get blog posts automatically emailed to you!