You know how we're always so concerned about our Credit Score? The dreaded Mr. Fico who goes up and down and all around, playing with our emotions quicker than an episode of The Bachelor?
Well, not to worry anymore… There's a new score in town, folks.
It's called the "PF" Score, and here's more from the founder:
The new score that I'm proposing is called the PF Score, or Personal Finance Score. This is measured by taking the ratio of your net worth and dividing it by your annual expenses. So if you have a net worth of $100,000 and your annual expenses are $25,000, your score is 4. Alternatively you can have a negative score if you have a negative net worth, someone who owes more to others than the cumulative total of all their personal assets.
Pay no attention to that "proposal" part, a minor formality at this point. What jly224 has come up with (his real name, btw) is the next Big Thing to hit personal finance since Dave Ramsey – I'm calling it now. When you're discussing this with your kids 20 years from now, you can tell them you were one of the first to know about this, courtesy of your billionaire friend J. Money ;)
In all seriousness though, I agree this is a much better score to keep track of than your credit one. Sure it's a necessary evil and we've gotta make sure it looks okay for that next time we finance a car/house/spaceship (those things are expensive!), but watching your net worth and expenses can do you much better over the years.
Here's two reasons why:
Your net worth gives you an overall snapshot of your money. Your credit score gives you an overall score on how much cheaper you can take on debt.
Your expenses tells you how much you're leaking every month. Your credit score tells you that at least you're leaking it with less interest. (That is if you've got a good score. If not, it's laughing at you while punching you in the 'nads)
I also like this score tracks a ratio vs credit history too, since you can have a great credit score but still have lots of debt and/or no savings/investments/worth whatsoever. Whereas with this new "proposed" PF Score it gives you a much more accurate financial picture.
Again, Fico scores are still important because companies need to know how trustworthy you are with your money (though I had a good laugh when jly224 mentioned: "I have to give the banks credit here for coming up with a great money making idea"), but it doesn't mean we can't track both.
So step #1 is to figure out your net worth
You probably already know this number if you've been a reader of this blog for more than 2 days (I tend to shove this down people's throat, but that's only because I care! ;)) but if you haven't, here's the general equation: Assets – Liabilities = Net Worth.
Now what entails an "asset" or "liability" is totally up to you – some people include their cars, homes, personal effects, while others ignore them all, even their retirement accounts! (crazy, I know) – but it's really whatever you think is important to track. You can use simple excel spreadsheets to document it all too, like the one I created and use every month, or you can use programs such as Mint.com or even Personal Capital which I hear does an excellent job.
Then for fun you can compare your net worth with dozens of personal finance bloggers out there with my nifty Net Worth Tracker post I created last week ;) You can see what others are doing to grow their numbers, as well as those higher – and lower – than you for some prime gawking. But that's all you're allowed to do. No getting down on yourself or anything – the only number that matters is YOURS!
Next, it's time to find your average spending
Hopefully you're already tracking this stuff too, whether in those same excel spreadsheets or other budget tracking software (YNAB, maybe?), and all you have to do is pop open the screen and add some numbers together. Or if you're a super nerd like me, you've already got it engrained in your head while obsessively trying to lower it every other second ;)
Regardless, once you've got those two numbers it's time to play ball. As a refresher, here's the ratio again: Net Worth / Annual Expenses = PF Score
Now you know what's coming next (I'm about to ask you to run the numbers and divulge your own score!), but as always I'll never ask you to do something that I wouldn't do first. So, let's run my numbers, shall we?
My net worth: $433,149.74
My annual expenses: $66,000 (ugh.)
Making my Personal Finance Score…. bum bum bum… a hefty 6.56! Woohoo!!! Wait… I have no idea if that's actually good or not? Haha… I forgot to check out/tell you what the scores mean!
What your PF Score says about your finances:
Here we are…. taken from the PF Score Master of Ceremonies himself:
<0 : You have a negative net worth and need to get out of debt NOW!
1: Nice Work! You've successfully saved up one year's worth expenses.
5: You starting to pick up steam, keep up the good work.
10: The ball is really rolling now. You're money is getting behind you every step of the way.
25: Congratulations you are now financially independent. You can now withdraw 4% annually from your investment, without ever touching the principal, to cover all of your expenses. You no longer have to work for money.
30: Your investments are now out earning your spending and continuing to grow.
So it looks like I'm in between "picking up steam" and "the ball is starting to really roll now"… that's comforting? (Who made these rules up?? I've got half a mil banked bitch! ;)).
But there you have it. A new score to measure your success that's primed to take over the Credit Score in no time… You saw it here first second, folks!
Now, how's your score looking pray tell?
——-
PS:  Did I mention I'm tracking all the bloggers' net worths? CHECK IT OUT NOW – or else!
PPS: "Or else" = sicking this guy on you.
[Photo by andymag]
(Visited 176 times, 1 visits today)
**********
PS:
If you're just getting started in your journey, here are a few good resources to help track your money. Doesn't matter which route you go, just that it ends up sticking!
If you're not a spreadsheet guy like me and prefer something more automated (which is fine, whatever gets you to take action!), you can try your hand with a free Personal Capital account instead.
Personal Capital is a cool tool that connects with your bank & investment accounts to give you an automated way to track your net worth. You'll get a crystal clear picture of how your spending and investments affect your financial goals (early retirement?), and it's super easy to use.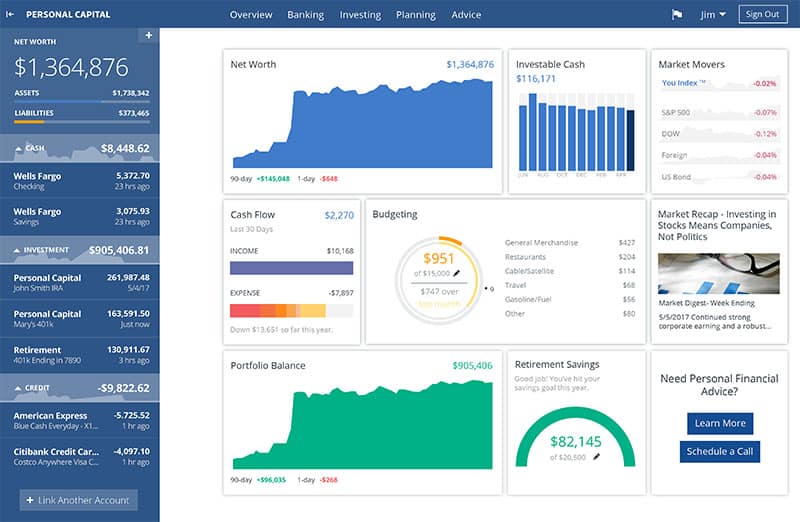 It only takes a couple minutes to set up and you can grab your free account here. They also do a lot of other cool stuff as well which my early retired friend Justin covers in our full review of Personal Capital - check it out here: Why I Use Personal Capital Almost Every Single Day.
(There's also Mint.com too btw which is also free and automated, but its more focused on day-to-day budgeting rather than long-term net worth building)
Get blog posts automatically emailed to you!