Time to get naked with our money again! :) I swear these months just fly by…
A good reminder to put those game plans into action so you can use the power of time to build your net worth for you! That's a key ingredient right there, I'll tell you what. And better while you're young and nubile too so you don't have to work so hard once those wrinkles start coming up ;)
But a good good month indeed over here – a steady increase without much hooplah. Our investments did what they're supposed to do, our cash went up by a little bit, our kid's college account got plumped up some more, not much to complain about today! Unless you'll allow me a few "blehs" for getting a dang $45 parking ticket last week! 7 minutes late to the meter 'cuz I was running my mouth like a chatty Cathy to a few friends – that's $6.43 a minute!!
Here's how the month of February broke down :)
MONSTER CASH (+$651.87): A little extra cash to pad the ol' savings account. Biz was a little better this month than last, and we opted out applying it to our mortgages just yet while we hunker down and figure out our moving plans… Figured probably best to do that first, eh?
GOLD & SILVER : In case you missed it last month, we decided to take this section out of our net worth tracking since it became more coin-related than it did bullion (aka straight up gold or silver). So because it's now more of a hobby over commodity investments, I thought it better to be nixed. Though it's still a nice pile of worth shall I ever unload them one day :)
529 College Savings (+$864.61): If only this was a pure market uptick! Haha… That would be quite the aggressive portfolio :) Instead, $850 of this can be attributed to us draining Baby Money's savings and throwing it into here as part of our $2,500/year goal. What the heck good would it do in his savings when he can't even talk??
IRA: SEP (+$97.27): This one on the other hand is 100% market driven… 28 days and only goes up a hundred, booo… but better than my Traditionals two spots down! In a bit this SEP will get much larger though, as soon as I file my taxes and learn how much I can save by contributing money into here – I love that part of the tax game!
IRA: ROTH(s) ($1,433.74): Same here – not touched at all and LOVING that increase! I'll take that all month, every month :)
IRA: TRADITIONAL(s) (-$1.83): I lost $2.00 – ACK!!! Someone save me!! Haha… Nothing other than that to report ;) Here's how these three break down a la our IRA Test.
IRA #1 (NOT Managed): $67,559.29 **Still in the lead

IRA #2 (Managed, USAA funds): $64,522.10
IRA #3 (Managed, ALL funds): $65,199.46

AUTOS WORTH (kbb) (-$416.00): Bleh. But to be expected… Soon one of these guys may go bye-bye too when we upgrade cars, so we'll find out 100% if the prices here meet reality ;)
Pimp Daddy Caddy: $2,178.00
Gas Ticklin' Toyota: $7,761.00
HOME VALUE (Realtor) ($0.00): Sill the $285k we adjusted it to a year go when a similar place in our community sold. A far cry from the $360,000 we spent all those years ago, but at least we only owe $313,000 now! We're getting there!
MORTGAGES (-$2,380.24): We went back to chipping more away at this and staying the course on our $2,000 extra Payoff goal.  Though that's gonna change here in the future though once we get our future plans locked in…. More on that later.
Another month down! How did you guys fair this month? Better/Worse? Any big or juicy plans coming up in the future? Keep on hustlin' out there!


———————
PS: When we hit $500,000 free beer for all!!

(Visited 7 times, 1 visits today)
**********
PS:
If you're just getting started in your journey, here are a few good resources to help track your money. Doesn't matter which route you go, just that it ends up sticking!
If you're not a spreadsheet guy like me and prefer something more automated (which is fine, whatever gets you to take action!), you can try your hand with a free Personal Capital account instead.
Personal Capital is a cool tool that connects with your bank & investment accounts to give you an automated way to track your net worth. You'll get a crystal clear picture of how your spending and investments affect your financial goals (early retirement?), and it's super easy to use.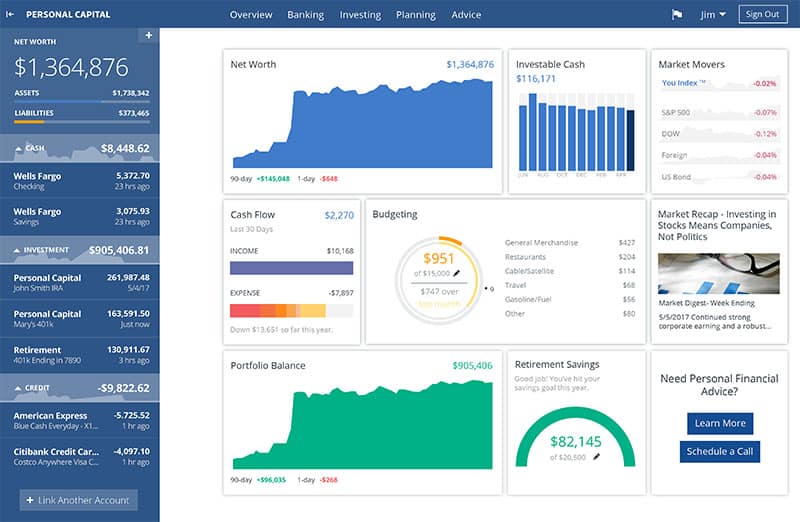 It only takes a couple minutes to set up and you can grab your free account here. They also do a lot of other cool stuff as well which my early retired friend Justin covers in our full review of Personal Capital - check it out here: Why I Use Personal Capital Almost Every Single Day.
(There's also Mint.com too btw which is also free and automated, but its more focused on day-to-day budgeting rather than long-term net worth building)
Get blog posts automatically emailed to you!