Okay, so wow. I have a new store crush: Plato's Closet
I'm not sure if you've ever heard of them before (their site claims they're "the fastest growing retail franchise in North America" so people seem to love them!) but regardless I hit one up for the first time in 10 years and damn was I pleasantly surprised. High quality clothes for a fraction of the price!! For both men and women too.
I highly advise you checking them out, or a similar store like it. It's like combining the best parts of yard sales, thrift stores, and fashion all in one, haha… "Gently" used quality clothes (though most I saw were brand new) that are hand selected for you, super cheap, and nicely organized in one spot that's open every day of the week. It's as if these places were built for people like us :)
And now, I (finally) have a new wardrobe. All for under $150!
Remember my new goal this week of spending time on personal stuff? Well, this is the first (great) example of how important it can be. For the first time in years I have some new clothes after all my minimalism bitching. Which means no more holey shorts and faded shirts, unless I buy them that way on purpose! (I'm looking at you mom) Next up is trashing everything that's falling apart and donating or selling the rest to keep the "one in, one out" rule going. A key component to minimalism.
And the 2nd best part about Plato's Closet? You can SELL all your decent clothes to them too! (I swear this is not an ad for them, haha…). You better believe I'm gonna try this out the next time I hit 'em up. Though I can't imagine earning *too* much if their prices are already rock bottom?
Anyways, here's everything we got…
We'll start with the t-shirt deals: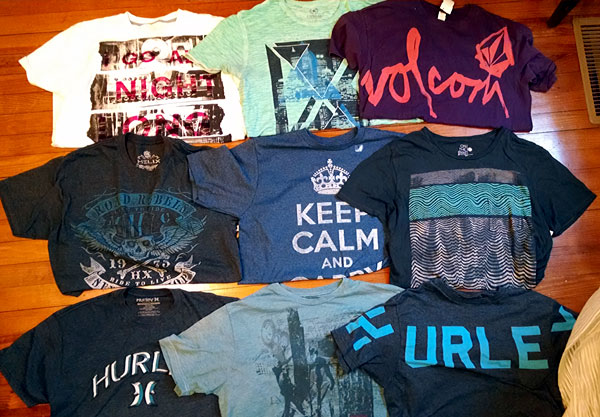 A total of 9 shirts for $57.00 (OMG). I'm a t-shirt and jeans type guy, so this place is like a mecca for me. Each of these shirts range from $5.00-$7.00, and as you can see there's some good brands up in there. Well, at least if you like the skater/surfer/rocker type fashion ;) I also threw in the obligatory "keep calm and carry on" shirt only to be worn inside my house, haha… I love that phrase, but damn is it oversaturated everywhere now!
I also came across a TON of Polo, Express, J. Crew, Marc Ecko, True Religion (!!!), Ed Hardy (hah! another old trend), as well as a handful of other brands I can't recall at this second. Either way, they were all incredibly cheap and I didn't even touch the dress shirts or polo shirts or even hoodies!
The bargain shorts I got:

A total of 3 shorts for $34.00. Ranging from $8.00 to $14.00, including a pair from J. Crew! The only one I'm not sure of is that metro-sexual one on the left ;) My wife almost spit out her coffee when I showed them to her, so we'll see if it works out or not, haha…
(I'm pretty good at sticking to my "would I wear this out of the store right now?" trick, but every now and then I like to throw in a wild card that can either blow up in my face, or turn out to be my new favorite item. Like my "skinny" corduroys I picked up on a whim that I now love to death! Especially with cowboy boots, mmm… (the last time I wore them someone told me I looked like Sting, haha…))
And now, my new (and cheap!) Air Jordans!

Air Jordan Dub Zero's a la 2008, to be exact. They're pretty crazy looking, but then again so am I ;)
This one hit me by surprise as I literally picked them off the shelf while waiting in line to pay. Total splurge for sure, but I couldn't resist the urge to finally have my own pair of Jordans after 34 years of salivating at them :) Even my 2 year old has a pair! Plus, they were "only" $55.00. A steep price, no doubt, but it felt like winning since they retail for $100-$200. (<— isn't this how we all justify such an expense? Haha…)
In the back of mind I was also wondering if there was an opportunity to flip them for a tidy profit too. Say, in the off chance I didn't like them after sporting them around a bit (shoes are non-returnable @ Plato's). Remember our side hustle post on people who collect shoes?? They spend HUNDREDS, even thousands, on rare Jordans to add to their collections, so maybe I was the new owner of one?
[Spoiler alert: A quick long-ass search on Google told me this was not the case. I did see some going for $80 and $150 on eBay though, so it is possible to get some profit out of it, at least in theory. Whatcha think, Uncle El? Check out this map I came across though on all the different styles over the years – Jordan Gallery. Pretty cool!]
For now I'll just keep enjoying them and continue walking around town like a baller. They did cost me 1/3 of my entire new wardrobe, you know ;)
Here's what the receipt looked like in the end: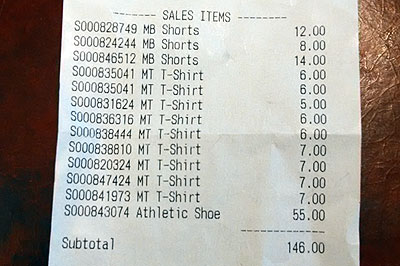 Other interesting stats:
I spent an hour and a half in the store
This equates to about $1.70 minute :)
I put back $65 worth of stuff I was 50/50 on
Including a pair of $50 jeans
I tried on over 60 pieces of clothing
But the dressing room only allowed a max number of 6 items
Meaning I went in and out at least 10 different times (ugh)
4 of those times I locked myself out and had to get an associate to let me back in
And 2 of which I was shirtless ;)
So in summary, I got a shit ton of clothes for ridiculously cheap prices. 9 shirts, 3 shorts, and a pair of Air Jordans, all for $150. If you don't mind "gently used" clothes (though again – many are brand new), see if there's a shop near you – U.S. and Canada! Or a similar place in your hood. If you can get name-brand clothes for the same price or cheaper than generic, why not go for the gold? These guys are franchises too – so if you're feeling entrepreneurial you could even start one in your own city ;)
This trip's been a great reminder of a mantra I like to live/shop by too – Whenever you find a ton of great bargains, that also match your needs, scoop them all up even if it's a lot of money at once. Yeah it's not easy to drop $100 or $200, or even $300 at a time, but it's much better to save all the time and hassle (and grab the deals while they're there!) instead of picking up one or two things across multiple trips. Kills two birds with one stone – time and money. Especially if your budget allows for it (it's amazing how much faster you can make decisions when your money's in order!).
Anywho, that's the excitement going down in my world this week. Didn't see that one coming! Here are some other tricks I like to use while out shopping too, if it helps you:
The "stranger" test (A stranger holds up cash and the item you want to buy – which do you prefer?)
The "urgency" test (Would you walk out wearing the item you're thinking about? If so, it's probably a good call to buy. If you hesitate, put it down)
Gotta save all night long, all night strong, baby!
———
PS: Next up? Replenishing all my white tees and socks. I'm considering following Mario's lead and declaring Sock Bankruptcy :) (Check it out). Have to hit up one of those "irregular" type stores for those bad boys…  Where you get new clothes on the cheap, but always have something minor wrong with them. Gotta pick your poison while trying to save mad money though!
(Visited 65 times, 1 visits today)
Get blog posts automatically emailed to you!