Welcome to another rousing net worth update – that was a fast month!
While I wish I had something big and juicy to share with you all today though, I'm afraid May just wasn't that exciting in terms of finances this go around… In the baby dept, yes (he's now finally sleeping more and gained over 5 lbs!), but we'll save all that for BeingAParentIsSexy.com later ;)
I did, however, do my yearly check-in with our old realtor this week to get a better sense of our house's worth. As you know I don't really like using Zillow or other automated sites since for some reason my house tends to spike all over the place, so instead I rely on our realtor to run actual comps as if we were about to put it on the market *today*. And since he was the original person to sell us the house, he already knows the ins and outs so it literally takes him 10 mins every year.
(I don't like to pester him more than that since he's doing us a favor and knows damn well we're not ready to sell it yet ;) Though, when that day does come, we'll of course be knocking on his door to help us seal the deal – which is why I'm still comfortable asking him ever year)
At any rate, after reviewing the comps together ("comparisons" of recently sold similar homes), he pegged our house at "maybe" $310,000. That's up from $300,000 last year, and then $285,000 the years before that. A nice increase of $25,000 in two years, but still a far cry from the $360,000 it once was, and, unfortunately, what we once paid for it (ugh…).
But while it just "may be" $310,000 now, I think it's best to stay the conservative route and keep the house at $300,000 just in case. I'd much rather get a nice surprise later than I would a let down ;) So we're going with what makes us most comfortable here, which is really the point of all this tracking stuff to begin with. Everyone has their own version of what belongs in a Net Worth (some don't believe your house should even be in it), but always remember that it's all for YOU – not anybody else. It doesn't matter what neighbor Joe or blogger Jane thinks of your system – what counts is that it's set up the way YOU feel is best for your situation (and the one that keeps you most accountable).
So take all this stuff with a grain of salt – even this post you're reading :) If it helps you, great! If not, no hard feelings. You just do YOU. And speaking of bloggers and net worths, allow me to pimp out my Blogger Net Worth List again to y'all. It's a perfect example of how differently people track their money, and from all over the world too! It's quite fascinating (not to mention voyeuristic ;))
At any rate, that's the only real thing that's new here lately finance-wise. I'm almost ready to share our new investment strategy once some funds clear at our new Vanguard home (all our investment numbers below will be a bit skewed until things settle) but for now I'll have to leave y'all hangin'…
Oh! Also, be sure to check out this post over at Frugal Fringe too when you're done here: How to Compare Your Net Worth to Others (Without Being Rude). You can see where your worth compares to others across the country (US) based on some official studies. Here's a sneak peak below – looks like I'm in the 75th percentile – woo!
A Closer Look at May's Numbers:
CASH SAVINGS (-$1,348.42): May was a good month comparatively in the cash flow department… I've scheduled us to lose roughly $2,000/mo at the rate we're currently going (ie me not taking on more business or a 2nd job to spend time w/ family and focus more on the projects I actually care about), so technically we're ahead here ;) It's all temporary though until the wife goes back to the work force after 6 years off (getting a PHD) – in which case things will do a complete 180. And if not, well, I'll get back to hustling 24/7 again! I'm not that much of an idiot, haha…
529 College Savings (+$95.53): No new funds invested here this month, however, I just learned we may be getting a little money from an old inheritance on my wife's side, so if that's indeed the case we'll more than likely put it towards Baby Nickel's 529 plan – that way he can catch up a little with Baby Penny :) You like those nicknames don't you?
IRA: SEP (+$58.68): As mentioned above, these retirement numbers will be skewed since our funds were in and out of the market in May – it should all be set and in action again here in June which I'm looking forward to.
IRA: ROTH(s) (+$1,088.11): Same with this bad boy too – though we still got a nice gain considering!
IRA: TRADITIONAL(s) (+$1,537.20): Another nice increase for not being in the market fully this month. And a LOT easier to manage/look at now that we've killed our IRA test! Merging all these accounts into one alone feels great again – good riddance…
(I know I said last month would be the last time I'd show the results of this crazy test, but I'll let 'er ride one more time for the fun of it… I no longer have any of these accounts)
IRA #1 (NOT Managed): $79,141.43 **The leader every month for two years

IRA #2 (Managed, USAA funds only): $73,199.26
IRA #3 (Managed, ALL different funds): $74,024.92

AUTOS WORTH (kbb) (+$190.00): So it appears my wife's Toyota has gone UP in value over $600 in the past two months, haha… how does THAT work? Either way, we'll leave it there since if we were to put it on the market today, we'd of course use KBB's value when coming up with the sales price (which we'd sell ourselves via Craigslist). As for my dear Cadillac, she topped out at $1,500 before being too old to be tracked anymore apparently, so it'll be left at that :)
Here's how they break down:
Pimp Daddy Caddy: $1,500.00
Gas Ticklin' Toyota: $7,154.00
HOME VALUE (Realtor) ($0.00): Gonna stay at $300,000 for another year! Unless the market does something crazy, or our circumstances change and we need to sell it for some reason sooner. As you know it's been our rental property by default going on its second year now (our same renter renewed, woo!), so we're trying to make the switch from "home" to "business" which is starting to sink in more… And will of course also affect what we do with it in the future as well.
MORTGAGES (-$665.76): Only $698.25 more to go and we're NO LONGER UNDER WATER!! Ahhhh!!! It's never been that way since the month we BOUGHT the place, haha…what a mess… It'll also mean we'll finally have equity for once too! What is that??? :) I cannot wait. Only took 7 years…
Here's how our dumb mortgages break down:
To check out all previous net worths we've tracked here (over 6 years worth!), click here: My Net Worth Tracker. I finally went through the archives and pulled out all 70+. Probably the best 3 hours I spent on this site lately – it was fun! :)
How did you guys do last month? Anything fun and exciting go down in your hood?
Keep hustlin',
PS: Sorry it took me so long to get this out this month… please accept this apology.
(Visited 11 times, 1 visits today)
**********
PS:
If you're just getting started in your journey, here are a few good resources to help track your money. Doesn't matter which route you go, just that it ends up sticking!
If you're not a spreadsheet guy like me and prefer something more automated (which is fine, whatever gets you to take action!), you can try your hand with a free Personal Capital account instead.
Personal Capital is a cool tool that connects with your bank & investment accounts to give you an automated way to track your net worth. You'll get a crystal clear picture of how your spending and investments affect your financial goals (early retirement?), and it's super easy to use.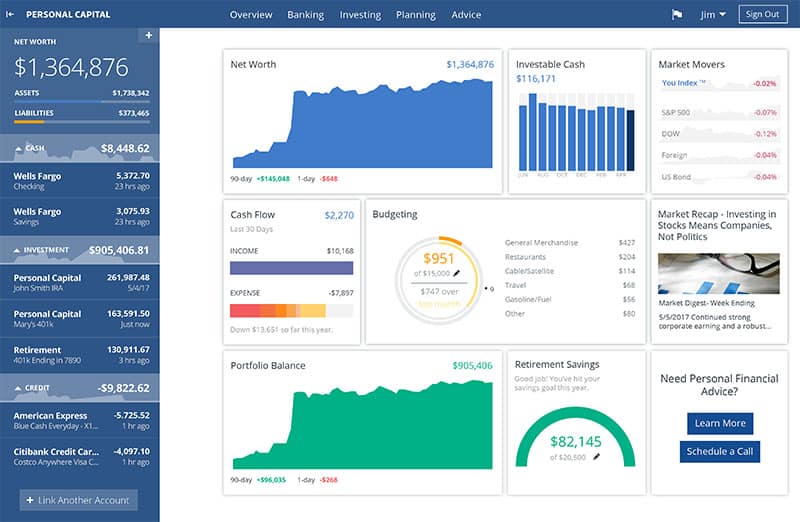 It only takes a couple minutes to set up and you can grab your free account here. They also do a lot of other cool stuff as well which my early retired friend Justin covers in our full review of Personal Capital - check it out here: Why I Use Personal Capital Almost Every Single Day.
(There's also Mint.com too btw which is also free and automated, but its more focused on day-to-day budgeting rather than long-term net worth building)
Get blog posts automatically emailed to you!