Yup, for the first time in two years we've got credit card debt again.
But as you can probably guess, there is a reason for such silliness – I finally booked EUROTRIP! And I didn't want to dip into our cash savings ;)
Financially it's not that smart because we'll now be accruing a few dollars in interest fees, but I'm totally cool with that. I know myself well enough that if I just xfer cash from one spot to another I won't work as hard to get that money back. But if it's on our credit cards for all to see, you better BELIEVE we'll be focused to get rid of it ASAP! :) I don't recommend this for those who have trouble managing their cards, but for us it works. I know it's temporary and that it will be cleared away in 2-3 months, if not sooner.
That's the biggest difference in Feb's net worth update. The rest has to do with me throwing 90% of my paychecks into 401(k) and just waiting for it to hit. It's kinda off-balance right now and makes us look all spendy-spendy, but I assure you that's definitely NOT the case ;)

Net Worth break down: February, 2010
CASH SAVINGS (-$1,984.48): Still getting my $75 paychecks until I max out my 401(k) for the year! When your company matches 100% up to 100% of your contributions (up to the legal match), it tends to change the way you invest ;)
EMERGENCY FUND ($0.00): Same $10,000 this month as it was last month, and the month before, and the month before that. I think we're rolling on 2 years of having this $10k fund, haha… The good thing about reaching your goal here is that you can then concentrate on all the others you've got brewing!
ROTH & TRADITIONAL IRAs ($373.40): Just the market doing its job here, we haven't increased any extra funding this year yet. We'll do that once the 401(k) is maxed out.
401(k)s ($2,624.50): Nice to see it up again! And one day soon it'll be even BIGGER once all my deposits hit (I can barely contain myself!). It's so crazy to me, though, that you can do absolutely nothing and your investments can ear $2.5k just like that. Of course, last month it lost $5k "just like that" but you get what I'm saying. Your money is out there working for you even while you sleep :)

AUTOS WORTH (kbb) (-$75.00): A little more off the ol' car values, but nothing unexpected. MUCH better than back in the day when my SUV was losing $900 a month! Bleh… Here's where our car values stand right now:
Pimp Daddy Caddy: $2,995.00
Gas Ticklin' Toyota: $8,885.00
HOME VALUE (Realtor) ($0.00): This will remain @ $300k (the price our realtor set it at) until I hit him up later for another review. He's the master in our particular neighborhood, and has been selling (and living) in this area for 20+ years. I keep an eye on Zillow & Redfin.com as well, but they fluctuate so much that I never can tell what's real and what's hype.
CREDIT CARDS(-$2,480.20) : No longer at zero! But one day soon ;) As I mentioned in my summary up at the top, we put our 10-day Eurotrip package on our credit card instead of paying in all cash. We lose a little with the interest charges, but it'll motivate me a lot more knowing it's up there for everyone to see. (don't try this at home, kiddies…)
MORTGAGES (-$4.48): We stopped paying off principal to deal w/ the above, and have already paid $400 of it off! It doesn't bode well for this section of our net worth, but we'll be back to chip away at it soon enough. As for refinancing, we're still pretty much screwed on it. Here's the breakdown:
Mortgage #1: $286,818.64 – 30 year fixed, interest-only @ 6.875%.
Mortgage #2: $62,554.62 – Maxed out HELOC w/ 2.8% interest.
On to March!

I feel like good things are brewing too :) Should be a nice power month for everyone. You all do okay this last month? Anyone working on something juicy? Holla at your boy.


—————–
*My budget has now been updated.
**And so have my sidebars. And my excitement for Zoolander II

(Visited 7 times, 1 visits today)
**********
PS:
If you're just getting started in your journey, here are a few good resources to help track your money. Doesn't matter which route you go, just that it ends up sticking!
If you're not a spreadsheet guy like me and prefer something more automated (which is fine, whatever gets you to take action!), you can try your hand with a free Personal Capital account instead.
Personal Capital is a cool tool that connects with your bank & investment accounts to give you an automated way to track your net worth. You'll get a crystal clear picture of how your spending and investments affect your financial goals (early retirement?), and it's super easy to use.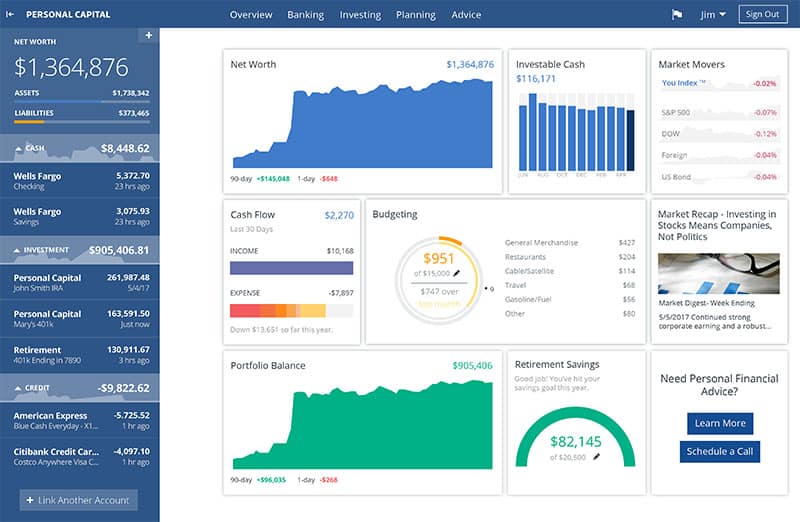 It only takes a couple minutes to set up and you can grab your free account here. They also do a lot of other cool stuff as well which my early retired friend Justin covers in our full review of Personal Capital - check it out here: Why I Use Personal Capital Almost Every Single Day.
(There's also Mint.com too btw which is also free and automated, but its more focused on day-to-day budgeting rather than long-term net worth building)
Get blog posts automatically emailed to you!