After a sucky $16k loss two months ago when our house did a major drop, we're back to the $300k range again!
Woohoo! Even IF it's only by $32.81, haha… But none the less it's nice to feel on top again :)
And I hope it's a sign of much more goodness to come, esp. now that our finances are more streamlined and we've got at least 5 less accounts to check and maintain every month. I already save 15 minutes just updating our net worth this time around! :)
Though it has made for a funky "cash" update this month since we combined all our savings into one main "monster" account (including the shedding of our old Emergency Fund), thus making it looks like we EARNED an extra $3,500 this month. Which is certainly not the case. In fact, we actually LOST a few thousand this time around due to a much slower business month :( That should pick back up after the Summer finally ends… We also haven't seen our $20k profit from my dealings the other month, so needless to say I'm PRETTY excited about re-calculating our next net worth update ;)
Here's how it all broke down last month:
MONSTER CASH ($3,564.64): Again, this should actually show a loss of money since we've combined a ton of accounts and had a slow month of business… REALLY hoping it gets back up to normal next month and/or I come across the next big idea ;)
EMERGENCY FUND: No longer around!  We've pushed this money, along with all other minor accounts we had laying around, all into our one main monster savings account now. And while I'll miss not having this guy separated out from the pack, it just doesn't make sense to keep her around anymore merely for nostalgic reasons. Any and all future emergencies, along with anything else that requires money randomly, will all pull from our main savings account going forward… and if it ever dips down below $66,000 (which is 12 months of expenses), all other money-sucking projects will be paused until we top this guy back up again… which really means no more paying extra off our mortgage – which would blow.  But I promised the wife! ;)
PHYSICAL GOLD ($61.80): I don't pretend to know why this goes up and down all over the place, but I do enjoy having a shiny gold coin around if/when the world ever goes to crap ;)  And I meant to look up and calculate all my newer silver pieces too so we can have a "gold/silver" category here other than just gold, but unfortunately small babies and other awesome things with life got in the way, haha… So I'll try and get my act together for the next round up.
IRA: SEP ($791.40): Nothing new added here (yet), but hopefully by next month!  I'll be able to invest around $22,000 for the entire 2012 tax year if all goes similar to last year's numbers (the amount's contingent on the year-end profit of my small biz), and in a few weeks I plan on plopping down a good $10k to get the party started :) And then the rest incrementally over time.
IRA: ROTH(s) ($967.64): Same with this guy – I'll be maxing out both mine, and the wife's, Roth IRA once that $20k check hits my account later. Infusing another $10k into this dept…
IRA: TRADITIONAL(s) ($3,339.77): Crap. I've been meaning to do an in-depth review of this IRA Game and I keep forgetting, sorry!  I'm making a note now though to do it within the next couple of weeks. Which I'll then need your help on to determine if I should keep on rolling with this test, or just call it a day and merge everything into one. Here's how they all break down, in the meantime:
IRA #1 (NOT Managed): $61,468.42 **Been in the lead for a while now

IRA #2 (Managed, USAA funds): $59,382.74
IRA #3 (Managed, ALL funds): $59,943.25

AUTOS WORTH (kbb) (-$480.00): Normal depreciation, as always… Though we're now on the search for a bigger car (probably an SUV) since I don't ever want to spend 2 hours packing all that baby stuff up again the next time we go on vacation :) It was a good lesson to be learned – kids take up a lot of space! And I apparently like to learn the hard way, haha… I'll keep y'all updated on how that goes as well. The current values of the two cars we have now:
Pimp Daddy Caddy: $2,065.00
Gas Ticklin' Toyota: $8,756.00
HOME VALUE (Realtor) ($0.00): This is gonna stay put for a while until we either move out (which we plan on doing in the next 6-10 months), or we come across our realtor and he says something different. We updated it for the first time in 2 years the other month, and it was a hard pill to swallow watching it drop from $300,000 down to $285,000. On the other hand, it feels great not fooling ourselves with inflated numbers either!
MORTGAGES (-$2,593.36): We're still skyrocketing forward with our extra $2,000 payments each month!  Though I'm cautiously anxious on what the future will bring (like business remaining low or the baby funneling more money than expected, etc).  I figure we just knock away as much as we can – while we can! – and then do our best to adapt when things come up. Even if we stopped now, we've already gotten our 2nd mortgage down to the high $30ks from the low $60ks!  That's hot!
And there you have it. Another month down, another small forge ahead!  Remember that no matter what happens, time will continually run and there's nothing you can do about it except keep making those baby steps forward. Before we know it, it'll be September 2022 and we'll be looking back to see how far our money has grown! So make sure to keep tracking it so you'll know!
Here's to another fruitful month, everyone – hope you guys kicked my ass last month! ;)


———————
PS: For any newbies out there looking to get started, try out my budget template which incorporates a simple "net worth" section. It's super easy to use, and you can always tweak it and/or upgrade to something fancier later once you get going. The hardest part is just starting!
(Visited 24 times, 1 visits today)
**********
PS:
If you're just getting started in your journey, here are a few good resources to help track your money. Doesn't matter which route you go, just that it ends up sticking!
If you're not a spreadsheet guy like me and prefer something more automated (which is fine, whatever gets you to take action!), you can try your hand with a free Personal Capital account instead.
Personal Capital is a cool tool that connects with your bank & investment accounts to give you an automated way to track your net worth. You'll get a crystal clear picture of how your spending and investments affect your financial goals (early retirement?), and it's super easy to use.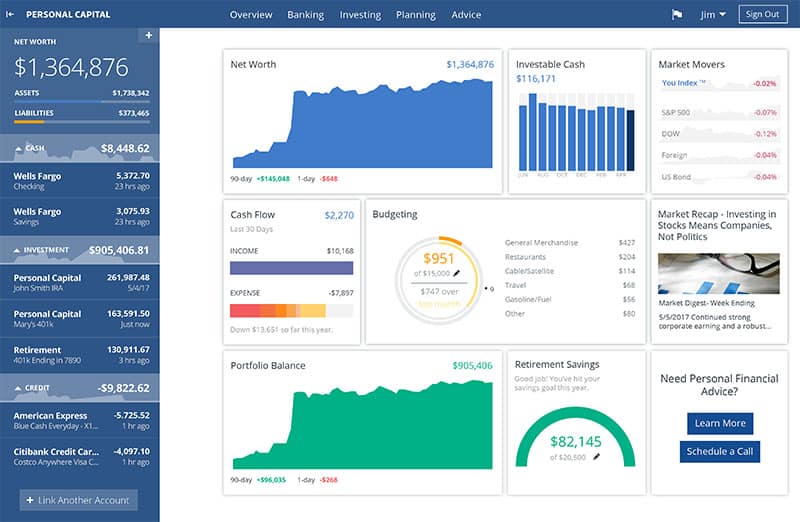 It only takes a couple minutes to set up and you can grab your free account here. They also do a lot of other cool stuff as well which my early retired friend Justin covers in our full review of Personal Capital - check it out here: Why I Use Personal Capital Almost Every Single Day.
(There's also Mint.com too btw which is also free and automated, but its more focused on day-to-day budgeting rather than long-term net worth building)
Get blog posts automatically emailed to you!