Another great month! Up $15G's and pimpin'…
Lots of great things were happening this month – we got our tax refunds back, the markets picked up again, and we overall just kept our head in the game.
I've said it before, but once you get used to spending a certain amount every month it's SO MUCH EASIER to stay on track and save-save-save!
It wasn't easy to get IN this habit, but once we did we rarely think about it much. Then again, Mrs. BudgetsAreSexy and I have been staying pretty busy lately and don't have much time to do anything anyways (like going out, partying, shopping, etc). The funny part is that I really don't miss it though.  I mean, it would be awesome to have more *time* , that's for sure, but I'm totally content with the amount of "stuff" we  have these days…in fact, I'd love to unload some more ;)  (Yeah minimalism!)
We've also been fortunate enough to avoid any major crises too lately (knock on wood). Something will be sure to hit at some point, but that's what we got our emergency fund for.  Hopefully whatever it is just doesn't go over $10k! That would be scary…and I'd probably have  a heart attack.
Net Worth break down: April, 2010
CASH SAVINGS (+$3,686.70): April was a GREAT month for topping off our savings.  The Mrs. was able to save a little more from her side gigs @ school, and some extra blog money on my behalf rolled in as well as a hefty $3,000 tax refund! Yeah, we gave the gov't a "loan" all year but it was totally worth it and I'll do it again and again every year.  It's "free money" in our books.
EMERGENCY FUND ($0.00): Same $10,000 this month as it was last month, and the month before, and the month before that. Until those crises hit I was mentioning above, this will continue to go untouched.
ROTH & TRADITIONAL IRAs (+$795.28): This is moving totally on the market's behalf – none of us have touched these accounts at all this year (but we soon will once my 401k is maxed!).
401(k)s (+$7,965.34): Operation Max Out 401(k) is in full effect, baby! I swear, we are so close to finishing this up. And it's going to feel GOOD getting a normal paycheck again…well, as long as I still have my job of course.  It's still a bit sketchy these days, but we'll talk about that another day. Here's how our 401k breaks down this month:
Contributed: +$2,812.50
Company match: +$2,812.50
Market fluctuation: +$2,340.34
AUTOS WORTH (kbb) (+$350.00): So yeah, obviously something is wrong here :)  But that's what KBB is showing this month so it's gotta stay to keep consistent.  We have no plans to sell either of our cars any time soon anways, so it really doesn't matter what these numbers are showing. Here's how they break down:
Pimp Daddy Caddy: $2,995.00
Gas Ticklin' Toyota: $8,785.00
HOME VALUE (Realtor) ($0.00): Still @ $300k as our realtor set it at a while back.  The *exciting* news, however, is that our neighbor's place is for sale which means we can get a real life "market" valuation soon!  Our places are almost identical to each other, so I will be editing this amount when/if the sale is closed. It's listed at over $300k so fingers crossed!
CREDIT CARDS (-$2,108.91): You are OUTTAAAAA here credit cards!  We used a bulk of our tax money to clear these away again and are back to ground zero. Which now means our Eurotrip coming up in a few weeks will be experienced debt-free!  Unless we end up going overboard once there…and I hear we're attending some beer-fest at some point so we may be in trouble ;)
MORTGAGES (-$0.43): We've stopped paying extra towards these lately, but now that the credit card is back down to zero we'll probably start this back up again.  Or at least once our "house savings" account is replenished a bit more.  This category continues to be the hardest one for me to grasp.  I just hate owning.
Mortgage #1: $286,818.64 – 30 year fixed, interest-only @ 6.875%.
Mortgage #2: $62,554.19 – Maxed out HELOC w/ 2.8% interest.
And that's April. I can't tell you where we'll be at the end of May, but the way things are going right now I'm looking forward to it :)  This is the time in our lives to really pump in as much money as we can towards our future so that all that TIME is on our sides!  Everyone knows it, but it's so true – the younger you start, the better. How did you all do last month? You getting into any good habits?


—————–
PS: My budget has now been updated too.
(Visited 7 times, 1 visits today)
**********
PS:
If you're just getting started in your journey, here are a few good resources to help track your money. Doesn't matter which route you go, just that it ends up sticking!
If you're not a spreadsheet guy like me and prefer something more automated (which is fine, whatever gets you to take action!), you can try your hand with a free Personal Capital account instead.
Personal Capital is a cool tool that connects with your bank & investment accounts to give you an automated way to track your net worth. You'll get a crystal clear picture of how your spending and investments affect your financial goals (early retirement?), and it's super easy to use.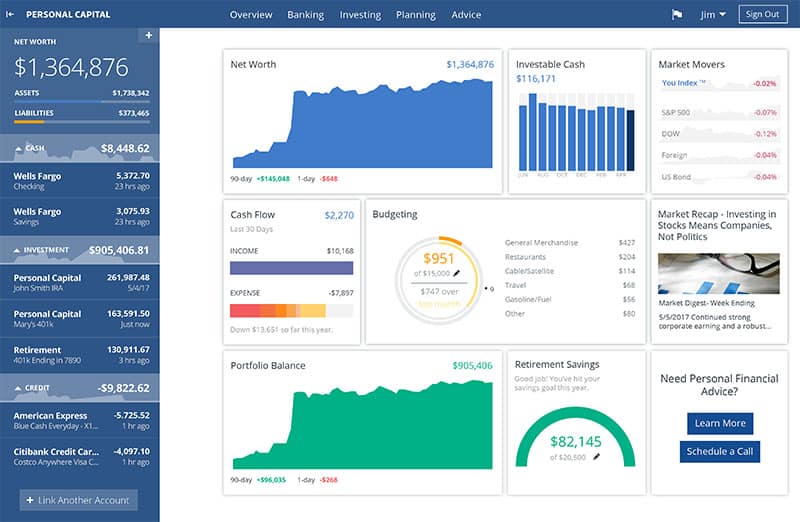 It only takes a couple minutes to set up and you can grab your free account here. They also do a lot of other cool stuff as well which my early retired friend Justin covers in our full review of Personal Capital - check it out here: Why I Use Personal Capital Almost Every Single Day.
(There's also Mint.com too btw which is also free and automated, but its more focused on day-to-day budgeting rather than long-term net worth building)
Get blog posts automatically emailed to you!