What up, what up! Welcome to the best month of the year :) Where not only two of the coolest people around were born (Jesus, and yours truly), but the air is filled with love and joy and the magicalness that is Christmas. And, so far, the magicalness of the stock market too! Aww yeah…
I've been publishing these net worth updates for almost 7 years now (a total of 83 times), and I think I'm just now fully understanding the power of compound savings. I haven't invested a thing since last April, and our investments have since increased by a whopping $45,000.
WOW. That's a yearly salary!
Imagine if you didn't have to life a finger at work and you still got paid?? I believe that's what they call passive income :) Now if only I could pull from it before I turn Old and 1/2, haha… (All of these investments are in retirement accounts, however, if I'm serious about retiring early one day I'll need to switch things up ASAP… All of my $$ is on lock down, d'oh.)
Anywho, that's the biggest news from the month – up $10,000 for doing pretty much jack. I can only imagine what that number would look like with hundreds of thousands more (or even millions!) invested. Same amount of time put in but with amplified results! If you've been shying away from starting to invest yourself, I urge you today to just get out there and start. Skip out on a nice dinner or round of drinks this week and pick up your first stock (or better yet, index fund). Get that $30/$40/$50 working for you STAT so it can start growing! The future millionaire-you will be ecstatic!
Here's how November broke down…
CASH SAVINGS (-$1,237.42): The least amount of $$ we've leaked in months… Mainly due to some new business I've been able to pick up, as well as a hefty amount of extra savings I've been snatching up a la my Craigslist Habit. Which I'll be updating y'all again here pretty soon – how fast was that?
529 College Savings: Scroll to the kids' net worths below…
IRA: ROTH(s) (+$2,372.59): As mentioned above, nothing new invested since April so this is all the stock market doing it's thang… We'll be back to investing again in a few months once the tax year is over (which is when I'll know how much I can max out in my SEP IRA (I'm self-employed)).
IRA: SEP (+$9,276.76): Same with this guy! Almost $10Gs on the spot! (Though we have many months where we're $10Gs in the negatives too, haha… Good thing history shows you win in the long run :))
And here's the kick-ass graph that Vanguard always shows its members when you log in to view your accounts. These numbers are from April when I finally manned up and moved all my money over:
AUTOS WORTH (kbb) (-$200.00): Nothing special going on in this area… just the cars depreciating as they should (though, I have capped my Caddy at a flat $1,000 which is what I believe I could get for it if I were to sell it today on Craigslist… It may be beat up and ghetto, but the mechanics and mileage is pretty killer for being over 20 years old.) Here are their values:
HOME VALUE (Realtor) ($0.00): Same $300,000 here as it's been for the past handful of months… Will probably hit up our old realtor in the new year to see if it's worth adjusting, but for now we just leave as-is since it really doesn't matter what it is until it's time to sell. Which hopefully WOULD be in the new year! I'm over being a landlord, haha… and I don't even do anything with it! ;)
MORTGAGES (-$688.70): Getting farther and farther away from that nasty underwater level now – good riddance. And we owe a lot of that due to our "round up debt payments" trick over the years too. Well, that and going balls to the wall hardcore years ago and refinancing as well ;) But still – we've chipped away over $25,000 so far rounding up. That ain't shabby! Here's what's left on the place:
CURRENT NET WORTH: $470,167.09 (+$10,900.63) – Getting closer to half a Mil!!
And here's how our boys did :)
No new additions either here… just the markets doing what they do best, and the banks doing what they (don't) do best, haha… Just my 2 cents anyways (see what I did there? Because both savings accounts increased by 2 cents of interest? It's not funny when I have to explain it!! :))
And lastly, how our net worth has fluctuated over this past year:

That's it on my end – how'd you all do? Lots of increases as well, I presume? Because y'all are smart and invest that $$$? Remember, for anyone who's not invested yet (ie most of you youngin's reading this right now), now's the time to jump in.  All it takes is one call to HR to start contributing to your 401(k) or to a brokerage site to snatch up your first stock (you can even throw them into an IRA – it's pretty cool!). You won't even miss the money when it's gone, either. I can almost guarantee it.
'Till next time, playas.
P.S: You can find all 80+ of our net worth updates here: J's Million Dollar Journey
P.P.S: You can also find my blogger friends' net worths here: Blogger Net Worth Tracker
P.P.P.S: Here's the spreadsheet I use to track all this stuff. If that's too confusing, try this one.
UPDATE: I just heard from PersonalCapital.com that they're giving all new members a $20 Amazon card today until they run out :) They're another great (free) place to track net worth and investments, and all you have to do to qualify for the card is attach one account with them. You can sign up here.
(Visited 23 times, 1 visits today)
**********
PS:
If you're just getting started in your journey, here are a few good resources to help track your money. Doesn't matter which route you go, just that it ends up sticking!
If you're not a spreadsheet guy like me and prefer something more automated (which is fine, whatever gets you to take action!), you can try your hand with a free Personal Capital account instead.
Personal Capital is a cool tool that connects with your bank & investment accounts to give you an automated way to track your net worth. You'll get a crystal clear picture of how your spending and investments affect your financial goals (early retirement?), and it's super easy to use.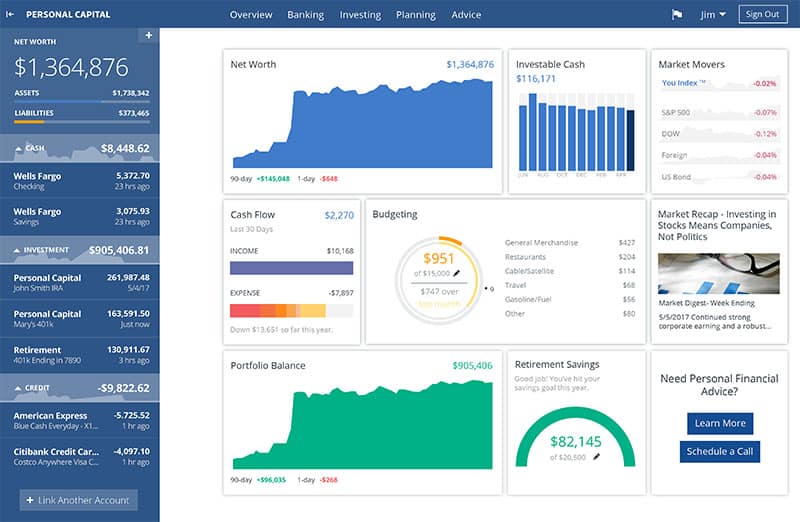 It only takes a couple minutes to set up and you can grab your free account here. They also do a lot of other cool stuff as well which my early retired friend Justin covers in our full review of Personal Capital - check it out here: Why I Use Personal Capital Almost Every Single Day.
(There's also Mint.com too btw which is also free and automated, but its more focused on day-to-day budgeting rather than long-term net worth building)
Get blog posts automatically emailed to you!