Uh-Ohs.  The markets are a crashin'!  But not like it's that much of a surprise, eh?  When you play the game, you gotta be ready for the ups and the downs! (If only the downs could have happened BEFORE I got my huge influx of 401(k) though, haha…)
But yeah – not a pretty site this month.  The only category we're continually doing well in is paying off our mortgage more each month.  And I have still yet to unveil my master plan too!  I think I have it all figured out now (hearing your thoughts on it all def. helped), but now I have to put it all down on paper.  Which can be hard for me at times ;)  This brain of mine can be tough to wrangle when I need it!
The other category for us to watch over the next couple of months is our cash.  We're still doing a pretty good job budgeting, and allocating our money in the right areas and all, but w/out the Mrs' part-time job over the summer, our reserves have started to slip.  We could still be cutting down our expenses more, but honestly the only things left are the *fun* stuff I don't feel like changing yet ;)  When you've cut down on all the rest, you gotta keep some for yourself or you'll go bonkers!   But now that her school has started back up again (she's a Grad T.A.), the extra money will start flowing in and we'll be back on the up and up again.  And if not, then at that point we'll hunker down more and change it up. Hopefully it won't come to that, though.
Here's how August's Net Worth breaks down:
CASH SAVINGS (-$2,844.21): Not a pretty number, but we should be back on track again going forward.  The Mrs. will have her job back up and in action, and I don't plan on doing any more cross-country road trips anytime soon ;) Or family vacays for that matter.  Though having pets can usually throw curve balls your way – those are the worst!
EMERGENCY FUND ($0.00): Sitting tight, just waiting for an emergency to happen.  Though really, I don't know what constitutes a true "emergency" for us anyways these days as we'd normally just dip into our cash reserves first. Back in the day this was all we had though, which def. made us feel secure.  I guess something HUGE would have to happen and really throw us for a loop to start digging in here – not that I want to find out ;)
TAX FUND (+$1,860.00): This will be gone in about 3 days ;)  Literally just sent in our quarterly tax bills so the counter will start all over again!  I know there's a better way to account for this (as to not show the constant ups and downs every 3 months) but I still like seeing the "sting" right now.  Makes it more REAL to me, if that makes sense.
IRA: SEP (-$381.60): No extra funds added here this month.  Just deleted from the daily courses of the markets ;)  I still plan on pumping it full toward the end of the year though.  Maybe sooner if everything remains super cheap?
IRA: ROTH(s) (-$1,900.42): Same here – nothing added.  The only way I'll be giving this guy attention is if I get an *extra* influx of money somehow down the road, and my SEP is already maxed out.  Word on the street is that you can actually contribute to BOTH accounts each year, so if I get lucky then I'll be investing like a mother up in here!
401(k)s: My 401(k) has gone bye bye!!  The 401(k) madness has turned into an Ultimate IRA Game ;)  With the total of all funds being shown below in my new Traditional IRA accounts.
IRA: TRADITIONAL(s) (-$10,754.38): Yeah, pretty drastic difference from last month's $17,000 bump, eh?  It's months like these when you start to wonder a little bit, but I know that in theory it should all work out in the long run (and THEN some). So for now, I remain patient and excited to watch it grow grow grow at some point down the line. Gotta have faith, baby!!
AUTOS WORTH (kbb) (-$580.00): Meh.  As to be expected, right?  I still haven't looked into my Caddy's AC yet, but I have a note to call my mechanic friend who sold it to me back in the day.  I have a feeling it's going to be an expensive one, but at least I'll then know 100%.  And it's also good that Fall is right around the corner!! My favorite season, I love it!
Pimp Daddy Caddy: $2,470.00
Gas Ticklin' Toyota: $10,825.00
HOME VALUE (Realtor) ($0.00): The same $300k our realtor set it at last year.  I considered calling him up to ask about rental prices, etc, if we went down that route later, but figured I'd wait until I was more serious as to not waste anyone's times.  As a former realtor, I know I'd certainly appreciate that.  So for now, we leave this at $300k until we get an update later. Zillow is too crazy for me…
MORTGAGES (-$430.36): Operation Refinance continues to do it's job!  Every month an extra $300+ gets knocked off the principal just by paying our normal mortgages each month :)  Then with our rounding up to the nearest 100th on each loan, we are adding in a little more as time goes on.  Still not enough to get rid of them a lot faster, but when my master payoff plan is in effect that'll change real fast.  Coming soon, I promise!!
And that's that.  Another month, another chance at improving our situations.  How did you all do?  Anyone beat the markets last month?  Anyone working on something SUPER awesome that we should all pay attention to?  If you got any tips, we'd love to hear 'em :)
In the meantime, keep on watching that money!


(Visited 5 times, 1 visits today)
**********
PS:
If you're just getting started in your journey, here are a few good resources to help track your money. Doesn't matter which route you go, just that it ends up sticking!
If you're not a spreadsheet guy like me and prefer something more automated (which is fine, whatever gets you to take action!), you can try your hand with a free Personal Capital account instead.
Personal Capital is a cool tool that connects with your bank & investment accounts to give you an automated way to track your net worth. You'll get a crystal clear picture of how your spending and investments affect your financial goals (early retirement?), and it's super easy to use.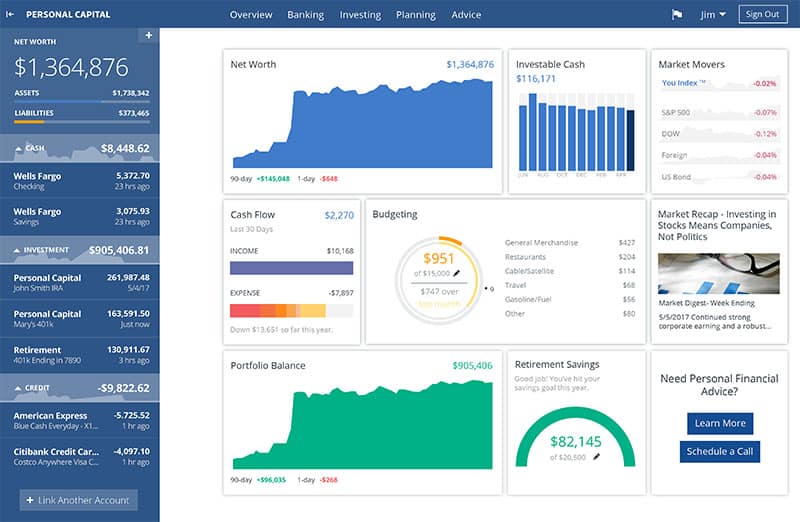 It only takes a couple minutes to set up and you can grab your free account here. They also do a lot of other cool stuff as well which my early retired friend Justin covers in our full review of Personal Capital - check it out here: Why I Use Personal Capital Almost Every Single Day.
(There's also Mint.com too btw which is also free and automated, but its more focused on day-to-day budgeting rather than long-term net worth building)
Get blog posts automatically emailed to you!