Well that's a new milestone! $50,000 drop in one month – the biggest on the books since recording these 8 years ago. Egads! What will we ever do???!
Answer: Keep doing what we're doing and not get phased ;)
It definitely sucks on paper and looks like a complete $hit show if this is the very first time you're seeing me present one of these (what a lame financial blogger, right?), but we all know some of this stuff is in our control, and some of it is not. And we also know we have plenty of up months that more than make up for these too, so it's not totally one-sided (remember October of 2013 – up $62,000?)
At the end of the day it is what it is and we focus on what's in our control. Which this month consisted of:
Selling our house and becoming completely debt free! A win in the freedom/stress departments, a major hit in the cash reserves/equity section. One I'll take all day every day though to receive that beautiful nectar of having no mortgages and maintenance! What a beautiful thing!
Saving throughout the madness with Digit and our Challenge Everything – on rotation – accounts (more on these below)
And did not consist of:
THE STOCK MARKET CRASHING AND EVERYONE PANICKING ALMOST AS LOUD AS THIS TEXT LOOKS RIGHT NOW #OMG-THE-WORLD-IS-ABOUT-TO-END!!!
It's a great time to be in the media right now as a financial "expert," that's for sure :) Ratings thrive on this nonsense, but smart people like you and me know it's heads down and forward march with our set game plans… We're in it for the long haul, and this phase – just like all others – will come and go and the genius ones will scoop up as much as they can while on fire sale. It's like a thrift store bargain bin out there right now! So beautiful!*
*For those of us who are young and have time on our side, at least… different story if you're older and already drawing down your funds, but at least you're not taking out *all* of it at once! It'll go back up!

Here's how January went down:
CASH SAVINGS (-$14,728.76): BAM – that's the price of freedom, right there. Loss of cash but gain of cash-flow! To the tune of $900'ish a month. What we were practically paying each month to keep that place rented out, ugh… I sure am going to miss that! #NOT.
Jury is still out whether we're taking the gracious loan offer from The Bank of Mom & Dad, but for now we're letting things settle a bit and seeing how we feel. Will of course update y'all as soon as we've made a decision. Thanks for all the opinions and emails in the meantime! Y'all are surely passionate! :)
DIGIT SAVINGS (+$592.20): In positive-cash news, my favorite robot friend, Digit, continues to sneak away money from me when I'm not looking and our stash now crosses the $3,000 mark. Not too shabby after only a year signed up to them!  Here's my review of them if you have no idea what I'm talking about: Why I love Digit
CHALLENGE EVERYTHING (+$337.20): Someone last month commented that I'm just being lazy with this account now and letting the work of yesteryear continue to power it, and to that I said – "yup, pretty much!" And what a beautiful thing it is, right? I'm not lifting a finger in the slightest, yet every month this account grows by $200-$300. How could you not love that? :) Now granted it's nowhere near the $500-$800 it was before, but my work-to-income ratio is better spent elsewhere at the moment, so for now we keep this on life support and just be happy with what we're getting every month… I mean seriously – we're not doing a thing!
ACORNS (BROKERAGE) (+$1.57): Pretty much a joke here, but hey – we'll take it :) Beats out all the red below! For those new to the site, I use an app called Acorns which automatically rounds up my checking/credit card transactions every month and drops the difference into a pre-selected investment portfolio they helped set up for me. On good months the account gets about $20+, and on bad ones apparently $1.00 :) Once the market gets to it, at least. You can see my full review of them here if interested: Why I use Acorns
MOTIF (BROKERAGE) (-$486.69): Sayonara, Motif! Was a fun collaboration with you and my fellow financial blogger friends to test the world of dividend investing (read more here), but I had my fill and just not into active stock trading it turns out. So the $500 I just cashed out will happily join its friends over at my beloved Vanguard fund (VTSAX) and we close the door on yet another financial experiment here. If you like that sort of trading, however (stocks), Motif may be more up your alley…
IRA: ROTH(s) (-$4,941.77): Nothing too exciting going on here – come again later :)
IRA: SEP (-$19,684.23): Nor here! It's not every day you "lose" $20,000 in one sitting though… Def. gets you to hit pause before you move on your merry way. Here's our entire progress so far since switching over to Vanguard indexing almost two years ago – kinda neat to see:
AUTOS WORTH (kbb) (+$40.00): Woopee! Our cars went up by $40! Haha… Yeah right, who knows why that happens with Kelly Blue Book… Cars are all depreciating assets no matter which way you look at it, but unfortunately many of us need them to survive (sanely) so they are what they are. And my beat up Caddy lives another month too! Even after the historic winter came and knocked out its batter – yet again. The thing keeps on ticking!
Here's how both their values break down:
Plain Jane Toyota (wife's): $4,408.00
Frankencaddy (mine): $1,000.00
HOME VALUE (Realtor) ($0.00): YAY!!!!! No more house!!! And how spot on were we, btw, when we had its value listed at $300,000 for almost the past year?? That's exactly how much it sold for! We were hoping for $320,000 at first, but then realistically went with $310,000 and then dropped it further as the winter month(s) moved on and we weren't getting a single bite. Turns out $300,000 was the lucky number though and we reeled in our big fish and now the rest is history… And good riddance.
(Awww, I'm so mean to our house! I don't hate it *that* much… I just hated it the second half of our ownership (4 years) after I realized what a bone-headed mistake it was and wanted to get out ASAP. It lovingly served as a warm home for us and our newborn son at the time, as well as introduced me to you fine friends when I turned to the internet those 8 years ago to figure out how to budget for the thing ;) Who knew I'd go on to be a professional blogger and completely have my life changed? So I will miss you a little bit, old housey-house, but we both know the time had long come. And I wish you nothing but success with the new – seemingly wonderful – tenant you now have inside of you. Good luck guys!)
MORTGAGES ($0.00): I don't think I'll ever get tired of seeing that number :) I may just have to include it in all future net worth updates just to keep my excitement going! Haha… For the first time ever since knowing any of you, we are completely – and utterly – debt free! Incredible! And I wish nothing but the same for you too once the time has come!
Bye bye old mortgages…
1st Mortgage: $000,000.00 (30 year conventional @ 5.5%)
2nd Mortgage: $00,000.00 (HELOC @ variable 2.8%)
Here's how the last 12 months have played out:
And here's the net worths of our two beautiful boys so far too. You know, cuz we're nerds like that.
And there you have it! The biggest loss on the record books since June of 2013 (-$40k) and we're still smiling on the other end :) I hope you guys lost a lot less over there! Unless you're already millionaires, in which case losing a lot more is actually GOOD! Wanna trade?
See you back on Friday,
——–
PS: Like these? Check out all my net worth updates over the years…
PPS: Don't like these, but want to see 200+ other financial bloggers' worths? Here you go.
(Visited 55 times, 1 visits today)
**********
PS:
If you're just getting started in your journey, here are a few good resources to help track your money. Doesn't matter which route you go, just that it ends up sticking!
If you're not a spreadsheet guy like me and prefer something more automated (which is fine, whatever gets you to take action!), you can try your hand with a free Personal Capital account instead.
Personal Capital is a cool tool that connects with your bank & investment accounts to give you an automated way to track your net worth. You'll get a crystal clear picture of how your spending and investments affect your financial goals (early retirement?), and it's super easy to use.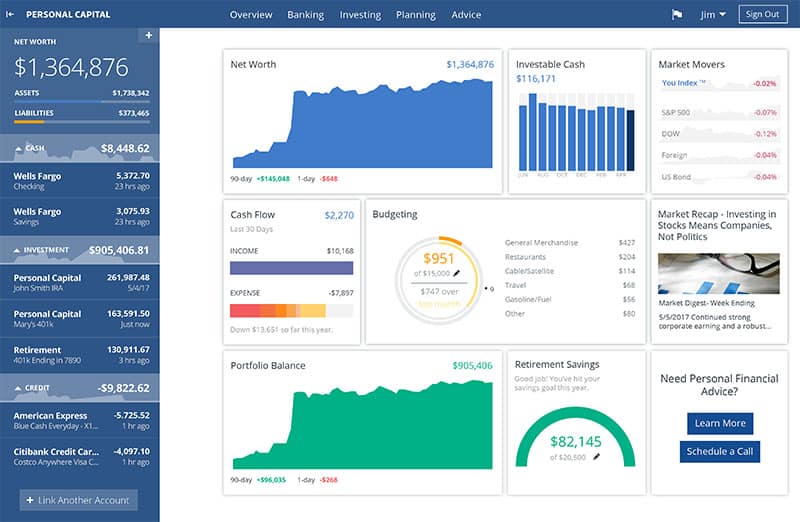 It only takes a couple minutes to set up and you can grab your free account here. They also do a lot of other cool stuff as well which my early retired friend Justin covers in our full review of Personal Capital - check it out here: Why I Use Personal Capital Almost Every Single Day.
(There's also Mint.com too btw which is also free and automated, but its more focused on day-to-day budgeting rather than long-term net worth building)
Get blog posts automatically emailed to you!