What's up money lovers!
You're now looking at a half-a-millionaire, woo-woo! We're going to Disney World, baby!!!! (Haha yeah right, you know how expensive that is?? ;))

I will be popping bottles though, specifically this one here:
Ironically it's the same bottle my wife and I picked up to celebrate the purchase of our first house 9 years ago which to this day has never been drunk. I feel like it's kinda fitting as to how far we've come :)
On a more serious note though, it's been quite the ride in getting here! A lot easier in some ways as once you get investments going they just keep making money on their own, but man it can sure take a while… And I'm not gonna lie, I've sweated/cried/laughed/and sweated some more throughout the process ;) You sure gotta WANT IT, that's for sure, haha…
Take a look at what a journey it's been:
You can see how fast (or not) the money has grown in some years vs others – either due to the stock market or personal/family decisions… It's never a straight line one way or the other, that's for sure! And we've documented all 91 months throughout the journey here on the blog too which is cool :)
But here we are, over 8 years since pulling my head out of the sand, and I gotta admit it smells much prettier outside. And the crazy thing is, my lifestyle isn't that drastically different than it was before. Outside of being happier and more stable, of course.
You'd think that after all those years of saving and cutting back that your life would be miserable, especially watching everyone ELSE blow through it all, haha, but the fact of the matter is that the more financially stable you become, the more confidence and happiness you receive. And it's not like you still can't spend money if you want to – you just do it way more consciously. And the beautiful part is that once you figure it out *once* it sticks with you forever! Even as life changes!
So today is more of a celebration for ALL OF US who have made that commitment, and everyone before us that has shown us the way. After all, if it wasn't for either, none of us would be reading this right now :)
So let's get down and celebrate!! By dissecting the numbers from last month like true nerds! Haha… And if your boss isn't looking, I give you permission to take a swig of the bubbly as well, shh…
How May broke down… An increase of $7,923.75
CASH SAVINGS (-$967.65): Not what we'd like to see, especially after going on about the power of managing your money well, haha, but it's true life and some months are better than others :) This loss mainly comprised of some medical bills needing to be paid, as well as a drop in business income.
DIGIT SAVINGS (+$418.03): On the plus side, Digit's stashed away an extra $400 for us! So it's not a total loss… Most of you are already quite aware of them since I talk about them often, but for all new people here you could read about why I love them so much here. I'm even on their board of advisors.
CHALLENGE EVERYTHING (+$237.26): While pretty much on autopilot these days, last year's Challenge Everything mission continues to pay dividends. We've now saved almost $3,000 since switching over to Republic Wireless alone, plus another few thousand from cutting down other recurring expenses throughout the same period. And that's the whole trick of it all right there: shaving *recurring* expenses vs one-time ones! It's the gift that keeps on giving!
BROKERAGE (ACORNS) (+$17.88): A couple more dollars invested in this account here too. All automated, and all awesome (thanks Acorns!). It's a nice feeling knowing you're investing money every time you swipe your card :)
IRA: ROTH(s) (+$1,728.91): I haven't followed through with my plan of making monthly deposits into our Roth IRA yet (mainly due to the cash situation above), but it is on my list and hope to get into the habit again shortly. So any gains here are strictly off the market doing its thing…
IRA: SEP (+$6,729.32): Same here, as well. Nothing new invested, yet still climbs up! It's actually pretty scary how easy it is :) (And also true of the opposite happening too, haha… we can't forget that time we lost $51,000 one month and $23,000 another! All within the past 9 months!)
Here's a snapshot of how our investments have performed since moving it all into Vanguard two years ago… We're fully invested in VTSAX btw (Vanguard's Total Stock Market Index Fund):
(Look at all those dips!!)
AUTO VALUES (-$240.00): Just another month per usual here… No one ever had cars that APPRECIATED! :) Here's how they break down per KBB, except for my Caddy where I put a flat $1,000 rate on it as it's been pretty banged up lately:
LIABILITIES: ($0.00): Nada, zilch, nothing. Doesn't mean it'll always remain this way, but for now we're soaking it up :) Especially after offloading our house earlier this year which officially got rid of our last debts. (We're currently renters now and loving it).
And here's been the ride just over the past 12 months:
Again – it's never a straight line one way or the other! Just gotta keep the head down and hustle strong… We've technically only improved by $14,000 this year – hah.
And then the boys' net worths:
Nothing super special going on here either as we haven't added anything into them lately…
And that's net worth update #91! The 3rd most special one so far! (With the $50,000 and $100,000 milestones being the most exciting since it's when you're getting your momentum going and figuring stuff out :) Even though $500k takes a helluva lot longer!!)
As always, you can see all udpates we've done over the years here, as well as stalk 200 other bloggers' net worths over at Rockstar Finance's net worth tracker – where you're bound to find someone you relate to. Which is really the whole point of sharing this stuff. To keep you motivated and to show all the different paths in reaching these goals!
And I do hope your path to freedom is going well too :) Remember that it doesn't matter so much where you are *today*, but rather *where you're going* tomorrow. And tracking your net worth helps to light the way…
To the next step!
AKA Half-a-Millionaire
(Visited 203 times, 1 visits today)
**********
PS:
If you're just getting started in your journey, here are a few good resources to help track your money. Doesn't matter which route you go, just that it ends up sticking!
If you're not a spreadsheet guy like me and prefer something more automated (which is fine, whatever gets you to take action!), you can try your hand with a free Personal Capital account instead.
Personal Capital is a cool tool that connects with your bank & investment accounts to give you an automated way to track your net worth. You'll get a crystal clear picture of how your spending and investments affect your financial goals (early retirement?), and it's super easy to use.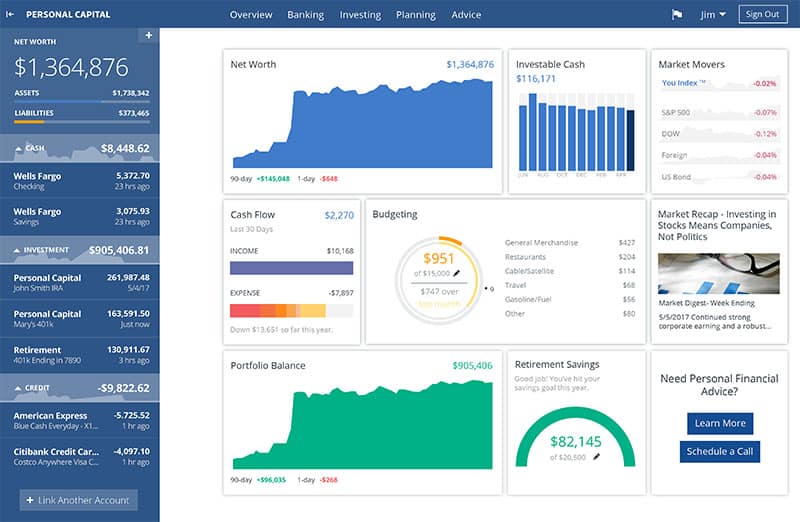 It only takes a couple minutes to set up and you can grab your free account here. They also do a lot of other cool stuff as well which my early retired friend Justin covers in our full review of Personal Capital - check it out here: Why I Use Personal Capital Almost Every Single Day.
(There's also Mint.com too btw which is also free and automated, but its more focused on day-to-day budgeting rather than long-term net worth building)
Get blog posts automatically emailed to you!