Haaaaaappy net worth day, y'all!
Who's in the stock market right now and grinning from the massive comeback? Now who's grinning even MORE because you scooped up mad stocks on sale and turbo'd your stock pile even more?? :)
That's the beauty of the game right there, my friends… Gotta be "in it to win it!" as Randy Jackson would say! (Whoo whoo whoo! < — Dog pound chant a la American Idol, R.I.P.)
As for us, this month's increase marked the 3rd best in the history of tracking my money and it feels damn good to be back in the running for that $500,000 spot again… something I've been chasing since May of last year!
In fact, here's a look at the top 3 best increases over the years:
October, 2013: $430,950.10 (

+$62,000

– sold some sites)
October, 2011: $262,425.97 (

+$60,000

– mad hustlin' + $20k inheritance)
March, 2016: $488,217.20 (

+$48,000

– market increase + $10k gift + maxed Ira)
And just to be fair, here's our top 3 WORST months too :) Just to prove it's not always glitter and rainbows up in here! We've had just as many lows as we've had highs over time…
January, 2016: $437,562.07 (

-$51,000

– sold house + market crash)
June, 2013: $339,921.97 (

-$40,000

– moved + renovated + lost income + markets down)
August, 2015: $468,391.43 (

-$23,000

– market crash!)
As you can see, 2016 has been quite a wild one so far! Down $50k one month, up $50k another!
Here's the TL;DR of how March went down:

Cashed out all Digit savings and Challenge Everything savings
Cashed out remaining tax $$ that was set aside and left over from filling taxes
I finally filed taxes :)
I used all this money + a bulk of our cash reserves to max out my SEP IRA for 2015 ($25,563 worth)
We got an unexpected gift of $10,000 from my in-laws!!
So a lot of cash transferring and investing this month which is pretty out of the ordinary. Things should calm down a bit more now that the house/cash shortage/investing dilemmas are all figured out, but you never really know what life has planned for us, eh? Gotta ride the times when they're well, and brace yourself as best you can when they're not! It should all work out fine in the end provided we keep our heads down and focused on the bigger picture… And hopefully your month went exceedingly well too :)
Here's how March broke down in detail:
(PS: To all new people — I share these updates every month to not only hold myself accountable, but also to show a real-life account of someone else's money. It was one of the coolest/craziest thing I'd ever seen when I first stumbled across this myself 8 years ago, and I found it to be super motivating so I decided to do the same when I started my own blog… Hopefully it helps/inspires you as well! :))
CASH SAVINGS (-$1,415.23): A small amount by looks, but a TON went down in the background to lock in this SEP IRA maxing. About $3,500 came from cashing out my Digit account, $2,000 from emptying our Challenge Everything account, $10,000 from last week's unexpected gift!, and then another $10,000'ish leftover from my "tax account" that stays separate all year long and dumped out if anything's left after taxes… And apparently I overestimated by quite a bit! (Better than the opposite though, eh?) A fun – and maddening – month all around, but a very happy ending when all was said and done, whew.
DIGIT SAVINGS (-$3,284.70): Whelp, after over 15 months of saving money with Digit it was finally time to put it to better use! We cashed it out this month and applied it right to our Vanguard investments, particularly VTSAX. A much better spot to hang out for the long term than a savings account, am I right? And we'll continue to rock Digit to keep saving easily/automatically going forward too so we can do it all over again come this time next year :) If you're interested in learning more about them, you can check out my review here: Digit: The Easiest Way to Save Money – Ever?
Here's a snapshot of my account (on the right), along with Acorns (left) before I cashed out… Kinda neat seeing how it all broke down over time, eh?
CHALLENGE EVERYTHING (-$2,103.45): We said bye-bye to these savings too! Plucked them right from our separate savings account tied to our Challenge Everything mission and moved them right into more VTSAX funds with their friends. I'm debating on whether to keep this account open now that we've stopped really challenging stuff, but the rewards from Round I are still paying handsomely so we'll see if it continues going here or just mingled with our main savings to get more minimalistically aligned.
BROKERAGE (ACORNS) (+$45.68): Still growing a little each month! Looks like our roundups totaled about $20 this month, while the funds increased $20 as well due to a rise in the marketplace… For those new to Acorns you can read my review here – Rounding Up Change + Investing It = Acorns App! – but this was my foray into starting a new brokerage account again and it's been humming along in the background for about 12 months now. Happy birthday to J+A!
IRA: ROTH(s) (+$5,962.75): A nice uptick here too due to the markets, especially as nothing extra has been deposited in just about a year now… So far, anyways ;) I'm HIGHLY tempted to keep my record of maxing this out along with my SEP for the 5th or 6th time in a row here (such a great habit!!), but with our cash situation being as it is I just can't justify it one iota – at least if I want to stay married to my wife. I am working on a new partnership though that will result in some extra cash around the corner, so if that pans out between now and April 15th (the last day you can drop money into a Roth for the 2015 year), it'll be on like Kristin Wong!
IRA: SEP (+$48,831.75): TRIPLE BOOM COCKTAIL! Haha… $25,000+ dropped in our Vanguard SEP IRA (again, all in VTSAX) along with a nice jump in returns – and dividends! – to boot. Imagine if this happened *every* month? :) Someone asked if I could share the dividend amounts as they hit too, and they just did which came out to an extra $1,896.81 in the accounts. For literally doing nothing (the beauty of investing right?). So needless to say this was a damn good month, and one severely needed with all the uncertainty from the past few months…
Here's a snapshot right from my Vanguard account that shows how wild it's been since we first moved over in 2014… The "income returns" part are the dividends since paid out: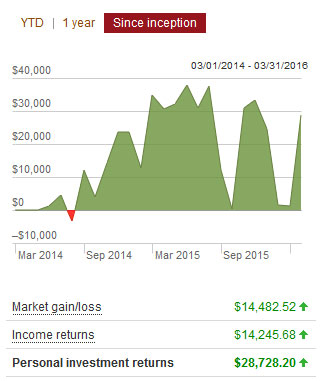 AUTO VALUES (+$157.00): Yeah, I don't know what's up with that, haha… Just copying/pasting what Kelly Blue Book says! :) Here's the value of both of our cars, if we were to sell them directly to someone ourselves (which is what we'll do once time):
Average Toyota (wife's): $4,360.00
Pimping Caddy (mine, of course): $1,000.00
LIABILITIES: None!!! No more house or loans or debs – nada! It's pretty weird being totally one sided with these updates since I'm not used to it, but it's something I hope stays as-is for the future years to come :) For those who think we figured out how to live mortgage/rent free, however, that is certainly not the case. While we don't have mortgages anymore, it's simply because we sold our house and went back to renting full-time… Perhaps not the best route for many people, but for us it's heavenly. And something I'd like to continue doing so for however long my growing family will allow me to :)
How my two boys are doing – because why not?:
And that's Net Worth Update #89! If you'd like to see the complete list of updates over the past 8+ years you can do so by clicking here, and if you're tired of reading about me and want to see what other – probably much smarter – bloggers are doing, you can see our list of 200+ net worths here: The Ultimate Net Worth Tracker, powered by Rockstar Finance.
May the money Gods be with you this month!!! Keep hustling and learning and saving and paying attention to everything – it always gets better no matter your stage!
XOXO,
(Visited 22 times, 1 visits today)
**********
PS:
If you're just getting started in your journey, here are a few good resources to help track your money. Doesn't matter which route you go, just that it ends up sticking!
If you're not a spreadsheet guy like me and prefer something more automated (which is fine, whatever gets you to take action!), you can try your hand with a free Personal Capital account instead.
Personal Capital is a cool tool that connects with your bank & investment accounts to give you an automated way to track your net worth. You'll get a crystal clear picture of how your spending and investments affect your financial goals (early retirement?), and it's super easy to use.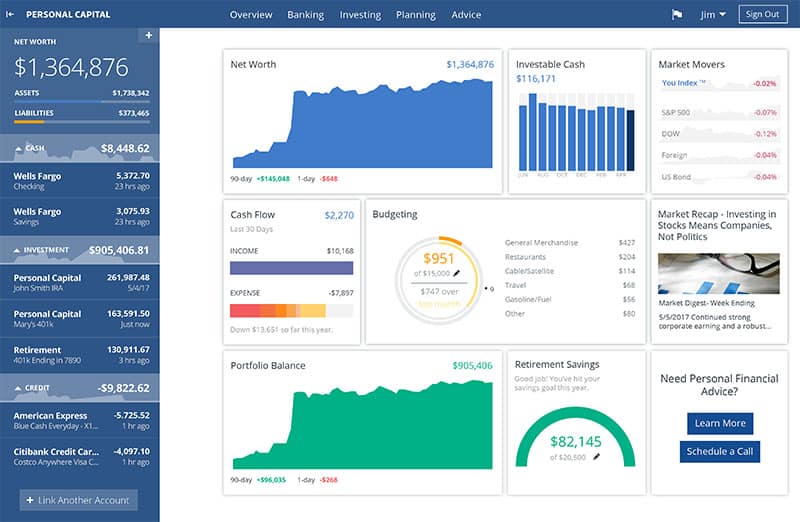 It only takes a couple minutes to set up and you can grab your free account here. They also do a lot of other cool stuff as well which my early retired friend Justin covers in our full review of Personal Capital - check it out here: Why I Use Personal Capital Almost Every Single Day.
(There's also Mint.com too btw which is also free and automated, but its more focused on day-to-day budgeting rather than long-term net worth building)
Get blog posts automatically emailed to you!