In case you weren't aware, this week is the 2nd National my Social Security Week. An event so glorious to money nerds that I can't believe I almost missed it! ;)
I got an email saying to pass it along to all my colleagues, friends and family, so here you are:
July 19th through 25th marks the celebration of our second National my Social Security Week. Since you have an account, you are aware of what a great financial planning and benefit management tool it is! We hope that you take this opportunity to spread the word to your colleagues, friends and family, about the benefits of signing up for a my Social Security account at www.socialsecurity.gov/myaccount. Let them know that with their account, they can verify their earnings and get estimates of their future benefits to help them make important financial decisions. If they are already receiving benefits, they can get a benefit verification letter, check benefit and payment information, change their address or direct deposit information, and get a replacement Medicare card or SSA-1099 for tax season.

A my Social Security account is convenient, secure, and FREE! It's never too early or too late to plan for retirement.
They got that last part right! And in all seriousness, it actually is a pretty bad ass site. You can literally log in anytime to see what you (may or may not) get when you retire, along with your entire reported income history. Anyone who gets off on numbers will love this.
Here's what it says I'll receive when I retire:
Now I don't count on any of it just in case, but if God willing I have an extra $2,000+ coming in every month until I die, I will be one pleased budgeter. That's like having an extra $600,000 invested if you're going by the "4% Trinity Rule!" Amazing! And according to my early retirement spreadsheet, that would also mean I could retire 8 years earlier at 40 instead of 48 right now :) If, of course, you could actually get this $$ in your 40s (you can't) and if it's still there for us come another 30 years (I couldn't tell you one way or the other).
Anyways, pretty fun stuff to see. Definitely create an account and poke around if you haven't yet.
While I was in there, I also checked to see if 2014's numbers were included in the "earned income" section as the last time I checked it wasn't. Something I've been dying to see so I can update our LWF! (Lifetime Wealth Ratio™). And it was!
Here's what is shows for all my earned (taxable) income since birth. With emphasis on taxable.
And here's what it looks like visually since it's much more fun to see with graphs (hint, hint, S.S.):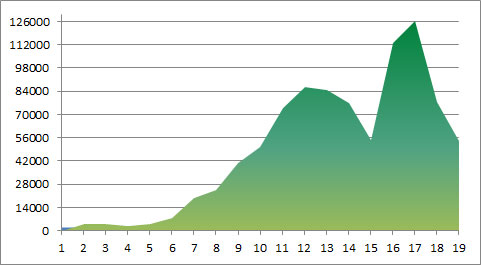 Pretty awesome and scary at the same time, eh? This spans 19 years of money making in high school, college, early career, and most recently, the last 4-5 years of self-employment. Which as you can see has fluctuated wildly! (But don't worry, 2015 is shaping up to beat out year 17 :))
Back to the LWR…
Once you have your hands on this great info along with your net worth numbers (which any good reader here should have by now, right??) you can then run some pretty fantastic ratios like the one I made up last year: The Lifetime Wealth Ratio™. Which is simply:
Net Worth ÷ Total Income Earned
A not so scientific, but VERY telling, idea idea of how you've managed your money over the years. Also once featured in a New York Times piece so you know it's good ;) The higher the ratio, the better you've been saving/investing/building wealth.
Here's what mine now clocks in at: 54% ($489,886.10/$906,310). Which puts me in "Marry Me" status per our measurement key:
0%-10% – Meh
10%-25% – Now we're cooking!
25-50% – You're on fire, baby! Give me your number!
50-100% – Marry me.
100%-1,000% – How do I get into your will?
If you're bored/awesome/sexy, I encourage you to run your own numbers now too. Unfortunately I dropped a percentage point from the last time I ran the numbers (November of last year), but it's always good to see where you stand regardless. Feel free to make up your own measurement keys if mine aren't satisfactory :)
Here's to being nerds!
(Visited 55 times, 1 visits today)
Get blog posts automatically emailed to you!