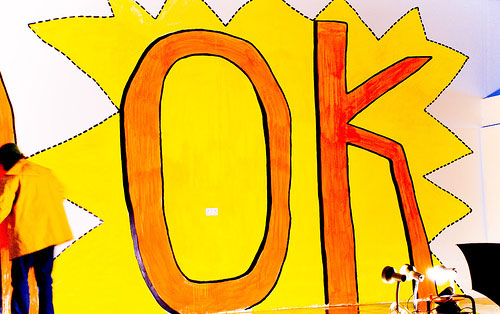 Got a great email last week from a reader, and think a lot of you may feel the same way about this budgeting stuff.  My response to her isn't necessarily a "right" answer for everyone, but it is the one I strongly believe in ;)  What do you think?
Miss Almost-Perfect's email:
Question for ya….I'm the sole breadwinner (by choice) for my hubby and two kids, expecting a third in April.  We are on a TIGHT budget but making ends meet with NO debt but our mortgage and a $2,000 balance on a student loan.  We are currently not saving any money each month because we're having trouble sticking to our budget in just two categories:  entertainment and household expenses.  I honestly think household expenses is set too low for our family, but entertainment needs a lot of help.  We just spend a lot out of convenience.  I have a meticulous spending system with 10 categories, and we do wonderfully on 8 of the 10.  We also do very well with our regular monthly bills.

Do you have any advice on sticking to our budget in our "problem areas"?  How about a cash/envelope system?  I did that when I was in high school…worked GREAT back then; however, I don't know how practical it is at 30!  :)  I know that it's probably a lot of will power that I just don't seem to have after being so tight everywhere else…I guess I feel like a lot of times we deserve it because we work so hard at everything else (especially me who is the only one going to work everyday!), but I certainly need some motivation/ideas…something…to get us to save some money every month!
My response, copied and pasted "as-is":
(which is why you see lots of errors… I email like a 3rd grader!):
i'm probably going to tell you the opposite of what you want to hear –  haha… and that is, if you are rockin' 8 out of 10 categories and your debt is on the low, it is OKAY to go over budget here and there!  i know it's not financially smart, but i do believe you have the "right" to splurge a little on entertainment and stuff like that when you are working your a$$ off and getting everything else down pat. you can't be perfect, and i don't think you want to be honestly.  if you're nailing everything 100% well it means you're either stagnant or not challenging yourself/working toward the next big thing – ya know?
and plus, you can't be ON all the time and always come within budget because you'll drive yourself crazy and always think you're not doing well enough :(  which you guys are!
now, would it be better if you were saving extra every month instead of breaking even? of course.  but i think for that to happen it's more about finding ways to bring in a little more money instead of cutting out the rest of your happiness in your current budget ;)  at least in my opinion.  for example, i love eating out and not worrying about buying lunch/dinner anytime i want.  4 years ago it kept making me go out of budget and i hated it thinking i sucked when in reality i didn't but that one category kept eating at me (no pun intended).  then i decided to take up side gigs to bring in more $ so i can do all the things i want to do and not have to worry about it.  so i switched my time for the peace of mind of being able to splurge on food whenever i wanted – does that make sense?
it seems like you're pretty slammed already w/ working, but maybe someone else in the fam can bring in an extra $100-$200 to cover the difference?  maybe make a family contest or something to see who can raise it?  i dunno…. hard to say w/out knowing y'all ;)
but the point is – i def. think you're on the right track and that it's okay to treat yourself to stay sane. i've known a lot of people who keep trying to be perfect and then burn out and end up blowing their entire budget and just giving up.  you def. don't want that.  but then again if you're not happy w/ your current situation, we def. want you to find a plan to be more comfortable ;)  maybe you do try the envelope method and see what happens?  people do say that by spending cash instead of plastic that you end up saving more in the end?  i think there's something to be said for that.
anyways, i hope this helps.  sorry if i'm rambling – if i don't write this way it'll never come out and will never be sent to you ;)  just know that you are doing an EXCELLENT job and that there's always a way to fix your problems if you keep trying new avenues.
What do YOU think?  Should she be stressin'? Did you like my lack of grammar & punctuation? ;)
—————-
PS: For anyone who hasn't seen them yet, here's my list of favorite budget templates.
(Awesome photo by Conor Lawless)
(Visited 12 times, 1 visits today)
Get blog posts automatically emailed to you!