The other day I saw a headline that said something like "The downsides of owning a beater car" and I didn't have to read it 'cuz of course we all know what those are. Any time you rock something old – a vehicle or otherwise – you're bound to need to give it some tlc over the years else you're living in frugal denial.
As fate would have it for me, however, little did I know that "over the years" would mean "over the next 24 hours" as my car would literally go up in smoke the following day, d'oh! (Guess I shouldn't have chuckled at that article :)) Apparently a rotor was stuck/melting onto my breaks, which then caused the smoke and blow out of a tire, and a few hours later I was out $400 just like that.
Now the 20's me would have been furious and constantly driving myself crazy thinking about all the things I could have bought for that $400 instead, but the older, more appreciative me merely needed to remind myself of a phrase I now say to get me feeling better again. Which is simply:
"It's just a monthly payment!"
Because if there's something worse than paying $400 for your car once in a month, it's paying $400 TWICE in a month! And when you have car payments this is exactly what you do (give or take a $100). So anytime I need to pony up something for my car or anything else I own, I just remind myself that it's like paying a single month's payment again as I did for 15 years prior in my life, but a ton better since I only have to do it ONCE now vs every month, bleh.
And I remember this feeling all too well growing up playing the "upgrade" game. Starting with my first car – a Geo Tracker – at $2,000(?), then moving up to a more sportier one – Ford Mustang – at $10,000, and eventually trying out an SUV for size at $25,000 (Toyota Highlander). Every year something would come up regardless of the type or age, and every year I'd sweat bullets wondering if I'd have enough to cover it (while most other times I'd be concerned with dings and dents and all other annoyances cars also bring to the table).
Then somewhere along my journey I had my financial epiphany and realized I was a LOT happier – and less stressed – riding around a hooptie than I was a fancier, newer, car. Not only for the lack of car payments (helluva lot easier to save money when you're not giving it away every month!), but also very much for the lack of caring about "blemishes" anymore too. Once your car reaches a certain age/look, it really doesn't matter anymore.
I mean, look at all the character my current ride has! :)
Granted, Frankencaddy is an unusual magnet for people smashing into it and handing me over insurance checks ($2,500 to date, uh thank you), but even so having one less worry every month does wonders for your mood… And since this car cost me a whopping $3,100 when I purchased it 8 years ago, I haven't had a payment in quite some time… Even with slapping it on my credit card ;)
Point is, when you have no car/mortgage/boat/tv/motorcycle/or any other types of loans, your range of wanting to punch a wall drastically goes down the longer you've been without payments. Then when something DOES finally happen, as it inevitably will, it becomes much more of an annoyance than it does a catastrophe. One of the handful of perks being good with your money gets you.
So if you're in debt, let this help motivate you to get out of it even quicker, and if you're not in debt, let this help make you feel BETTER about any future repairs to come.
Because while it sucks to fork over money at any time, it sucks a lot less not having to do it every single month. And since you've hopefully been funneling some of those savings into an emergency fund over the years, you probably have enough to cover these pesky situations too!
Who knows what our next car will be, but for now it's ride-it-'till-it-dies while we enjoy the peace of mind… Would love to hear what y'all are driving, and why, if you feel like sharing? :)
*****
PS: As I was typing this, a lamborghini like so pulled into the parking lot right next to me: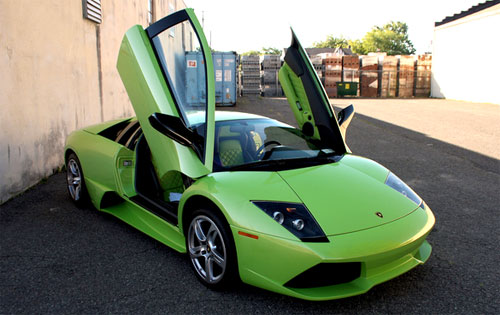 I considered approaching the owner and asking what his car payments were for a "story" I was doing, but I was afraid the site's name would give away the angle :) So instead, I just drooled away while my wallet did a happy dance in my pants! Haha… Guess he's not too worried about losing $200,000.
[Lambo photo by Damian Morys]
(Visited 29 times, 1 visits today)
Get blog posts automatically emailed to you!