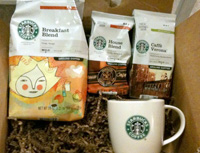 At least here on BudgetsAreSexy ;) It's not *exactly* personal finance related but it does mean FREE coffee for some of you. And actually, YOU guys will be the frugal rock stars today since you'll have to drop your coffee-saving tips to win!
Everyone knows Starbucks so I'm not gonna pimp what they do, but I will say they expanded their packaged coffee portfolio they sell in grocery stores. So for people who want to try a new blend but don't want to commit to a larger size, they're now rockin' 5-ounce sizes for ya. And they've still got their 20 oz'ers around too (as you can see in that pic) which according to their stats means you're getting each cup for only 25 cents! Not bad if you're good at making it at home (I'm surprisingly getting better at this… although we did have that incident).
Okay, so what can you win? A Starbucks V.I.P. Package!
A coffee mug! Simple, yet sleek (I use mine all the time)
One 20 oz bag of coffee. Which would last 2 days in our household ;)
THREE 5 oz bags of coffee. Great for snacks! haha… j/k, you're set for 2+ months here.
To win all this coffee goodness:
Share a way YOU save on coffee (or tea? beer? water?) in the comments below.
Leave a way for me to holler at ya. Email, blog, twitter, cell # (just kidding)
TWO lucky winners will win their very own V.I.P. Starbucks package, drawn by none other than Random.org, and ending @ Midnight this Saturday – Feb, 27th. Now tell us all your secrets! (and when you're ready to hire me Starbucks, you just let me know)
*************
*GIVEAWAY OVER* The lucky winners are Kevin and Miss Information! Congrats guys :)
(Visited 7 times, 1 visits today)
Get blog posts automatically emailed to you!