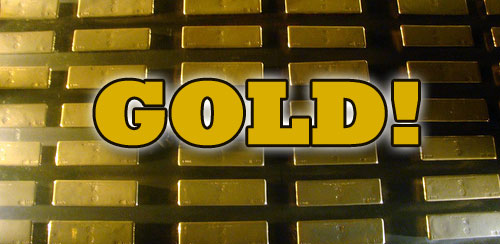 I just got off of a call with one of my friends, and my mouth is literally wide open in shock. He just told me he's completely unloaded of all his investments (stocks, mutual funds, etc) and is almost 75% in GOLD right now. Like, physical solid gold locked up in his house (The other 20-25% is in OIL).
But the craziest part here is that he's the SMARTEST person I know when it comes to this investing stuff! He literally spends 12-14 hours a day looking at numbers and financials of large corporations for a living. And gets paid BANK to do it. So coming from him that the world could even *slightly* be coming towards a complete market meltdown, scares the bejesus out of me.
Some things to clear up real fast before you think he's a wacko though (or is it too late? :)):
My friend is well-respected and pretty prestigious in his field. (For obvious security/privacy reasons, though, I can't tell you who he is.)
In his words, he's a " hardcore conservative Republican" playing it SUPER safe. (I'd say!)
He's been slowly buying it up over the past 2-3 years – NOT ALL AT ONCE (which is good cuz that $hit is expensive right now – it's like $1600 per ounce!!  I remember when it was $900 a few years ago… around the time my friend started picking it up, that bastard :))
He moves his money/investments fairly actively – all depending on the markets and his research.
Did I mention he does this for a living, 60 hours a week?
I'm no conspiracy theoriest, but I can tell you that he's definitely got me thinking. I've never really thought about it before, but if the economy DOES tumble and all paper money really isn't worth much anymore (and all electronic money is gone too), how *would* we be able to survive? Would we go back to the barter system where all of our "stuff" is much more valuable again? The answer for my friend, of course, is having more of the new currency – gold. "It's ALWAYS valuable."
I've always been curious how people even get their hands on the stuff to be honest with you ("You can easily order it online through the government, or on eBay"), just never took the time to think about it. I always hear people investing in gold through funds and what not, but in this case it still wouldn't matter if the world went to kaput ;) And I could tell you my friend would be completely fine if that ever happened too, haha… He's got enough gold to last a lifetime over there!! Even without the "end of the world" premium.
I don't have the balls to cash out and go straight to *anything* even if I knew it was the right move, but I am considering at least picking up a few coins when it's time for us to invest again. I agree that it always IS worth money, even if it fluctuates like a mad man every week (but again, what isn't these days?). Also, how cool would it be to actually have gold coins in your safe??!! Scrooge McDuck style!! haha… I love it.
Anyways, take from this what you will.  I'm certainly not trying to sway you one way or the other, I just find this incredibly interesting/scary/crazy and thought I'd pass it along to ya.  I think as long as you have a good mixture of investments and are prepared for whatever comes about down the road you'll be fine.  And if not, well, you can always borrow some of my new coins ;)
———–
PS: My friend above just sent me this article for those interested: Art Cashin On The Most Important History Lesson Of The Last Century
(Photo by Brian Giesen – Design by J$)
(Visited 10 times, 1 visits today)
Get blog posts automatically emailed to you!