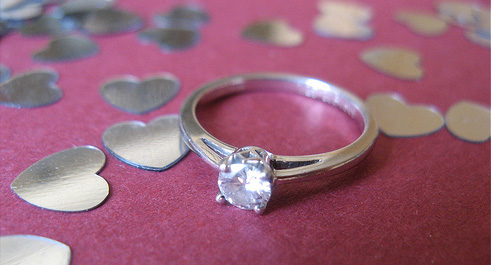 Guest Post by Tahnya Kristina
When two people decide to take the next step forward in their relationship and move in together, it can be very exciting. However, the merging of two homes into one also means the merging of your separate finances into one budget!
This can be a great decision for couples, or it can be a disaster. It has been reported that finances are the leading cause of divorce. Money is a sensitive subject for some individuals but unfortunately couples do not have that luxury. As a couple you share most other things, so you should also be able to share your money too! or at least be open to discuss it with your spouse.
My brain as a Financial Planner tells me to merge only the necessities to ensure an equal share in the participation of monthly expenses. There is no need to merge all of your individual money into joint accounts, just the essentials for food, shelter and related expenses. However, my heart as a girlfriend who has been with her boyfriend for 10 years, and still doesn't have a ring on her finger (!!!), tells me to keep everything separate. If he can't commit and sign on the dotted line for our happily ever after, then he can't be allowed to sign on the back of my credit card.
Don't forget that even though you are in a couple you are still an individual. You should have both a personal budget as well as a budget as a couple. This will be easier to keep track of monthly expenses. First you should determine your total monthly bills as a couple. Then add those bills as an expense into your personal budget. What you have left over at the end of the month is yours to keep individually.
It is very important to include joint savings as a part of your couple's budget. Each person should contribute an equal amount into a savings account in both names. This account is not for monthly bills but for other joint expenses such as a couple's vacation, new furniture, or a weekly eating out budget. Budgets work best when the overall monthly goal is broken down into shorter periods of time such as a weekly or daily budget.
You don't have to share everything in a relationship. So if one of you has more left over at the end of the month don't be embarrassed and don't be ashamed to spend it if you've got it! Of course just like any aspect of a good relationship, it is always best to be open and honest about money. If you are short one month, communicate with your partner. That is a benefit of being in a couple. You always have someone to pick you up when you trip and fall.
Another benefit of merging two budgets into one is that now you are now paying half of all the monthly expenses that you were previously paying all alone. This is an added bonus to your disposable monthly income. Unless, you are coming from your mama's house ;) Then you will be ADDING expenses, not cutting your expenses in half!
———-
Tahnya Kristina blogs over at Dinks Finance – a personal finance blog by, and for, couples where she gets to practice her Financial Planning skills :) Tahnya also recently launched a Media and Creative Services company called Media Madam – wish her luck!
(Photo by Rose Robinson)
(Visited 4 times, 1 visits today)
Get blog posts automatically emailed to you!