Have any of you tried the Ibotta savings app before? Does it save you a lot of money?
I've heard about it approximately 37 times over the past few years from friends of this site and other $$ bloggers (always sounded spammy to me?), but stopped for the first time this morning to finally see what the fuss is about…
So far looks pretty cool :)
Within seconds I downloaded the app and came across this gem, haha…
I watched a 15 second clip of a new movie coming out – "Sausage Party" – and then it unlocked this cash rebate of $3.00 that I'll pick up if I go and buy these two items (hot dogs, Pabst) the next time I'm at CVS. Probably not the best example to use, but hey – it kept my attention! :)
And, hell, why not go out right now and see if it works? You won't miss me, right?
Hold, please…
Okay, back! Look how fast I am!! :) Well, the good news is I was indeed able to pick up a couple of rebates, but the bad news is there was no beer to be found at this particular CVS… Totally forgot I'm living in a new state now (Maryland) that bans alcohol at convenient stores! Booooooo….
So I pulled up the app to see if bread or eggs were cash back-able as my wife had tasked me to pick them up earlier, and luckily they were or else this post would have been much less exciting, haha…
I took two 3-second surveys and unlocked a $0.50 cash rebate for the eggs and a $0.50 rebate for the bread. Then when I got home I scanned the items with the app and took a snapshot of the receipt, and just like that $1.00 was credited to my account. They won't nearly be as tasty as that sausage party I started looking forward to, but hey – it's free money!
(I got this in my email when I activated the $$$, haha…)
So yeah, that's how Ibotta works in a nutshell :)
Just pull up the app anytime you're about to buy something, and then see if there are any rebates waiting to be activated for them (apparently they give out special deals for Ibotta users only, too).
If there are, do the quick task to "unlock" them (could be a video, reading a fun fact, taking a survey) and then once you buy them just scan the items and upload a photo of the receipt – or even better, have your store loyalty cards linked up so it's all automatically confirmed!, and then BOOM – instant cash back.
Once you hit $20 you can Paypal or Venmo the money right over to yourself, or you can pick up any of the featured gift cards they offer. Though I recommend the cash money. All new users to the app receives a $10.00 credit once they redeem their first rebate as well – like I just got – woo!, which you can get by signing up here or using my referral code – wlercad. Might be worth a shot?
The Best Times to Buy Stuff
So why the itch to try Ibotta today out of all days? Well, as silly as it sounds, I caught a press release they did after analyzing 50 million receipts from their users in celebration of hitting $100 Million cash back (nice!!), and thought I'd write up a post about it to help everyone hack their shopping more.
I then figured I might as well check out the app while I was at it, and voila – here we are! It must be hard for marketers to figure out what gets people to take action or not, haha… But now we know why they like to put out stats so much! :)
Here's what they found – the best (and worst) times to buy stuff:
Beer: Mondays are the best days with Saturdays the worst – a difference of 9%!
Wine: Tuesdays are the best, with Saturdays being the worst – a difference of 6%
Produce: Wednesdays are the best, with Mondays interestingly being the worst – a 3% difference
Bread: Fridays are the best, with Sundays being the worst – a difference of 2%
Snacks: Fridays are the best, with Sundays the worst – a 7% difference
Ice Cream: Mondays are the best, with Sundays being the worst – a 9% difference
Beauty Products: Mondays are the best, with Sundays being the worst – a difference of 11%!
Cleaning Products: Thursdays are the best, with Sundays the worst – a 3% difference
Sunscreen: Mondays are the best, with Sundays being the worst – a difference of 6%
So pretty much shop for groceries during the work week if possible as the weekends are jacked higher when everyone else and their moms are out shopping. And for beer and wine, stock up earlier in the week (Mondays/Tuesdays) so you can score them cheaper as well.
Best Prices Across the Stores
Across the 197 stores Ibotta works with (Target, Walmart, CVS, Walgreens, Kroger, Publix, etc), here were the best three prices paid for each product:
6-pack of beer: Walmart ($7.75), Target ($8.11), Kroger ($8.39)
Bottle of wine: Walgreens ($9.23), Walmart ($9.39), Sam's Club ($9.61)
Produce: Food4Less ($2.39), Albertsons ($2.46), Kroger ($2.55)
Bread: Dollar General ($2.18), Family Dollar ($2.21), Walmart ($2.27)
Snacks: Dollar General ($3.37), Walmart ($2.71), Family Dollar ($2.76)
Ice Cream: Dollar General ($3.01), Family Dollar ($3.26), Walmart ($3.35)
Beauty Products: Family Dollar ($3.45), Dollar General ($3.46), Kroger ($3.88)
Cleaning Products: Family Dollar ($3.37), Dollar General ($3.42), Walmart ($3.71)
Sunscreen: Dollar General ($4.69), Target ($6.07), Walmart ($7.08)
So produce is cheaper at smaller retailers like Food4Less and Albertsons, while snacks and ice cream are cheapest at Dollar General (I had no idea you could even buy ice cream there?). Non-food items are also cheaper at dollar stores like Family Dollar and Dollar General.
Some fun Millennial stats…
They also found some pretty random/interesting facts on their millennial users as well while analyzing:
Millennials use 20% fewer coupons than Gen-X / take advantage of 7.5% fewer in-store discounts.
Millennials shop at natural grocery stores (Whole Foods, Sprouts, Natural Grocers) about 56% more than non-millennials.
Millennials are 8% more likely to shop at Costco over Sam's. Millennials are 13.5% more likely than non-millennials to shop at Costco.
Millennials are 27% more likely to shop at Target than users in all other age groups
Millennials are 2x more likely to shop at Sephora than non-millennials
Millennial Dads are doing a greater portion of the household shopping. Ibotta found a 62% increase in the share of grocery purchases made by Millennial Dads compared with Millennial Moms. (Yeah, dads!)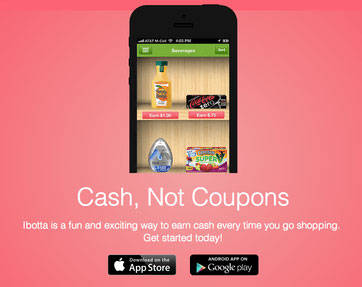 And there you have it. Cash stats – and savings! – with Ibotta.
Interested in trying them out? Here's how it works again:
Download the Ibotta app (free)
Unlock rebates before you go shopping
Buy the stuff as you normally do
Upload receipts or link loyalty cards to it
Get cash back!
You can sign up to Ibotta here, or download the app directly off your phone. Remember to use the code "wlercad" if you wanna grab the $10.00.

Let me know what you think! And more importantly – how much you save!
Would love to hear how many of you are already using them and/or don't even think it's worth the hassle… I'm digging it so far, but we'll see how long it lasts :)
Now to go find out where the heck I can buy beer around this place, jeesh…
****
PS: This is not a sponsored post, but there are affiliate links in it. meaning if you sign up through my links/code I'll get comped just like you. Interesting turn of events, however, as I only intended to write about the stats – not go on any field trips! Haha…
(Visited 9 times, 1 visits today)
Get blog posts automatically emailed to you!