(Guest post by Jun Loayza, as part of our Side Hustle Series. I met Jun two Summers ago and he's always creating something new! Great great guy to learn from – I hope you all really enjoy this :))
I'm a huge proponent of multiple sources of income.  Ever since I read the 4 Hour Work Week, I felt the need to increase my passive income slowly but surely, with the goal of never having to work a full-time job again.  I have multiple sources of income, but today I will focus on my newest venture: the online e-commerce store.
My side hustle: MintedRepublic.com – an online e-commerce store that sells day dresses and other luxury women's clothing. Sites like Gilt and Modcloth make a ton of money online. I thought, "Why shouldn't I be able to get in on the action?"  It seemed so simple really – just get a distributor, take some pictures, and start selling clothing.  What could be easier?
We ran into many obstacles along the way, but once we finally launched, we were able to enjoy a steady stream of dependable income.
Step 1

: Get the distributor

A business partner of mine has a close family friend that is a clothing manufacturer in Los Angeles, CA.  We approached the manufacturer and pitched the idea of selling her current inventory. It took some negotiation, but we finally arrived on the following partnership:
Dropship model: we sell the clothing – the distributor is responsible for the rest: fulfilling and shipping the order
We pay wholesale pricing on the clothing
Step 2

: Build the site

There are many e-commerce platforms to choose from.  We chose Shopify because it came highly recommended by Tim Ferriss.

Benefits of using Shopify:
Simple and easy to use CMS
Pricing isn't too expensive: we pay $59/month
They have a theme store with many free and premium themes to choose from
They have an app store with many useful add-ons for your site
Our site uses a premium theme that was customized by our developer and designer.
Step 3

: Get the catalog photos + lookbook photos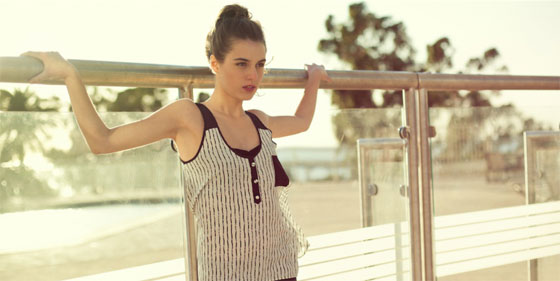 We're very particular with our brand.  Because we sell luxury women's clothing, the site needs to convey a high-quality feel that exemplifies luxury.  We therefore went all out for the model and photography on the site.
Model: We found our model through Model Mayhem.  She just moved to Los Angeles from Seattle, so we got her as fast as possible before other retailers could get her.  Expect to pay your model $400 – $800 for a day of shooting.
Photographer: I previously worked with Kevin from Hotography on another project.  I reached out to him for his photography services and we worked out a deal for a 2-day shoot for the catalog and the lookbook (a lookbook is a collection of photos put together to show off a model or a photographer, clothing line, etc).  Expect to pay $3,000 – $5,000 for a day of shooting + final editing of photos.
Step 4

: Marketing for launch and post launch

The women's apparel world is highly influenced by fashion bloggers.  We therefore reached out to popular and up-and-coming fashion bloggers to post up advertisements and for clothing reviews.

It's quite easy to find and get in touch with fashion bloggers.  Most of them are looking to make money, so they'll respond immediately to your inquiry.  Expect to pay $100 – $250/month for advertising on a good fashion blogger's site.  The big ones will charge up to $2,000/month, but we're not ready to advertise with them yet.

How to find fashion bloggers: we've compiled a list of fashion bloggers that are looking to partner with online retailers.  For a full list, email me.
Total Costs
Here is a quick breakdown of costs so that you know how much you'll need to get started:
Shopify: $59/month
Model: $400 – $800/day
Photographer: $4,000 – $6,000/day

This total includes all final edited photos (we had about 300 final photos)
Advertising: $100 – $250/month to advertise on a blog with 100K hits per month
What kinds of people make ideal e-commerce professionals?
Startup costs are quite high, so you'll need to have a good amount saved up to invest in the venture.  However, if you're ok with having low-quality photos or if you're a photographer, you can save A LOT of money by doing the photography yourself.
You'll spend the bulk of your time-investment in the beginning to set up the site, do the first catalog shoot, and approach fashion bloggers to put up advertisements.  Once you launch and have a system in place to fulfill orders, you can sit back and manage the site at nights or weekends.
Do note that each new season should come with a new catalog and lookbook shoot. If you have the capital and love fashion, then this could be a very promising venture for you.
How much money you'll make
We just launched the site a few months ago so our true potential is yet to be determined.  In the last week, we're averaging 18 items sold per day.  Here is a breakdown of the numbers projected numbers:
18 items sold per day
$45 average item value
Revenue: $810 per day
In a month, we can expect $24,300 in revenue.  In your total calculations, you must of course take into account COGS (costs of goods sold), costs for advertising, and costs for photography.  We hope to increase sales steadily in the coming months.
UPDATE: Minted Republic has since shut down…
——–
Jun Loayza is the Co-Founder of RewardMe.com, a digital rewards program for restaurants and retailers. In his entrepreneurial experience, Jun has sold 2 internet companies and lead social media technology campaigns for Sephora, Whole Foods Market, Levi's, LG, and Activision.
**Have a side hustle of your own that's interesting? Let  us know about it!
(Visited 202 times, 1 visits today)
Get blog posts automatically emailed to you!