Hey guys!
Back from the beach and was going to blog a little about it, but then came across this article in my inbox and found it much more entertaining than what I was going to write about, haha… So enjoy this guest post by Finance Superhero instead while I get nice and caught up! Hope you had a great week!
(PS: That spreadsheet we shared last week that changed my friend's life? It got picked up by Business Insider with over 1.5 million views (!!!). Then landed at the top of Reddit getting over 900 comments, incredible… I knew people liked juicy numbers, but wow. I owe you a beer, Kyle! Or 10! :))
Take it away Finance Superhero….
**********
I have a secret.
I'm planning to quit my current day job in the next 1-2 years if all goes to plan.
It's a great job that goes beyond just paying the bills. I get to make a difference in many lives on a daily basis.
So why do I want to quit this supposed great job? It just doesn't excite me anymore in the same manner that it did when I started out. I am craving a change like Ron Swanson craves steak and whisky.
As a result, I'm planning my escape. When the time comes, I'll probably quit, roll over my pension contributions, and exit with grace and dignity.
At least that was my plan until last week.
An Awesome Resignation

When the headline, "Nurse Quits Job With Awesome Cake Resignation Notice," hit my Twitter feed, I was instantly intrigued and immediately read the article.
The story of how Sarah Childers, a nurse in Lakewood, Washington, chose to resign by writing the words "I QUIT" in frosting on a sheet cake will likely go down in history as one of the best resignations of all-time.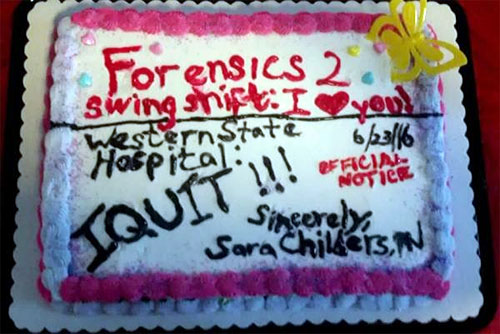 Why did Childers leave? Like me, Childers expressed discontentment with the job and noted a particularly toxic culture stemming from mismanagement and lack of attention to employee morale.
When I closed my web browser and went about the rest of my day, I couldn't shake the thought of Childer's epic resignation.
I kept wondering, "In what other crazy ways have people quit their jobs?"
Turns out, it was just the tip of the iceberg…
The next morning, I decided to do some more basic research on unorthodox methods of quitting a job.
What I uncovered was awe-inspiring:
[J$: My favorite letter came from Jeremy from GoCurryCracker.com when he told all his colleagues he was retiring using a Pulp Fiction clip :) You can see it here when he shared his story on how he was able to retire early in his 30s (!!)]
Real Advice For Quitting Your Job
While these examples of quitting a job are definitely good for laughs, delivering such crude messages probably isn't the smartest way to go. If you're absolutely sure that it is time to part ways with your employer (J$: and remember, sometimes a job is just a job!), follow these 10 simple tips for a smooth breakup with your boss:
Think carefully before you act. Chances are high that this decision is irreversible. If your issues with your boss are your primary motivation for leaving, consider seeking a transfer to a different department.
Craft a short, dated resignation letter. Be sure the letter indicates your intended resignation date and plans for passing along key projects to other colleagues. Thank your boss for their investment in you, even if you don't mean it. Deliver the letter in person, and prepare what you intend to say when delivering the letter. Keep it short and sweet.
Don't burn any bridges. Talking badly about your boss, colleagues, or the company in general may provide short-term vindication, but it is unprofessional. Remember, your emotions are temporary, but your reputation is eternal.
Read your employment contract to be sure you aren't missing anything. Recently, I resigned from my job as a school administrator and petitioned the school board to return to a teaching position. Because I had a superior employment record as a teacher and had earned tenure, my return to a teaching position was guaranteed. However, I had to continue in my position for nearly four months due to my contract structure.I have heard of countless horror stories of employees who resigned in anger right before bonuses were to be paid out. Again, be sure you know how much time you will have in your position after announcing your intent to resign. Two weeks is standard, but some employers will hand out a box and give you an hour to clean out your office.
Do your best to secure new employment before resigning. Depending upon your industry, this one may be tough, but it is the best move, financially-speaking. (J$: Another great reason to start hustles on the side! Never know which can turn into full-time gigs down the road, or at the very least make the transition easier… It also helps when you get fired too (like when your boss catches you reading this at work ;)).)
If at all possible, engineer your layoff rather than quitting. A severance package never hurt anyone! (J$: Sam from FinancialSamurai.com has a GREAT ebook on this if anyone's interested: How To Engineer Your Layoff)
Ensure that you don't allow any gaps in insurance coverage during your transition. If you allow your medical insurance to lapse, you will break your leg playing hoops with your boys at the park. And then you'll be headed toward bankruptcy. Not good.
Examine your 401k/403b and other retirement benefits and plan to roll them over as soon as you leave. Don't fall for the temptation to cash out your plan. The tax hit will hurt, and you'll lose out on the power of time and compound interest.
Make the most of your last few days and weeks on the job. Be sure you finish any lingering projects. Make sure you collect any valuable contacts and files to bring with you to your next position, assuming your current employer does not prohibit this action. Don't steal anything on the way out. If it's not yours, don't take it with you. Period. Gather your personal belongings, say your goodbyes, and hit the road.
Celebrate, baby! Enjoy a nice meal and pop a bottle of champagne. You've escaped a soul-sucking job and are moving on to new and exciting times!
How have you quit a job in the past? Any epic stories like the ones above? What other advice do you have for someone contemplating resignation?
[EDITOR'S NOTE: I'm too much of a wussy to ever quit in such fashionable form (and I know how damaging it could be so I never would!), but I have gotten creative in the "getting hired" department :) I once sent out notices a la James Bond to some of the biggest Ad agencies when looking for a design internship (think "your mission if you choose to accept it" and "this notice will self-destruct in 24 hours and my offer will be rescinded") and it worked well to get their attention, but then I dropped the ball in the end – oops. One of the CEOs wrote back "you have 4 hours to give me a call and the job is yours" but I didn't see it until the next day when it was too late :( Still, it pays to get creative when trying to stand out from everyone! Maybe we'll have to do a post on that one next? I bet y'all have wiggled your way into some great jobs over the years yourselves…]

********

After lurking on Budgets Are Sexy and other personal finance blogs for years, David launched FinanceSuperhero.com in March 2016. He is on a mission to Restore Order to the World of Finance and would love it if you followed him on Twitter (@FinanceSuprhero) or on Facebook (facebook.com/FinanceSuperhero).
(Visited 52 times, 1 visits today)
Get blog posts automatically emailed to you!