(Guest Post by Pauline Paquin from Reach Financial Independence. Whose boyfriend is now my newest hero ;))
My boyfriend, like J$, has a passion for flipping and trading up stuff. While we live in Guatemala and there aren't any garage sales around sadly, he does manage to buy a lot of stuff, all the time, and is a businessman at heart. His favorite motto is: "Cash is scarce. If I want to sell you something, I just need to find what you want to get rid of, and swap it with you."
You would be surprised at what he has brought home over the years, and what he has managed to give people to acquire valuable items. His main interest is growing his Guatemalan coin and art collection. Sometimes he reminds me of this guy who bartered a red paper clip for a house in Canada. He did several flips to achieve his goal, but eventually, he got a house!
BF's ultimate goal is to make enough flips so that he can keep his most valuable pieces at no cost by selling the cheapest ones. He has been collecting colonial and old Guatemalan coins for decades, starting with a small collection his father gave him. Then he got friendly with two old ladies who sold their coin collections at a fairly low price. Both parties had no idea how much the collection was worth – they basically sold it for the total cost of the main pieces and gave him what they thought was junk for free. (EDITOR'S NOTE: This is the hardest part about hustlin' for me – figuring out that balance of ripping someone off vs. getting a good deal.)
He went back home with a big bag of coins, and one of them caught his eye that he had never seen before. After days of research, he found out the coin had never circulated and was a trial from the colonial mint. He sent it to an auction house in the US who valued it at $25,000. But the day before the auction, hurricane Katrina struck and few people were able to attend. The coin still sold for $8,000. By getting rid of one coin, he had made more than what he bought the whole bag of coins for.
And the story goes on. A few years ago, he had an empty house that he didn't manage to sell. Mortgage payments were coming, and he asked a renowned Guatemalan painter if he would like to live there and pay him in art. The rent would have been $2,000, and the painter gave him $4,000 worth of art every month. Both were happy with the deal, since most art dealers pay under 50% of retail price to cover their gallery and staff costs.
He'll flip anything
He has exchanged scrap metal for art, has come back home with a mandolin and a drum, and after using his 125cc Madass bike for a month, got bored and swapped that for art too. Because he always bids very low on the art, he manages to then resell it still under gallery value but making a profit.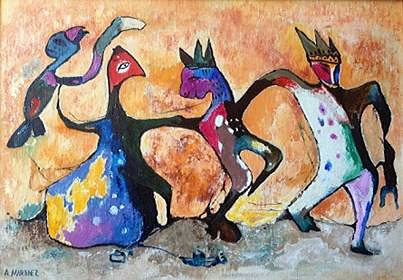 How can he do that? By giving people items they will use. They have art sitting there that does not bring them value. Give them a computer, an iSomething, a bike, for a total value of $1,500 and they will give you $2,500 worth of art, because art is less liquid.
Then he puts his art online for the usual art dealer's markup of $5,000 (he used to have a gallery but closed it to retire early) and once in a while an art lover will pay his asking price or a little under.
Flipping coins
Coins have been more sought after since gold and silver's prices have soared, but quite often people are too lazy to research the coin well and are happy to get rid of it for the price of its weight in gold. Because BF has been doing that for years, he knows the rare years and also when to spot a fake. Some colonial silver coins are barely worth more than their weight in silver because there is a ton of them still around. Others can be worth several thousands like the coin he sent to the US auction. He has been putting the information online as his research progressed, but even then many sellers will approach him looking only for the weight in gold.
After his own website, his main outlet is eBay to reach international numismatists. Because he is able to tell you the story of the coin, why it is rare, how many the mint printed back in 1796, he adds value to the item and if people are looking to confirm said information, his site is a reference anyway so they will find the same info over there – haha!
He has had an easier time flipping coins for cash, then buying more, than getting cash for art. He usually gets more art or art plus cash for selling a major piece. Now he has slowed down on selling coins and lets his collection appreciate with the raise in gold and silver.
Flipping houses and cars
That requires a really good eye, but he impresses me because housing hasn't cost him a penny ever since he bought his first house. He lived in that first one for 5 years, then sold it for almost twice the price. The next one wasn't selling for a while, but since he had the painter living there paying him in art he was not losing money (until the house sold for about double its buying price as well).
The housing market did play a part. But he hasn't paid for a car in years either! He says it is a game of patience. For example this traveler rode his motorcycle all the way from the US to Guatemala and couldn't go further South for personal reasons. Who will buy a US bike in Guatemala? BF, for a big discount. Then he traded it for some art. The bike cost him $5,000 and after using it for two years he was left with $10,000 worth of art.
When we left to travel for over a year, he found a guy who really wanted a car and sold his car for quite a bit of art. He managed to sell one piece of art for the price of the car, and was left with the other pieces for free.
Tips and Lessons learned
I am in awe at how resourceful he is, and how he always brings home the most improbable item. But most amazing is the fact that two weeks later that item is then sent away as part of a new deal!
Here are a handful of the lessons he's since learned:
1) Cash is king. The only way he trades easily is because he helps you get rid of what you think is worthless junk. He will give you a $5,000 car for $7,500 worth of stuff, but if you have $4,000 cash he will take that too.
2) Don't be afraid to try. He always low balls people and more often than not, it works. His main reason is "what am I going to do with that, it is hard to sell, you know it better than me, you've been trying to sell for months!". And people get tired and accept. When he has cash, he low balls even more. Then waits, and people call back once they put their pride aside.
3) When there is a will, there is a way. Don't have cash? You must then have something the other person wants. Be it your car, a designer piece of clothing, an old computer… Ask the person what they will do with the cash, and then go and find that item so you can barter with it instead.
4) Try to get more stuff, even if it looks worthless. One day he came back with a whole furniture set for the price of a nice bed set and chest of drawers. He had a microwave, pots and pans, but was able to exchange those for art to a friend who moved back to Guatemala. People on the first trade didn't mind adding what they thought was random junk to the deal and he got an extra painting thanks to it in another deal.
5) Listen. BF is always on the lookout for people getting rid of stuff. At the moment one of his friend's son is selling an apartment and he is thinking about offering him a piece of land he owns for it. He sees opportunity everywhere. And he listens to people when they make their sales pitch too to hear what they want in exchange so he can then offer it to them.
6) Find trade ups. Once he came back with a small portable distillery one used to make alcoholic drinks at home with. The person who had that was desperate to get rid of it because that is not an easy thing to get off your hands. BF was able to trade that thing, worth over $1,000 by giving just $500 of art. The owner would rather have $500 cash of course, but between art and the distillery, he went for the art. If you can't find an ideal situation for both, offer to take the item in exchange for things that are easier to trade. The other person may not want a laptop but they can sell it on eBay in two days. Like a game of chess you need to find what will make them move forward.
7) Be organized. He has an Excel spreadsheet with all the things he has bought, along with the buying price, selling price if it's sold, and all profit made. He is looking for the moment his profit will pay for his whole collection and that is sometime soon. If you don't keep track, you may resell something cheaper than what you got it for, or sell a valuable item lower than what it is really worth.
BF has always been pretty cash poor. As soon as he has a little cash, he invests in cattle, coins, art or real estate. But with that trading mentality, it never takes him long to sell something if he needs the cash. In the meanwhile, his collections are growing and now a big part of his net worth. That is a great side hustle because he doesn't keep a shop, only an online presence and then eBay when he wants to sell more aggressively. So he can stop trading for months and then go right back to it.
————
Guest post by Pauline Paquin, who you may know from her blog Reach Financial Independence, Pauline has just launched Make Money Your Way to help readers multiply their sources of income with real estate, investing, entrepreneurship and online endeavors. Born and raised in Paris, Pauline writes about how she has been traveling the world for the past 10 years, while trying to build wealth and achieve financial independence, and how you can follow your dreams and reach your goals too. You can follow Pauline on Twitter @RFIndependence.
(Visited 51 times, 1 visits today)
Get blog posts automatically emailed to you!