[Guest author today, Andy Prescott, from ArtofBeingCheap.com. Who certainly proves it today ;)]
Once in a while I hear a statistic about how the average wedding in America costs $25,000 and I cringe. I also read headlines about how to "plan a wedding on a budget," and I always read them just so I can laugh that the writers think getting married for $5,000 or $10,000 is a "great deal."
I got married in Las Vegas for $500, and if I had to do it all over again I would do it exactly the same. I understand it's not for everybody, but for the right people it's a great way to save thousands of dollars.
Should you get married in Las Vegas?
Have you or your future spouse been happily dreaming about your big wedding with hundreds of people since elementary school? Don't get married in Las Vegas.
Have you or your future spouse always imagined coming down the aisle in a beautiful dress while everybody you know oohs and ahhs? You probably shouldn't get married in Las Vegas.
Would you getting married in Las Vegas be a big disappointment to your family or your future in-laws, because they are just as excited about your big day as you are? ou definitely shouldn't get married in Las Vegas.
But for us it was the right choice.  My wife grew up with an interesting background.  She is from an ultra-conservative religious group that doesn't take very kindly to their women marrying outsiders. Most of her family disowned her when they found out she was dating me, and that I refused to convert to their religion. That is a story for another day, but the important point here is that almost none of my wife's family would have attended a regular wedding, and seeing a church with one side completely empty would have been very disappointing to her.
As for my family, they are all wonderful, supportive people who would have all come to see me get married. On the other hand, they probably weren't too disappointed that they couldn't go. They knew it wasn't going to be that great of a party, anyway. A quick ceremony at the cheapest available venue, followed by sandwiches in my parent's basement is how I like to roll.
I know of one other couple that thought getting married in Las Vegas was for them. One of them is very shy and the thought of being the center of attention in front of hundreds of people was horrifying.
I'm sure there are plenty of other reasons you may not want a big wedding, but whatever they are, just keep in mind that a cheap wedding in Las Vegas is always an option.
Planning the Vegas Wedding
A wedding in Las Vegas can be whatever you want it to be. A quick simple wedding could cost as little as $55. For a little more you could have your wedding officiated by an Elvis impersonator or whatever other silly theme you want to have.
My wife and I chose to have a very plain and simple wedding for about $300 at the Golden Nugget, which is considered to be the nicest hotel in the downtown area.
The wedding was very nice. It was in a small chapel that looked a lot like a church, and was conducted by a genuine Roman Catholic priest who was dressed like a genuine Roman Catholic priest. My wife wore a very simple wedding dress that she looked amazing in and I wore dress pants and a dress shirt. There ceremony was pretty normal, with normal vows, and a normal speech from the Priest of which I recall not a word.
There wasn't anything silly about our ceremony.
The best part about paying a little extra for the package was how easy everything was. The $300 we paid included a wedding planner and a photographer. The wedding planner told us how to pre-register for a marriage license to save us time, arranged for the priest and photographer, got my wife a bouquet, and took care of more little details than I know.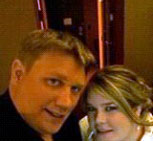 After the wedding she even suggested the nicest restaurant to go to in the downtown area to celebrate. Our package included a couple of wedding pictures, but my wife's favorite picture was the selfie we took in our hotel room right before the ceremony started.
Here is how easy everything was:  I was at a conference which got out at 1pm. Our wedding was at 4pm, which gave us plenty of time to go get the marriage license, meet with our wedding planner to make sure everything was going to go smooth like a rhapsody, and get ready. I even had time to go play a little blackjack while my wife got her makeup on.
The only disagreement my wife and I have had about our wedding is the issue of a honeymoon. She says I still owe her one, but I say that getting married in Las Vegas counts as a honeymoon. I pointed out that in Las Vegas you can see New York City, Venice, Paris, ancient Rome, and the pyramids all in one place, which sounds like the greatest honeymoon of all time. She points out that the miniature versions don't count as a real honeymoon.
I guess not everything about getting married in Las Vegas is perfect.
——–
Andy Prescott is a CPA who writes artofbeingcheap.com, which he describes as an instruction manual to saving money. He has been happily married for 2 years.
EDITOR'S NOTE: My aunt once celebrated her 10 year anniversary in Vegas where they renew their vows in front of all their family. And, of course, an Elvis impersonator. So if getting married there the first time isn't up your ally, perhaps a fun 2nd time might be? :)
Photo cred: Moyan_Brenn
(Visited 25 times, 1 visits today)
Get blog posts automatically emailed to you!