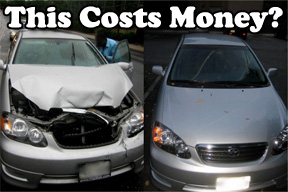 How much do you pay for car insurance? Not $1600 right? That's how much a friend of mine pays every 6 months – $1600!(ouch). I guess it doesn't help having a couple DUI's and a fancy a$$ sports car ;)
With extremes like that aside though, what do you think the average person pays for car insurance? Just how much does car insurance cost per month? I'm going to guess $1000/6 months, which works out to $166.67 per month. And now Google it and see what I can find… Well, I was *kinda* close!
According to CompuQuotes, the average car insurance costs $800/year. That's only $66.67 per month!
Oh wait…so I was WAY off actually, cuz "per year" would make my guess @ $2,000…haha, oops. I also checked out another site (rmiia.com) that had the national average @ $816/year, so that # looks to be pretty accurate. In fact, this site breaks it down even better by showing it by state, and over a 3 year time-span so that's pretty cool. It looks like the DC area, where I reside, is up at around $949/year. Some of this info is a cople years old, but you get the point.

You like how I base everything on 6 months instead of 1 year? It's how USAA does it, so I guess I'm more in line with that thinking ;) In fact, USAA is the only car insurance company I've ever used! Crazy, huh? I'm just too in love with them to stray really, although I did try a cple times (shhh, don't tell!) but even then Geico, Allstate, and State Farm were wayyy off.
The Mrs. and I Pay a total of $706.51 in car insurance every 6 mo's for 2 cars
'93 Cadillac Deville, 6 Month Premium @ $330.30 with a $200 deductible.
'05 Toyota Corolla, 6 Month Premium @ $376.21 with a $200 deductible.
So for ME, USAA is the best. And according to their site, 4 out of 5 times their rates beat the competition! But it could be anyone's guess as to which is the best for YOU. There are sooooo many variables that get thrown into the company's calculations that make ya crazy – driving records, deductibles, coverage, the car you drive, the state you live in, the body parts you have – they all play a part in this silly game. I always recommend comparing quotes from at least 3 places for sure.
A co-worker also told me that some companies will knock off a few dollars if you pay the entire price up front too! Never came across that myself, but I know sometimes you can get a discount for having the amounts automatically deducted every month. I'm a big fan of breaking them into monthly payments than paying a huge chunk anyways.
So yeah, car insurance sure can differ out there. I'm hoping you all pay around the average yourselves, but if not let us know why! I could use some drama today ;) (And then check out USAA if you have any sort of military connection whatsoever – I genuinely love 'em.)
(Visited 60 times, 1 visits today)
Get blog posts automatically emailed to you!