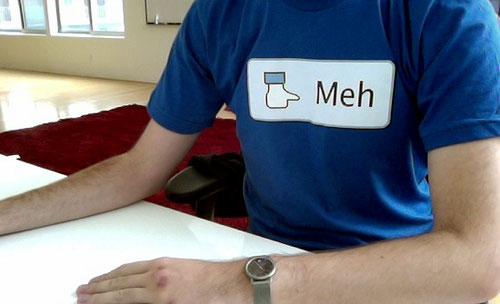 If there's one thing I still haven't wrapped my head around w/ this whole self-employment stuff yet, it's health insurance.  And for good measure ("good" as in keeping me from insanity, but "opposite of good" for staying ignorant about the whole damn thing ;)).  I don't know what it is about it, but my brain just shuts off the second it gets raised around me.  And lately, that's been a LOT.
For the first time in my life, I'm actually the one in charge for dealing with it now.  No HR to walk me through it, no parents to call and ask to be added to their plans (that was sweet while that lasted!), nothing.  Only the wifey now reminding me that every day I procrastinate is another day w/out insurance.  Which, right now, has been a solid 21 days in a row. Yep. As I type this, and yet again avoid dealing with it, I currently have no health insurance whatsoever. And I don't have anyone to blame but myself ;)
I KNOW that it's important, and I KNOW that I'm playing with fire here, but for whatever reason it keeps getting pushed down my priority list (says the guy who just blogged about how important it is to maintain good health! Sigh…) And the 2.3 minutes I've spent on it so far hasn't been very motivating either.  Costs aside, it seems you need a PHD just to figure out what the hell you NEED to begin with.  Which gives me even more respect to all you in Human Resources, my goodness. Y'all are smarties!
But I'm not here to confess all my dirty secrets with you today, nope.  I'm afraid we'd be here for a lot longer if that were the case. Instead, I'm getting this all out in the open to make sure I hold myself accountable for now on.  I know damn well some of you are jumping out of your seat, ready to knock some good sense into me already, so consider this me asking for it!  But maybe focusing less on the  hate, and more on the tip'age :)
Who do you all use for insurance?  Did you get it on your own, or are you going through your employer?  Do any of you own small businesses where you created your OWN group insurance?  I was talking to a friend the other day, and he mentioned that he just created a *group* plan through his own LLC and that worked out nicely for him.  In fact, I called my accountant last week (ooh, I *did* do more research on it all! Haha… already forgot about that, wow that's bad.), and she mentioned that being self-employed I can now potentially write it off too!  How sweet would that be?
She mentioned something to the affect that to qualify, I couldn't get it anywhere else like through my wife's employer or something like that. But luckily/unluckily she gets insurance through her University (She's still a grad student).  Up until now I'd been on that same plan since getting laid off in December, but now for whatever reason they're swapping companies and their new insurance plans are all kinds of jacked up.  Which is why I'm just now getting into this stuff, 9 months into J. Money 2.0 ;)  At least I'll get to learn something new which is kinda cool… just wish it was on stocks or beer or something like that, haha… maybe Beer stocks?
Okay, enough of my rambling.  Hook a brotha up and give him some good pointers! Here are the questions again that come to the top of my head:
Which insurance company do you have?
Do you like them? (aka would you recommend them to me?)
Do you get it through your own employer?  Or are you self-employed?
How much do you think it will cost a 31 y/o relatively healthy young man signing up on his own plan? ;)  The person who gets the closest answer to this will win a special prize, haha… ooh I like that! Yes – tell me how much you think it'll end up costing me, per month, and whoever gets the closest will win something cool! Aww yeahhh, this got a helluva lot more interesting, didn't it? :)
Ready. Set. Help J. Money!
—————-
PS: Remember when I had 100% paid-for insurance through my insane startup? I miss that. And possibly the 12 other amazingly sickening (no pun intended) perks that once spoiled me, too.
PPS: Or what about that idea of taking on a side job a few hours of week *just* to get insurance? Back when I thought I'd have MORE time as an entrepreneur? haha… good times, good times.
***UPDATE*** I now have health insurance!!  I ended up using eHealth Insurance and love 'em :)
(Photo by RobotSkirts)
(Visited 3 times, 1 visits today)
Get blog posts automatically emailed to you!