Hey Guys! If you're still needing a push to give Republic Wireless a shot, today could be your lucky day :) I got word that they just released a new phone in their lineup, and to help promote it they shot me a prize package to give away which includes the phone and 3 months of free service – woo!
Though the service doesn't cost that much to begin with, haha… The exact reason I decided to switch a year ago for a total savings of $100 each month :) $1,200 now banked from a single step of action!
They've since changed their plans up to a simple "refund" type one – meaning they'll give you back any money you spent for data that you didn't use, something no other carrier is doing right now – so you might even save more yourself. (Ours is dropping another $18/mo!)
Here's what that looks like: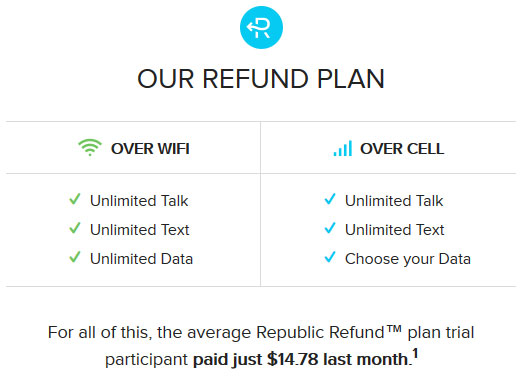 Their new plans range from $5/mo to $55/mo before getting any credits back. And everything's still unlimited except for data over the cell networks. It's a little strange at first picturing all your calls and such going through WiFi (Republic harnesses that to keep costs so low), but over time you don't even notice it. And since it switches to "normal" cell phone usage whenever WiFi isn't around, you don't have to think about it either. Technology's getting pretty cool :)
Anyways, they're worth considering if you're tired of spending so much or have crap service. Especially if you mainly use your phone at home or at work where WiFi is plenty.
Now onto the giveaway!
Here's the new phone up for grabs, along with the 3 months of free service:

Moto e – 2nd Generation ($129.99)
It's one of their two current phones they offer (the other being a more fancier one – The Moto X – @ $299), and here's what their CEO says about it:
"The Moto E is a perfect first smartphone for people who need just the basics, as well as for 'tweens, teens, students and grandparents. If all you need is a smartphone that lets you replace a home phone, check email, take you to Facebook, capture images for Instagram or fire off missives on Twitter (or WhatsApp or Weibo), the Moto E is a capable, stylish option."
Here are some of the specs:
4.5 inch display protected with Corning® Gorilla® Glass
4G LTE cellular capable
Long lasting 2,390 mAH battery
1.2 GHz quad-core processor
8GB storage + microSD card slot supporting up to 32GB expandable memory
5-megapixel rear-facing camera, f/2.2 aperture, Quick Capture, 4X digital zoom, Slow motion video, Burst mode, Auto HDR, Panorama, Tap to focus
VGA front facing camera for video conferencing and selfies
Look like something you want?
Answer this question in the comments below and you'll be automatically entered to win:
What was the last thing you did to save money? (How much did you save?)
We'll run the giveaway until midnight this Sunday, August 23rd, and will use Random.org to pick the winner shortly thereafter. Open to U.S. residents only (sorry my Canadian lovers!)
Good luck guys! And I wish you happy savings no matter which carrier you use :)
**GIVEAWAY NOW OVER** Congrats to Hannah Roehrick for winning!
—–
PS: For all those already rocking RW, run your data #'s through their calculator (scroll down) and see if you can save even more by switching to the new plans. I just did ours and found out we'll be able to chop off an additional $18.00/mo, bringing our bill down from $50 & change to $32! For TWO phones! Though I will kinda miss the feeling of unlimited everything…
(Visited 28 times, 1 visits today)
Get blog posts automatically emailed to you!