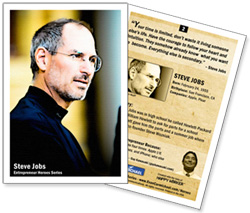 Hey guys! We got something fun & different to give away today :)  It's not really personal finance-related per se, but it does have to do with business and entrepreneurism which has certainly been on my mind lately.  And plus, the lucky winners will get them for FREE!
Introducing the "Entrepreneur Heroes Trading Cards Series." Evan Carmichael has partnered up with bloggers Seth Godin, Darren Rowse, Tim Ferriss, Chris Brogan and others to create a line of famous entrepreneur trading cards called "Entrepreneur Heroes" – where the profits of these sales go to support entrepreneurs in Africa through Kiva – a micro-financing non-profit organization. So far over 825 new business owners in Africa have been helped!
And somehow BudgetsAreSexy was able to score a handful of these to be give out to y'all :)  Perhaps that means J. Money is next to be featured on his own card? The "sexy entrepreneur" series? Haha…I think people would want their money back on that one.
Okay, so now that you know how awesome these are who want's 'em? I have 3 pairs to give out, so each of the 3 winners will receive 2 randomly selected cards encased in a nice & sturdy plastic shell (kinda like those cases we had back in the baseball card collecting days – remember those?).
To win, all you have to do is ONE of the following:
Tweet this: "Entrepreneur Trading Cards are sexy! Get your own & support Kiva here: http://tinyurl.com/2w5c2fw"
Or drop a comment with a businessman/woman YOU look up to :)
That's it! Drop your method of entry here in the comments and you will be entered to win (so basically tell me if you tweeted it or signed up to my RSS feed, etc so I don't miss it).  I'll pick the 3 lucky winners Sunday night by 10pm, June 13th.  GOOD LUCK guys!
————-
More info on the cards can be found here: http://www.evancarmichael.com/Heroes/
(Visited 11 times, 1 visits today)
Get blog posts automatically emailed to you!