So, five months ago I decided I was done paying $170.00 every month to our cable provider, and set out to lower it as much as I could without sacrificing quality of life. I didn't know why we were okay with paying so much over time, but it just seemed "normal" so we never second guessed it (even as a personal finance blogger!).
But then we launched the Challenge Everything project and it completely changed the game.
Most of you are probably tired of hearing about it so I won't get too into it again, haha, but for those new to the site it's where I decided enough was enough and started tackling my recurring "normal" bills to figure out how low we could get them while still enjoying your lives. A handful of months into this and we're now saving almost $200 EVERY SINGLE MONTH completely changing my financial mindset.
But while we knocked our cable down from $170 to $120'ish – roughly $50/mo in savings, I knew we could do better. Especially after hearing how many of you frugalers pay next to nothing for it, if you even have cable at all.  (Spoiler alert: we still have cable because we LOVE it! *gasp*)
The New Plan…
After a month or two of sitting on my ass and patting myself on the back, we finally decided to pull the trigger on the last remaining idea we had to finally lower it as much as we can right now. And that was to scrap our 10 year old perfectly-working-but-outdated-large-screen-tv for a more-compatible-with-new-technlogy-smaller-screen-tv to take advantage of all the online streaming capabilities for free'ish entertainment. And by "small" I mean "42 inches" instead of 62 (TWSS?)
You see, not only did mammoth TV not have any HDMI ports to get us hooked up – the bane of my existence – but it also didn't even have a cable chord connector if you can believe that. And the kind folks over at Mohu had just sent me a few of their top-rated antennas to try out after following our series here, but without the cable jack I couldn't even see if getting free stations was an option. So if we were going to make sure to save as much as we could here, again without nixing TV altogether, then we needed to be able to use our Chromecast or Wifi DVD player to connect us to the dang internet.
So I ponied up the $300 to upgrade us into modern technology with a new TV (Sharp 1080p 120Hz HDTV on sale from $480 at the time, thanks Brad!), and we were on our way to future savings… Even though, yes, we had to shell out $300 to get there. (Sometimes you have to pay to save, right?)
The Quick Shot at Antennas
As soon as we opened up the box, I went straight for the antennas to give it a go. This time very much compatible (YES!), however to my dismay still a big goose egg (booooooo).
The first model (Leaf Metro C, $25) gave me exactly 0 stations, the mid-tier model (Leaf Amplified 50, $70) gave me 3 stations I want to say, and the super duper SKY 60 ($150) gave me approximately 7 and 1/2. With the last 1 1/2 stations comprising of 3 that only worked 1/2 way ;) Though, to be fair, I didn't exactly go up on my roof and mount it to truly test it out – something I didn't want to do unless I knew it was going to be a game changer. Also important to note is that I don't live smack dab in a large city anymore so that could very well be the reason they failed alone…
At either rate, free cable was now officially off the table. And if anyone wants to try out any of these antennas I have sitting here now, just give me a shout and I'd be more than happy to mail one over to you. Many of you have told me they work like a charm in past articles (which is why I agreed to test them out when offered) so you might have much better luck :)
[UPDATE: All antennas have now been given out]
The Part Where We Actually Save Money…
Now to the best part of it all. Last we worked on this bill we had gotten our cost down to the $120-$130/mo range, but we were still holding onto our discounted premium package to get HBO, SHOWTIME, etc since we had no access to online streaming or Netflix/etc. So the first thing I did (without warning my wife – hah!) was to cancel that bad boy and then ask – for the third time in three months – if there was anything else they could do to help lower our bills.
In fact, this was exactly what I said:
"I love y'all, but I gotta get this bill below $100/mo or I gotta consider canceling it once and for all. Is there anything we can do to make this happen?"
And magically it was done :) Dropping our cable bill another $30-$40 to $90'ish now – woo! That's a total savings of $80 since we first started this journey by literally making a few phone calls and re-thinking our setup! NICE!
(Okay, well that made it seem all to easy which it kinda was, but *only* if we had just made these calls and decided on this route from day #1 – which of course we didn't. Not only did we have to dick around with trying to scheme the system before we even called up our provider initially (see our post on Oooma and trying to cancel our home phone line, or the time we attached 101 devices and chords to our degenerate TV in order to "upgrade it" which blew up in my face), but it took months of really thinking hard on whether we wanted Cable at all in our lives anymore, and then to finally pull the trigger on the real TV upgrade.)
So yes – what actually got us to save a ton of money technically only took a handful of minutes to incorporate, it was more of a monthly journey to get us from step a to step z. And now I'm thankful I don't have to think about it again for quite some time :)
And here's the crazy thing. We still have our phone, our internet (which actually got upgraded in the process) and our cable (lower tier now), and it costs almost the same as just having internet-only. And I know this because I priced it in case that was gonna be our final decision! $170 down to $90, freaking love it. The old me never even saw it coming – lazy ass, haha…
Since The Upgrade…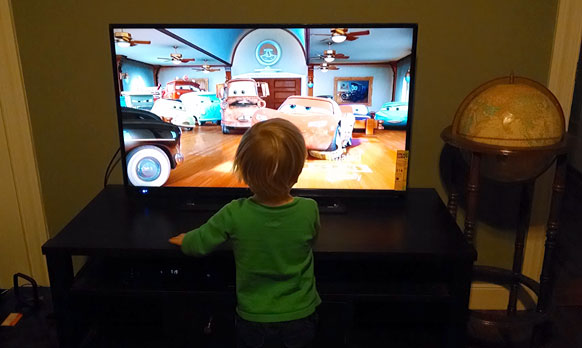 It's now been over a month since we've pulled the trigger on this (I wanted to wait a while to see how I felt before posting about it), and I've come to realize a few things during this time:
I have a much better appreciate for cable now. Testing out those antennas and thinking about what it would be like without it was no fun. I don't watch a ton of TV really (an hour or so a night?) but I love the break from reality it gives me and realized I'm quite okay with not saving every last penny if it means increased happiness. Especially if it's only a few dollars more than what internet-only would end up costing which I definitely couldn't cut!

I get addicted to *any* show pretty easily, haha… My biggest concern with dropping HBO et al was that I'd lose some of my favorite shows like Ray Donovan or Homeland, or God forbid Game of Thrones! Which, admittedly I do miss, however they've since been replaced with Orange is The New Black, House of Cards, and now Friday Night Lights ;) So apparently I adapt easily! [

UPDATE:

Y'all reminded me that HBO is coming out with their own stand alone service soon too! SCORE!]
Netflix is GOLD!!!! And I'm very happily ponying up the $9.00 or whatever it is to stream across our new TV now that the first free trial month is over. So this $90 bill is more like $100'ish now if you factor that in. (Here are some other cheaper alternatives to Cable TV)
Modern HDTV is much better than 10 years old HDTV :) You can't see it in that picture there up at the top, but I hooked up both our TVs to our cable box to see if I could tell the difference. And the answer was, Hell Yeah you can!
It's nice to be able to use stuff you paid for. My DVD player I picked up for $100 during my bone-headed moments was deemed unworkable on our old TV. So now we're able to finally use it! Or, rather, my son is as he likes to play Cars and Happy Feet on rotation ;) (Don't worry, I don't let him watch that close to the screen like that – he snuck in when I was caught up trying to snap a decent pic of the thing, haha…)
I still prefer 62 inches over 42… not gonna lie.
And lastly, my wife didn't kill me when she found out what I did :) (I can thank Orange is The New Black for that, and the fact I didn't kill ABC now that The Bachelor is back – hah)
All this to say there's always room to cut down costs.  You may have to do some soul searching and phone calls in the process, but if my 3 for 3 scorecard is any indication (we've saved on cable, insurance, and cell phones so far), I'm pretty sure you'll have decent success too. And the return on investment will more than pay for your time.
Because remember, one action today results in MONTHLY SAVINGS going forward. And you really can't beat that…

I encourage all y'all to try your hand at challenging your bills too. And then come back here and brag about it so we can promptly congratulate you :) It may not be the funnest thing to work, but I promise you your wallet will be a lot happier. And isn't that the whole reason you're on this blog right now?
———————–
PS: What happened to our old TV? We sold it on Craigslist of course ;) And then promptly banked it into our Challenge Savings account which is about to be updated here in a few days… No more pretend savings for me!
PPS: Another good thing about new TVs? Less electricity to power it :) (Good reminder, Jake)
UPDATE: Originally I thought our bill going forward would be $80 and some change, but looks like some pro-rated stuff was going on so it's actually $90/mo going forward. Still a major win down from $170/mo which I'll take all day long, but I went and updated this post to reflect the current #'s.
(Visited 44 times, 1 visits today)
Get blog posts automatically emailed to you!