Good morning, friends!
How are your taxes coming along? How many people have yet to still file them?
Lucky for you, Tax Day hits on the 18th this year instead of the 15th, so you get a few extra days of scrambling. And lucky for the gov't, they now don't have to share it with the 2nd best day after Payday.
Welcome to National "FIGURE OUT WHERE ALL YOUR MONEY IS" Day!
(or for the fiscally aware, National "Net Worth" Day)
Filing taxes is fine, but imagine what will now happen since everyone's forced to pay attention to their money each year?! How much stress and confusion will be lost, while wealth and confidence gained? How closer people will get to their dreams as financial management is brought to the forefront?
It's a most glorious day, my friends, and since it's fully backed by the F.B.M.I. (Federal Bureau of Money Investigation), all citizens must follow suit or suffer the consequences as set forth herein.
The rules of N.F.O.W.A.Y.M.I.D. – similar to Tax Day:
Every citizen must file by April 15th whether they like it or not
Anyone who disobeys will have their #'s flashed above their head for each day late
Extensions are granted, but only to those busy hustling or killing off their debt
"Randomly" selected audits will occur to anyone in financial despair (with support from certified financial planners and select personal finance bloggers)
All banks will remain open for 24 hours and waive any outstanding fees
Founded to give everyone an accountability partner, N.F.O.W.A.Y.M.I.D. will rely on the foundations of net worth theory, and require only one page to be submitted each year:
All submissions will be burned upon receiving (after getting a star sticker next to your name, of course) and you will be free to forget all about it until the following year.
Only you won't, because once you know where you stand YOU CAN'T HELP BUT WANT TO IMPROVE! Which is the beauty of tracking your money – you're no longer in the financial dark. And for those who increase their wealth by 10% in a year, a free donut coupon will be mailed out requiring redemption :)
To get a head start on 2016, print off and mail your current net worth statements to:
ATT: Net Worth Division
Federal Bureau of Money Investigation
One Million Dollar Way
J. Moneyville, U.S.A. 90210
There's no escaping the financial truth now, everybody! Get ready for a brighter future!

——-
*Paid for by The Society of Personal Financial Bloggers… Who also brought you International Be Proud of Your Money Day (October 19th) and the critically acclaimed Debt Is Not Forever solution.

(Visited 2 times, 1 visits today)
**********
PS:
If you're just getting started in your journey, here are a few good resources to help track your money. Doesn't matter which route you go, just that it ends up sticking!
If you're not a spreadsheet guy like me and prefer something more automated (which is fine, whatever gets you to take action!), you can try your hand with a free Personal Capital account instead.
Personal Capital is a cool tool that connects with your bank & investment accounts to give you an automated way to track your net worth. You'll get a crystal clear picture of how your spending and investments affect your financial goals (early retirement?), and it's super easy to use.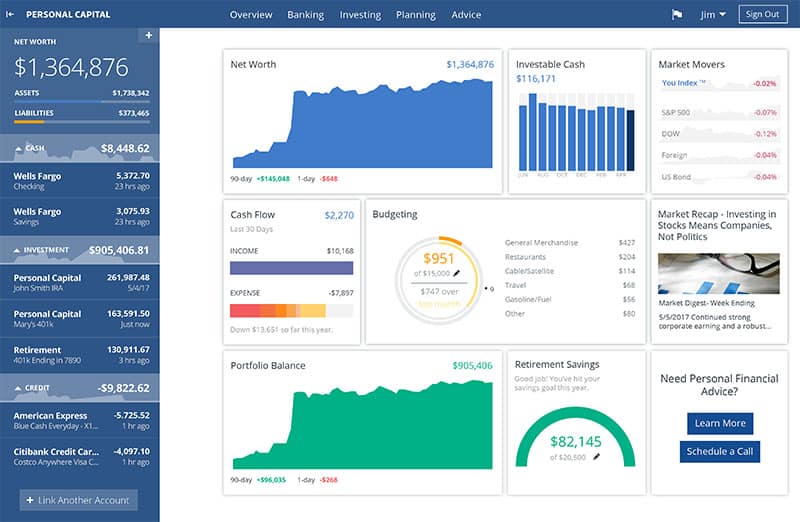 It only takes a couple minutes to set up and you can grab your free account here. They also do a lot of other cool stuff as well which my early retired friend Justin covers in our full review of Personal Capital - check it out here: Why I Use Personal Capital Almost Every Single Day.
(There's also Mint.com too btw which is also free and automated, but its more focused on day-to-day budgeting rather than long-term net worth building)
Get blog posts automatically emailed to you!