I can't seem to formulate any good thoughts today due to feeling a bit sick-o, so instead I thought we'd go for some cool visuals to help stimulate your brain cells today. And what better way to do that than feasting our eyes on some cool, and quite beautiful, money from around the world!
So please to enjoy today a handful of world currency I've collected over the years by either visiting these places myself, or getting them in the mail from generous, and adventurous, friends that I'm blessed to have. Perhaps this is the reason we have so much debt here in the United States? Our money isn't colorful enough to want to hold on to?? ;)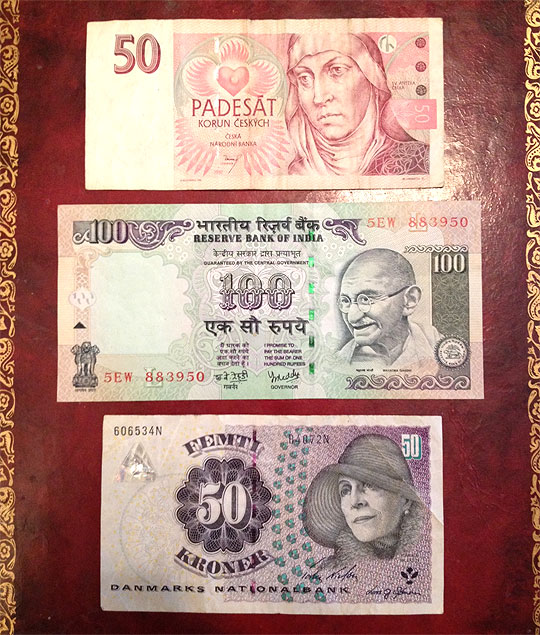 My favorite is that little girl flying around on that goose (duck?) in the first snapshot. Isn't it so artistic? The one below that with the heart-sy design is also pretty cool – always been a fan of the hearts for some reason… Even thinking of getting one for my next tattoo.
But for now I go back to the couch and work on feeling better again… If you'd like to help out that process, feel free to send me some of your worldly currency too ;) Nothing cheers up a finance blogger more than money!
Like this stuff? Check out my coin and currency blog I've since started: Coin Thrill :)
————-
PS: In case you're wondering why I snapped pics of all these currencies instead of just scanning them in, it's because my scanner denied me each time thinking I was trying to reproduce 'em!! How it can track foreign currency – and even those now discontinued? – is beyond me, jeez… Though it did get me to show off my old school Christmas desk again, hehe… Gotta keep it festive around here.
PPS: If you like this sorta thing, check out our post on old stock certificates too!
(Visited 3 times, 1 visits today)
Get blog posts automatically emailed to you!