What's up money lovers!
Got a new personal finance app to share with ya today for anyone still looking for that holy grail of fintech help ;) It's called Clarity Money, and my boy who's on their core team over there literally told me it will become "the app that kills Mint" haha… Pretty bold for only being a month old! But hey – I guess you gotta shoot for the stars, eh?
He also made sure I knew that the founder – and his boss – is Adam Dell, the brother of THE Michael Dell from computer fame. And that one of their backers is legendary investor George Soros. All pretty impressive, for sure.
What is Clarity Money App?
Here's a quick clip of what Clarity does from their website:
"We help you take control of your finances by cancelling wasteful accounts, lowering your bills, getting you better deals and managing your financial life — all in one place for free."
Well sign me up! Haha… Oh wait, I can't because I rock Android, womp womp… (UPDATE: Clarity now has an Android app!)
I was going to wait until I could test them myself to post this up, but it's still going to be a while and didn't want to keep y'all in the dark about a new budgeting app. So any Apple lovers will have to just be my guinea pigs for now, deal? ;) And from what my friend is saying, they definitely seem to be doing something right.
Here are some of the stats he just shot me this week:
Apple featured them as a "New App We Love"
They've got over 100,000 downloads so far
They've analyzed over $7 billion of transactions
Saved their customers over $400,000!!
And their customers have opened 4,000 Clarity Money savings accounts so far
Similar to Digit, I had the opportunity to connect up with them and receive a small pile of stock options, however I took too long to decide and they eventually went on to sell to Capital One!!! D'oh. But at least my taste in fintech personal finance apps seems to be good ;) My friend Marc Atiyeh was a part of that team who helped get them to where they are, and then promptly jumped ship to move over to the next hot personal finance app – Clarity Money. So we'll see if he strikes gold again.)
Okay, So What Does Clarity Money Do?
In a nutshell, you hook up all your financial accounts with them and then Clarity will analyze all the data and spending habits and make suggestions on how to better optimize and save you money. It identifies reoccurring bills, subscriptions, and helps show you wasteful spending.
But rather than just telling or showing you what to do, you actually have the ability to *take action* there directly in the app – the major difference between them and all the other apps popping up around each corner.
Here's a short video on 'em if you prefer watching vs reading:
Clarity App Bill Lowering & Canceling Service
One of the main ways you can take action is through their Bill Negotiation & Lowering service, where you can give Clarity app permission to negotiate and cancel any of your recurring services on your behalf. They do this by applying discounts or coupons that you may be entitled to but didn't even know about. They help you make smart decisions!
If they're successful in cutting down the costs, they keep 33% of the savings as their commission, leaving you with the other 2/3rds of the difference. Win-win for all. And of course, they never change your contract or commit you to anything unless you've approved it after getting all the info.
Here's some screenshots of how it looks in the app:
Some Other Things You Can Do Directly In The Clarity App
Transfer money between your connected accounts
Get your free credit score (they work with Experian and use the VantageScore model)
Create a new savings account and have them automatically save for you. (Clarity Money Savings Account is FDIC-insured up to $250,000, but no word on interest rates)
Find lower interest rate credit cards and/or personal loans (another way they make money)
Stay on top of insights based on your spending patterns
And then lastly, of course, they aim to help you with better budgeting and making smart decisions. You can easily set up expense categories, get an overall financial picture any time you want, and they'll even alert you any time you get close to hitting any max limits.
Here are some more screenshots: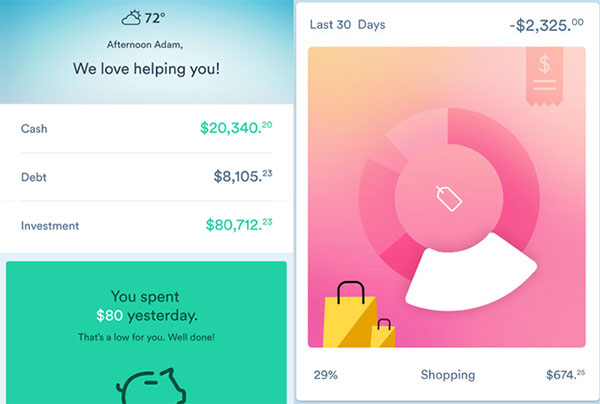 Are There Cons to Clarity Money?
Of course! Every budgeting app has downsides. It's hard to know all of them since, again, I haven't personally tested them myself. (Con #1 – no app for Android! :)). But similar to every other personal finance app out there you have to be okay with the following:
Connecting all your financial accounts to an app
Not being able to connect to *every* financial institution (like a really small bank or credit union)
Not being able to cancel or negotiate *all* recurring bills and expenses
Doesn't work outside of the U.S. (I swear – one of these days!!)
And probably coming across some bugs here and there since they're still such a new banking app
There are always trade offs with this stuff. So the main question to ask yourself is, Does this app (or any app) have a good shot of improving my finances and simplifying my life? Can it replace any other apps or services I'm already using? Do I enjoy testing new apps because I'm a big fat money nerd?? :)
Only you know the answers to those, so from there you just gotta go with your gut and continue keeping your eyes open for any other ideas or apps that may look good over time. It's a constant game of trying things out and putting together your perfect array of killer tools.
If this newer app looks interesting and you rock Apple, you can sign up and test them easily here: Clarity Money App. Again, it's a FREE app.
Let me know what you think! And especially if you're already using them! Drop all the tricks and hints below so we can all learn from you, please :)
I want to see if they can for real dethrone the app that started it all – Mint.com.
UPDATE: Clarity got purchased by Goldman Sachs… You can see their notice about it here, and the future of Clarity Money which will now be called Marcus App: claritymoney.com/marcus
*****
As with most products we feature here, all links to Clarity Money above are affiliate ones which means I'll get a few bucks if you end up signing up through them. It never impacts my reviews (and as you can tell, I rarely do any unless I think it's a winner!), and I always want you to do whatever is best for YOU. If it means testing out stuff I share here, cool! I appreciate the support.)
(Visited 113 times, 1 visits today)
Get blog posts automatically emailed to you!