Well that's been a fast 5 months! Just the other day it seems like I was bitching about my $170 cell phone (and cable!) bills, thinking I'd do exactly what I always do about it over the years – nothing ;) But for whatever reason J. Money 2.0 stepped up to the plate, and here we are with almost $3,000 in the bank that didn't exist 5 months ago! Hot damn!
Here's proof of my savings account I opened specifically for this new mantra:
Not only have we saved $2,954.14 without sacrificing any quality of life, but even more exciting is that it's $2,954.14 I can now do whatever the hell I want with! Because it's all "extra" and unaccounted for!
This is the power of challenging all your bills and "stuff" – any actions you do only adds money to your pockets and opens up the options. And if you then throw on your patient pants and SIT on this money as we're doing here for a whole 12 months (so that we really appreciate the magic of compound savings), it allows you to dream even more. What would you do with an extra $3,000 right now?? Or an extra $7,300 by the end of the year at this current rate?
A beautiful thing to think about friends, a beautiful thing…
Here's how much we saved per category so far:
Cell phones: $562.90
Cable/internet/phone: $297.04
Car insurance: $152.95
Craigslist sales: $550.00
Random money: $1,390.86
Interest earned*: $0.39
Look at that "random money" one – almost $1,400 that came in either out of the blue or out of my mind (like cash back rewards, USAA dividends, and other things that occur yearly I never pay attention to). Where would this $1,400 have gone if not safely stashed away? How much would my lifestyle have crept up playing with this "fun money?"
(If you're more emotional than logical w/ your money as I am, chances are you think of money differently depending on how you received it. For example, money from paychecks are hard earned and I'm way more conservative with. Money that comes from birthday gifts or found on the ground is always "free" and thus Splurgy McSplurgypants comes into action ;) Not that this is always a bad thing, but just something to be aware of with how you see money)
Something else that's interesting from that breakdown is the Craigslist section. It's almost in 2nd place there right next to cell phone savings, but it takes the longest time by far to earn compared to all other categories. I'm still gungho and listing one item every sexy Friday, but compared to the 3 bills we've slashed that passively pay dividends every single month it's a whole other story. One time actions for one time pay vs one/two time actions for recurring monthly pay! Still, I haven't been happier offloading so much stuff in my life… Feeling lighter as every week passes :)
Here's how January broke down:
Cell phones — A solid $110+ every month since switching from Verizon to Republic Wireless – one of the best moves we've made. (Or, should I say *I* made. My wife is really starting to hate her "Crappy Motorola" and keeps threatening to go back to her iPhone. The only reason she hasn't yet? That $500+ we've saved so far! :))
Cable/internet/phone — We wrapped up the last of this whole debacle last month, dropping our bill by $80/mo when all was said and done (I thought I had dropped it to $90 total but turns out pro-rated stuff happened so we're now settled on a $90/mo bill. Something we're more than happy with as we still love our cable and isn't that much more had we chopped everything off and kept internet only.)
Car insurance — Haven't lifted a finger since our 15 min phone call which resulted in $30 savings each month. Not everyone will have the same luck, but even if you only saved $10/mo from 15 minutes you'd have $100+ every year going forward!
SOLD: Gold ornate mirror — This guy I bought on a whim for $20.00 a few years ago, and then realized it was made entirely of plastic. Oops. I should have known when it was only $20 and saw the "made in China" sticker on the back :) Still, it had the exact gaudiness I was going for and it proudly hung on our wall until the kiddos came around… Now we have a painting of Noah's Arc and all these colorful animals our boys would much rather see than a reflection of themselves, haha… So instead of looking for another wall to put it on I decided to list it for the same $20 I paid and figured I'd just keep it if it didn't sell. A local photographer picked it up a few days later to be used as a studio prop – perfect!
Cashed in change! — Every night I throw all my spare change into a jar, and then whenever the jar get's filled I head to the bank and either deposit it or get it back in dolla dolla bills for splurging. This time it went straight into our Challenge savings.
Christmas money from the mother-in-law — She always gives us money every year, but this time it seemed a LOT more than usual. My wife says it was go cover both of our gifts as well as spoil our two children, so I just asked if we could bank it here into our Challenge Account since we had already paid for our kids' Christmas gift on her behalf, and she said sure. So part of this $ was reimbursement, and the other gifts that my wife and I juts did without since we'd rather have the cash.
SOLD: Vintage JVC boombox — This is the best flip so far – a $2.00 yard sale find I never use for $50 smackaroos! And do you know how much this bad boy goes for on eBay? Anywhere from $100-$500, dayumm… I knew it was worth more than $2.00 but talk about the power of researching first. This is one solid "ghetto blaster" (a term I picked up from doing the research – never heard of that before?) and if anyone dared rock it on their shoulders a lot the 80's they'd need a chiropractor the next day ;) The thing sure did shake our house though! I had it on maybe 10% of the volume and my whole kitchen table was vibrating – it's a freakin' beast! With tons of ports and nobs and gizmos to beat. Much better than the crap that's made these days… So why sell for $50 instead of $100-$500 on eBay? Convenience. And I also hadn't tested anything outside of the radio so wasn't 100% everything worked correctly which I made note of in the listing. When the guy picked it up from me I asked what he was going to do with it and he said "You know what I'm going to do" haha… And I did – throw it on eBay :) (This guy was a radio freak and made thousands on eBay every year flipping stuff).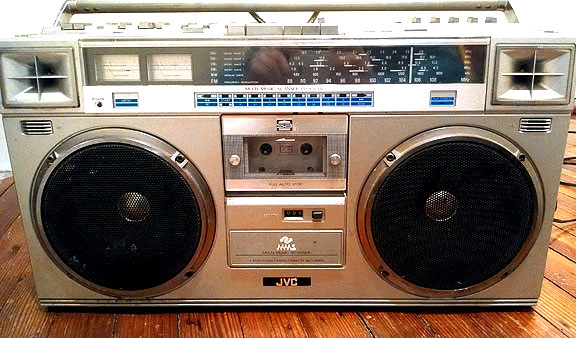 Credit card rewards — These get automatically paid against our c/c bill every year, but instead of letting myself off the hook that easily I quickly xfered it into our savings here so that we can fully appreciate these rewards. What fun is it going straight to your c/c bill?? (We put all expenses on our card fyi and then pay it off in full each month. Simply to earn these hundreds every year (we have the USAA Cash Rewards World MasterCard – it doesn't pay as much as other cards out there, but we prefer the convenience than playing the card hacking game)).
And that's how we scored an extra $900 this month! Needless to say this challenge is the gift that keeps on giving…
Here's what I'm realizing after a solid 5 months so far:
Time keeps passing like a mother. Not so good for our boyish good looks, but very much so for compound savings!
You get a lot more random money than you probably realize. That $1,400 up there consists of 21 separate times I received money for things I mostly wasn't expecting. Where would that money have gone if you're not paying attention to it?
It's crazy how you don't ever miss your "stuff." It is hard to get rid of my *cooler* stuff, I'm not gonna lie, but I hardly notice it's gone once it is.
I'm reminded of the times well spent with my stuff before it was sold. This sounds like the opposite of everything this mission stands for, but we rarely take into consideration all the joy some of our things actually did bring at one point – even if short lived. It's not like we buy crap we initially hate, right? So I'm finding more appreciation of my stuff for however long it was under my watch, which is a nice extra on top of the money earned from offloading it years later.
I get both envious, and relieved, each time an item of mine sells. The people buying all of that stuff from me? They're now experiencing the joys I originally felt by owning it all myself – only with a hefty discount :) So I typically get kinda jealous at first with what a bargain they're about to receive, but then I do a total mind flip and remind myself that I'm not a "sucka" anymore, haha… Not that these people necessarily are either – I mean, they're buying used stuff on Craigslist! – but I'm finding I much prefer being on the side of receiving the cash than giving it away. So the jealousy subsides fairly quickly…
And, lastly, freedom > income > stuff. The stuff is nice sometimes,  the income is even better, but at the end of the day it's all about more freedom in our lives. And every time I sit down to do these monthly updates it's like a giant tsunami of joy crashing over me :) We now have almost $3,000 to improve our lives with! And it's only month #5!
It's time you start challenging your lives as well.
——-
*Not the point of this exercise.
[Photo by JD Hancock]
(Visited 14 times, 1 visits today)
Get blog posts automatically emailed to you!