Welcome to the third month of filling up our Challenge Everything Savings Account! We hit $1,000 – hot dogs! I can't claim all the money came from my killer hustling skills (though we did hit 4/4 things sold this month on Craigslist!), but I'll take it any way I can get it. ;)
Here's screen shots of the last three months worth of balances::
More than doubling every time!
(I don't expect that to continue, of course…)
For the new readers to the site, I'm funneling all the money saved from cutting my bills over the months (the "Challenge Everything" mission) right into a separate bank account so it's actually saved, and not "fake saved." I'm also throwing all other extra money that comes our way into this account as well, such as gift $$, refunds, things I sell on Craigslist, and even coins I find on the ground from my daily walks (who wouldn't pick up free money??).
The goal is to keep my wife and I motivated to continue hustling and finding more ways to save and cut back in our daily lives – without much sacrifice. The less you need to live on every month, the less you need to go out there and then earn! And by tacking on an additional rule of not being able to touch this money for a whole 12 months (now, 9 months left!), it has nowhere to go but UP. And that's a pretty damn good position to be in, would you agree?
Here's the breakdown of the new $802.49 now in our possession:
[It's of by a few pennies due to interest… which I'll also take!]
Cell Phones — Four months ago we moved from Verizon Wireless to Republic Wireless and started saving $100+ right off the bat. And even sexier than that, it's $100 EVERY SINGLE MONTH going forward too! What a rate of return on effort! (It did mean dropping our beloved iPhones though, and while I'm now pretty much used to the new phone (Moto X Android), my wife still prefers her old one. You know what she says whenever I show her the balance of our new account though? "Yeah yeah yeah,  I'd rather have the money, leave me alone." Haha… Works like a charm every time ;))
Cable/Internet/Phone — Our attempt to drop the phone line and lower our cable package didn't work out as hot as I thought it would, but we were still able to lower our bill by $40-$50 by making a few tweaks and being nice to customer service. We're still not happy with paying $130 though, so the next route is upgrading our TV and seeing if the Netflix/Hulu/antenna trick satisfies our entertainment needs where we can drop cable out completely (our current TV doesn't support the newer technology as it's 10+ years old). Pretty funny that we have to upgrade in order to downgrade, but whatev. It should work out in the long run financially from what I hear from everyone! And we'll get clearer crisper TV too – so I'm up for the test.
[FYI: Remember how our bill arbitrarily went up $9 from the previous month? Verizon says it's because everything wasn't "adjusted" yet and so this new amount is my "real" amount, but really who knows… I'm not gonna make a big deal of it though as we're about to call up and change everything again anyways in an attempt to reach our target goal of $100/mo (mostly covering internet)]
Car Insurance — This was an easy one. We just called up and asked "what can we do to lower our bills?" and 15 mins later we were off the phone with lower premiums going forward. Score! Not all the things we did might work in everyone's cases (I rarely drive me car so was able to lower estimated miles used, as well as total coverage since it's already well beat up and I don't plan on fixing anything any more), but the takeaway here still stands solid: A 15 minute call can save you 15% ore more on car insurance! And you don't even have to be with Geico ;) (I use USAA btw)
"Medical overpay" — What a surprise this was!!! A $500 check out of the blue for overpaying pediatrician bills apparently with our last born. Lil' Nickel actually paid US for once – hah! My wife said this same thing happened last year cuz of our funky insurance so she was already waiting for it, but due to my bad memory it was all a surprise to me :) And while I usually just say "oh, cool – that'll help pay the bills this month" (yawn fest!) my reaction was quite different this time around knowing it was attached to something greater – our Challenge Savings Mission. Still the same $500, but a completely different mindset. And one I'll be reminded of every time I log into the account!
Sword sold — You'll get a kick out of this one… I picked this up earlier at a yard sale for $4.00, you know – in case I'm attacked by pirates – and after listening to Mrs. BudgetsAreSexy telling me to "do something with it" a dozen times so our kids don't poke their eyes out, I told her that yes, fine – I will.
Her response? "You're gonna go sell that on Craigslist and then blog about me, aren't you?" Haha… It's as if she doesn't fully appreciate what I'm doing here for our family! It's a 500% profit! ;) And turned out to be a replica of a real sword the buyer actually had 1/2 of himself – who knew? (He only had the handle part of the authentic sword and wanted to show friends what it looked like in whole)
Vintage Tables — I had these cool French nesting tables I picked up over a decade ago at a thrift shop, and finally decided to let them go… I actually really REALLY like them (and they've served me well over the years) but after asking myself the "would you go out and buy this again?" trick, I knew what I had to do. And turned a $15.00 purchase into a $28.00 sale (though she got the better of me – I gave her a $7 discount because she said the tables come in a set of 3, and that it's not a complete package. Fine… It was hard to argue with someone who met me in the hospital parking lot where her father was getting treatment for cancer (!!)).
Vintage decanters — This was a fun story :) I've had these listed literally from month one with not a single bite whatsoever (even after dropping the price twice), and then out of the blue – right when I was thinking of taking them down – I get an overly excited message from some dude saying he wanted them bad. I asked why, and of course scheduled the time to meet with him, and he said he was looking for vintage items for his wedding! And that these would go perfect on the buffet table to be used for salad dressings and other liquid toppings (good idea!). I told him they'd be even better as holders for liquor, but he said he'd need at least another dozen or two more which would cost a pretty penny. I agreed. And then asked if I could attend (nope).
We then met up and turns out I was talking to a chick the whole time – oops. And a chick who REALLY liked glitter at that. I tried to make a joke about being a vampire and that we should have met up in the night time as to avoid sunlight, but apparently that was only funny in my head :)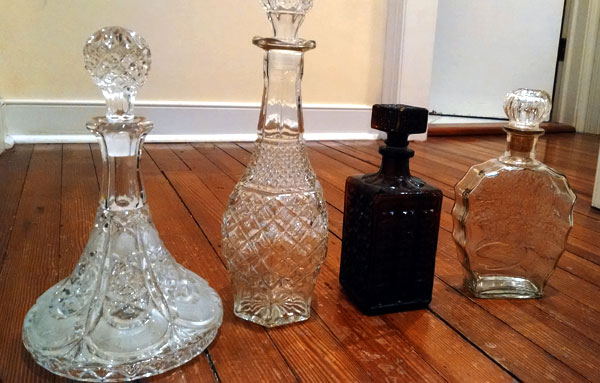 Shakespeare Books — This was the quickest turn around of them all. I literally sat here at my computer looking around my room for something to sell as I was out of ideas, and straight in front of me (quite literally) was a 10 volume set of Shakespeare works I had picked up on a whim also yard saleing (I'm seeing a trend?). My blogger library was looking a little sparse, and thought these old books from the early 1900's made for a good decorative piece so I picked them up for $12 I want to say… and of course I wasn't going to read them.
But do you know who did? The guy's daughter who emailed me within an hour of posting it up asking if we can meet that day down the street. "See ya there!" I shot back and a cple more hours later they were swapped for $22 in cold hard cash. No fuss, no muss.
And here was my favorite part of the story – the dad was going to sneak them into his girl's bookcase so she randomly sees them and is completely surprised :) She's currently in college going for some theatre/English degree and had told her dad how badly she wanted an old set of Shakespeare books. Not only to spruce up her own library (we're kindred spirits!), but to actually read through them too for "learning" – whatever that is. A perfect match!
Challenging Your "Stuff" Along w/ Your Money
This whole Craigslist thing came out of challenging our expenses originally, but now it's turned into challenging all of our "stuff" too, and for the better. Every last item above I actually thoroughly liked and was comfortable keeping, but it turns out I prefer money and feeling free-er even more. And let's be honest here – who needs a random sword or 100 year old books never to be read anyways? The book on thriftiness of course excluded.
I'm still gonna do my antiquing and yard sale adventures, if not just for cheap entertainment and possible flipping for cash (remember my antique pram? Hah!), but I can see my habits changing from "Oooh that old thing looks cool, gimme gimme gimme!" to "Would I rather have this, or more savings?" I'll still chose some collectibles over time which is fine – especially in the coin department – but something tells me I'll be a lot quicker in the decision making process now than I used to. And that's one helluva switch in mindset!
I also gotta say –  meeting all these interesting people with their stories these past few months has also been icing on the cake. The money is nice, and mandatory of course, but it's fascinating to think that you probably wouldn't have ever met any of these people had it not been for one random transaction online. And they're from all walks of life too – money doesn't discriminate!
Anyways, it was quite the month of earning and having fun. And again, since this was all "extra" money coming outside of the normal day-to-day hustles and being stashed away before it goes out the door, it's proving to be quite the endorphin machine. We have $1,200 in cash just sitting there waiting to be used! How fun is that?? And how motivating!
If I haven't convinced you of giving this a shot yourself yet throughout this 20+ article series, hopefully this does the trick ;) And I'll be back every month anyways continuing to pound it in regardless!
Over the weekend, really ask yourself if your hard earned money is going towards the things (and people – namely you!) that genuinely matter to you. Look over all those bills that have become the "norm" for months, and maybe even decades, and see if they're truly important any more in your lives. If they are – which is great! – see if you can find a way to tweak them a bit and pocket a little every month going forward.
The idea isn't to starve ourselves from the awesomeness that money buys, rather to be more *conscious* with why we're spending our money where we do, and whether it aligns up with what we say our goals are. I tell myself all the time that I want a million dollars and to retire early, but my actions don't always match up.
This quote – one of my favorites – says it all:
"Don't tell me where your priorities are. Show me where you spend your money and I'll tell you what they are." – James W. Frick
Something to consider, indeed…

——
[Cool penny shot by JD Hancock]
(Visited 20 times, 1 visits today)
Get blog posts automatically emailed to you!